Does your kitchen just have one wall? Does it seem like everything is too linear with just one straight wall of uninspiring cabinets? One wall kitchens can be quite bland, but there are ways to get creative and make the room more trendy, show your personality, and increase your space.
Read on for a selection of the top ideas and designs for one wall kitchens that are all different from each other, and you'll see that there are a lot of different ways to manage a one wall kitchen.
Look for a Wide, Wooden Island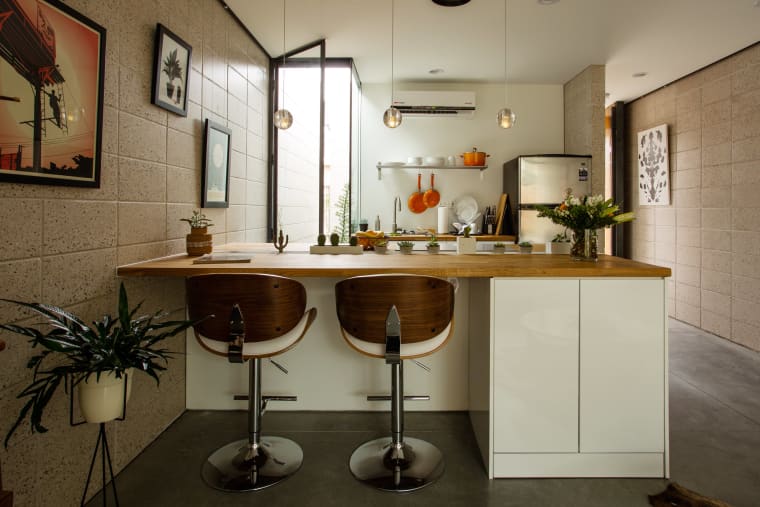 Putting in a wide, double island is a great way to add to a single wall kitchen. Not only do you add extra cabinet space, but also countertop space and you're creating a great bar area for entertaining. A double island like this is wide enough to work and eat at.
Adding a countertop in natural wood is also a good move for an island like this because it adds a bit of rustic charm to the kitchen.
Spice Things Up With a Colorful Backsplash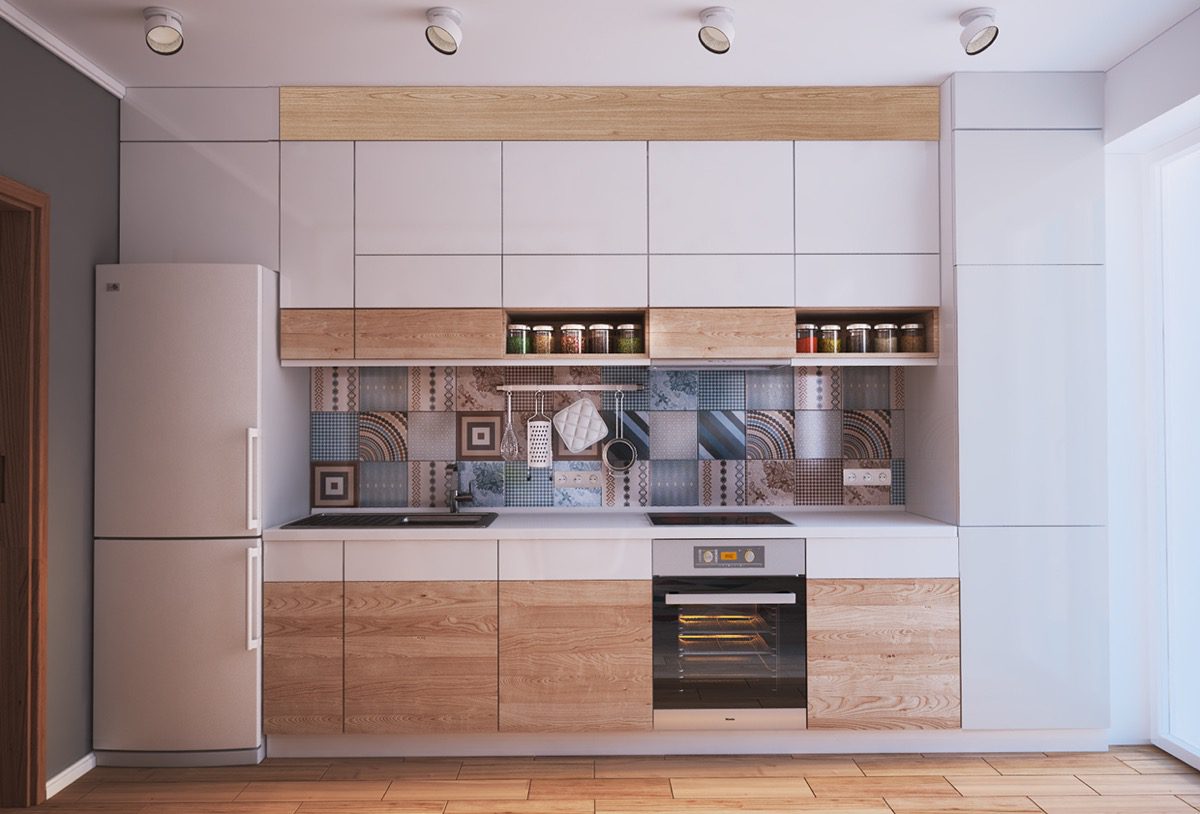 A fun, colorful backsplash can add some personality and charm to a one wall kitchen. This backsplash is made up of large tiles in shades of blue, beige and gray in various patterns. It adds life and a focal point to this kitchen.
It also allows you to skip putting up artwork on the other walls if you're in an open space. The colors of the backsplash draw from the white and wooden cabinet colors.
Paint an Exposed Brick Wall White
Sometimes, you can make a one wall kitchen appear brighter and more airy if you get a uniform color for the space. By painting this exposed brick wall all in white like the rest of the kitchen, it creates a feeling of unity while still maintaining some rustic charm with boho touches.
If you need to be convinced of the advantages of a one-wall kitchen, check out this handy guide by The Spruce.
Go Retro With Bold Appliances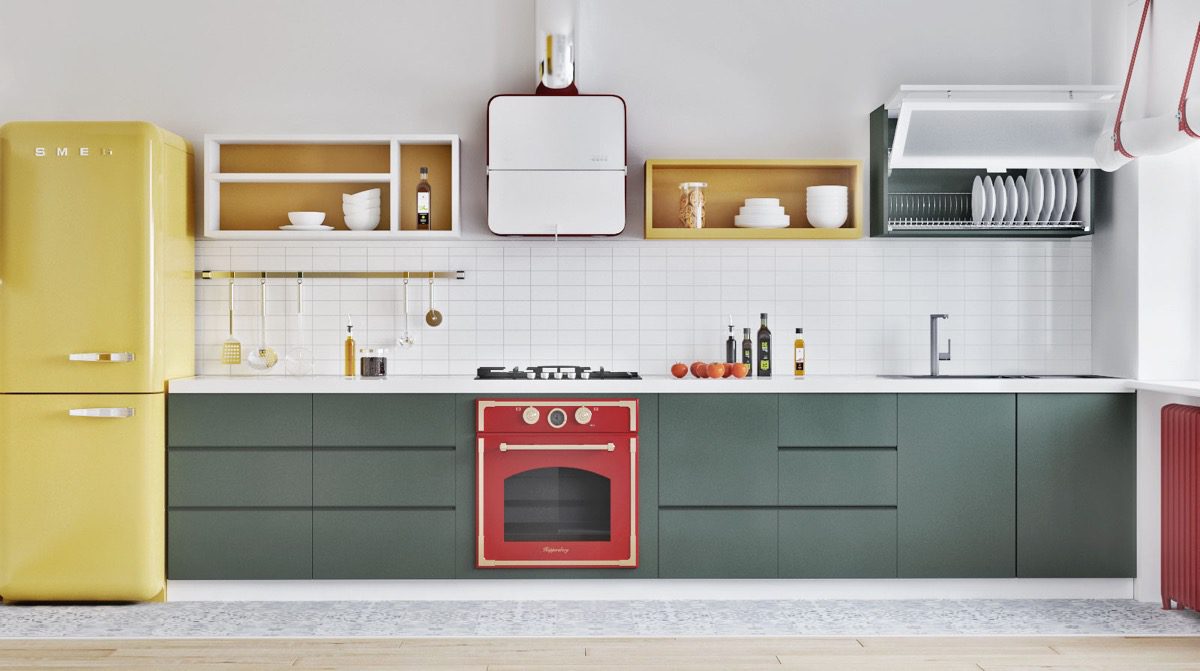 This gorgeous retro kitchen has so many eye-catching and lovely pieces that the fact it's a one wall kitchen completely escapes notice. It's retro and fun and a completely unique decor idea.
The cabinets are in a neutral dark grayish blue, whereas the fridge is a mustard yellow old school model with rounded edges, matching the floating cabinets perfectly. The oven and the radiator heater are both in the same shade of cherry red.
Get Custom Cabinets With Slanted Ceilings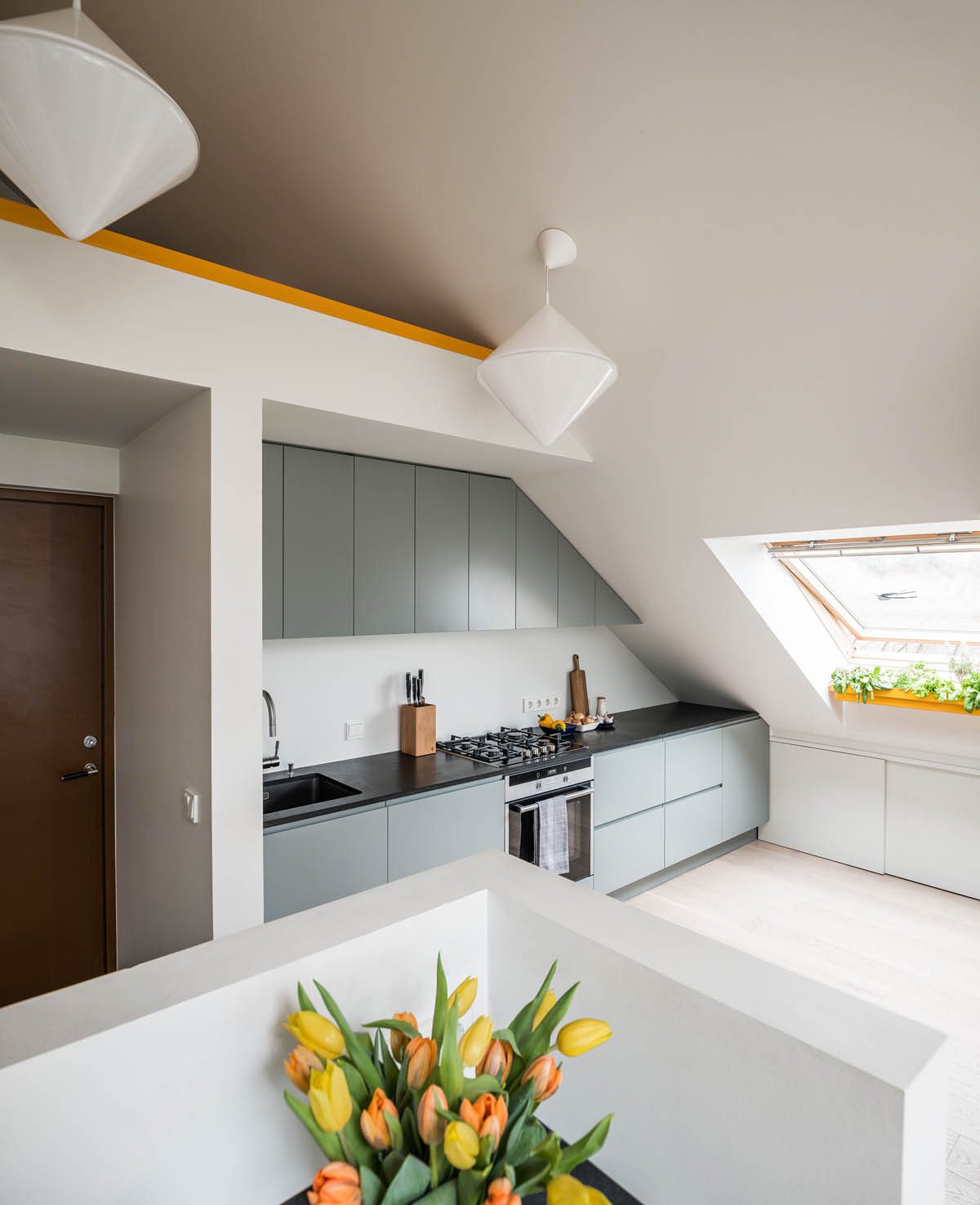 If you're in a smaller space or you have a slanted ceiling to work with, you should look into getting custom fitted cabinets to maximize the space you have.
In this example, the one wall kitchen uses up every inch of that wall by having slanted cabinets and countertops until the end of the room. Thanks to the large window with lots of natural light coming in, it doesn't look small or cramped.
Use Chalkboard Cupboards for Artwork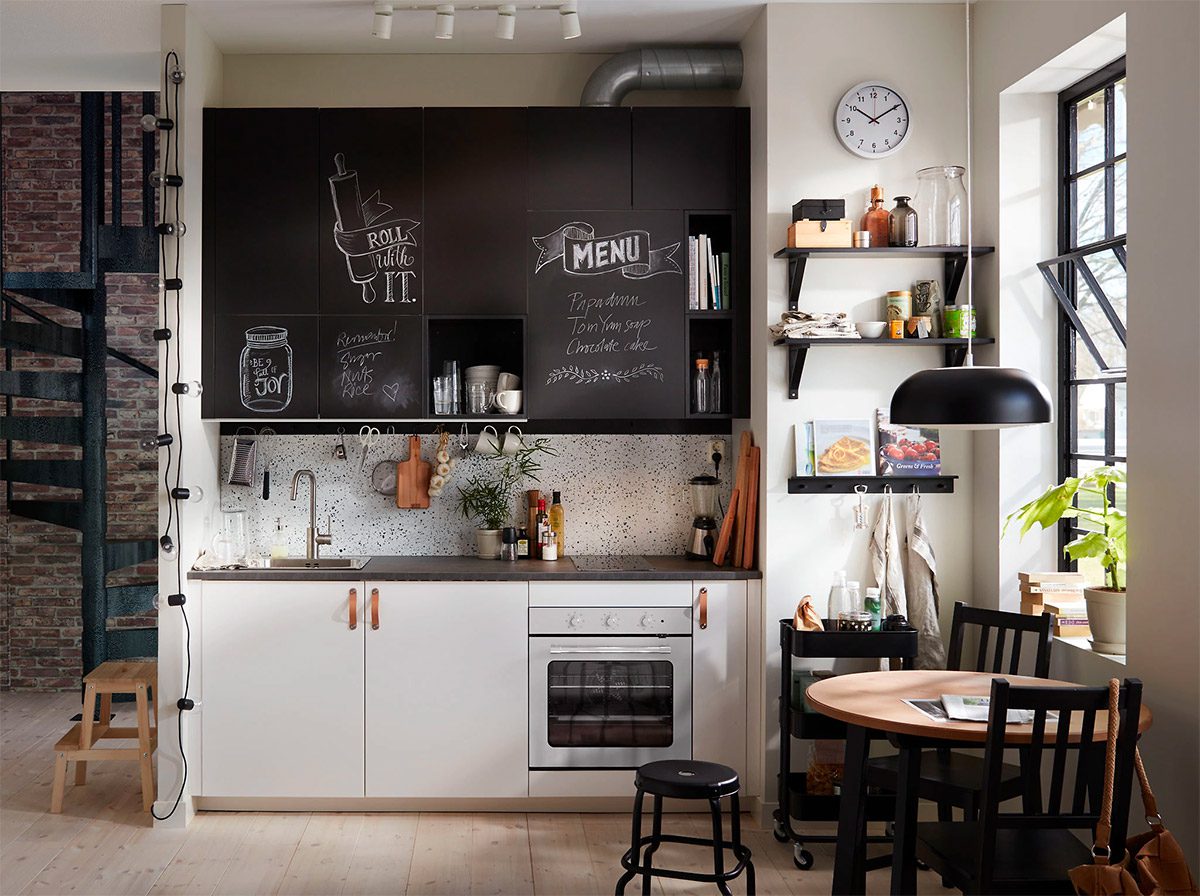 If you only have one wall for your kitchen and it's being used up by cupboards, you might wish for space to hang up art and show your personality. By getting chalkboard cupboards, you can get some lovely black cabinets and also show off a little style.
If you're good at drawing, you could add creative decor to the cupboards, like in this rustic example. Or, use it to stay organized and ahead of your schedule.
Incorporate Open Shelves Below the Counters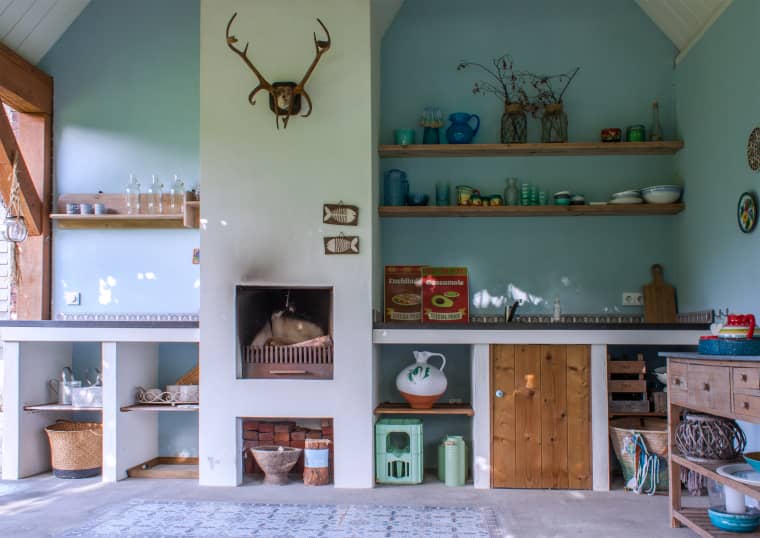 I love this eclectic kitchen decorated in a blue and white coastal theme. The high ceilings are very roomy yet comfortable, and the natural wood touches work really well here. For this one wall kitchen, the key is having some open shelves below the counters.
It makes the space appear larger and less closed off. What's really important here is making sure your shelves are organized, or it'll just result in a more cluttered appearance!
Add a Glamorous White Marble Island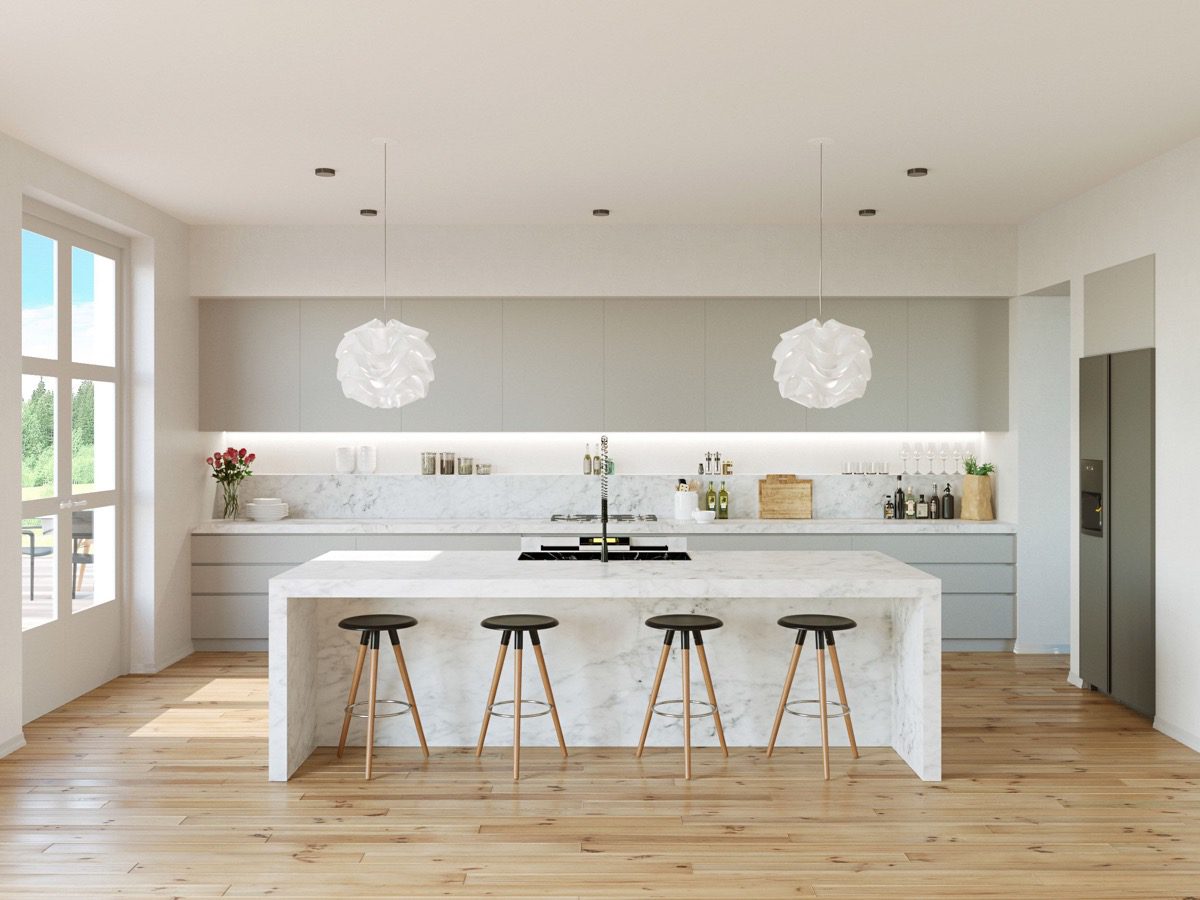 If you're leaning away from the rustic kitchen look, the good news is you can have a kitchen with a single wall that's glamorous and stylish. In this example, we can see a huge open concept space, resulting in a one wall kitchen.
The solution here is adding a large white marble island that adds seating, breaks up the room a bit, and adds some counter space. Make sure to get the right lighting solutions.
Draw the Eye With Dark Wooden Cabinets
Dark wooden cabinets add some style and a focal point to a kitchen. It creates a nice contrast if you have light colored walls. Sometimes, going for simplicity is the best option, and odds are it'll work well with the rest of the room.
Buy the Right Storage Containers With Open Shelves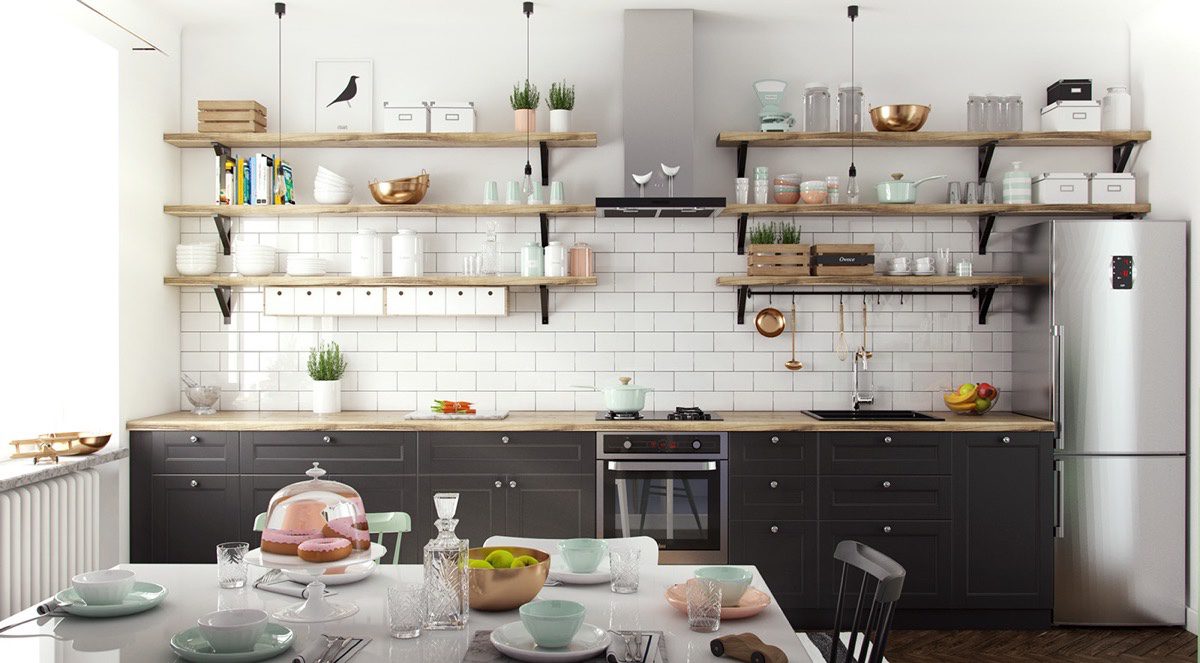 This is a lovely single wall kitchen with open floating shelves. It's a look that keeps things open and spacious by eliminating bulky cabinets. If this is the kind of look that inspires you, you should look for the right storage.
Look for matching sets in shades of colors that will draw the eye and look cute on your exposed shelves. In this example, the combination of the white and pastel pink and blue works wonders.
Paint Cabinets in Slate Blue for Contrast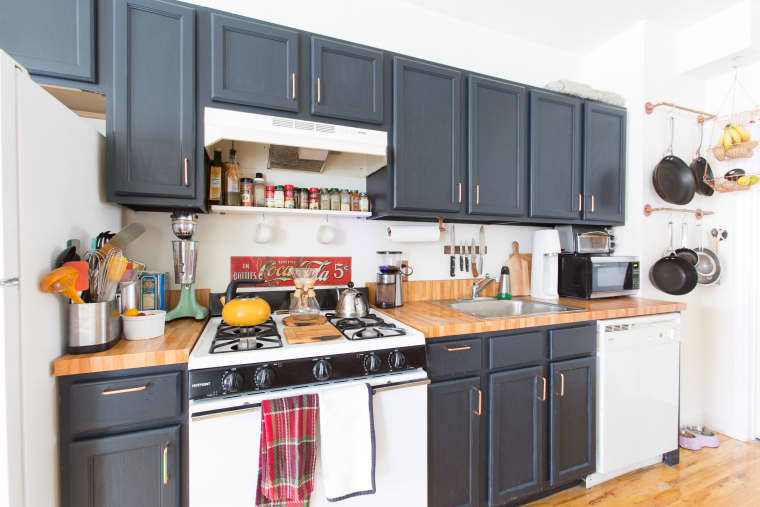 Slate blue or navy blue are perfect contrasting colors in a white kitchen with natural wood countertops. It adds a nice contrast and fills up the space really nicely. It's an extremely affordable option for a one wall kitchen, as you simply need to focus on painting the cabinets.
The dark blue color matches the walls really well in the nautical theme, and it's a great choice when the kitchen appliances are white instead of stainless steel.
Go for High Cabinets With High Ceilings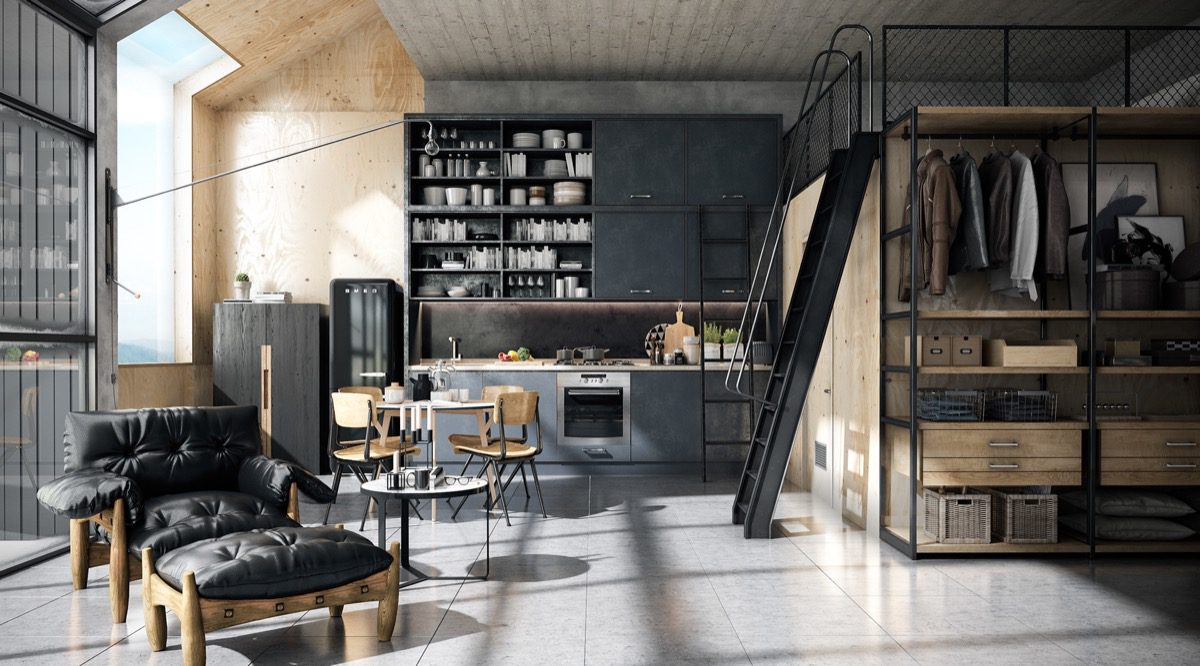 This beautiful industrial studio apartment has a very small single wall kitchen. However, the design takes advantage of the high ceilings to add cabinets vertically instead of horizontally. Where there would normally only be one row of cabinets above the counters, now there are two.
I really like the touch of the ladder against the shelves, whether it's decorative or truly needed. Be sure to store things that you need less frequently in the top shelves.
Louvre Doors Are Excellent for Adding Texture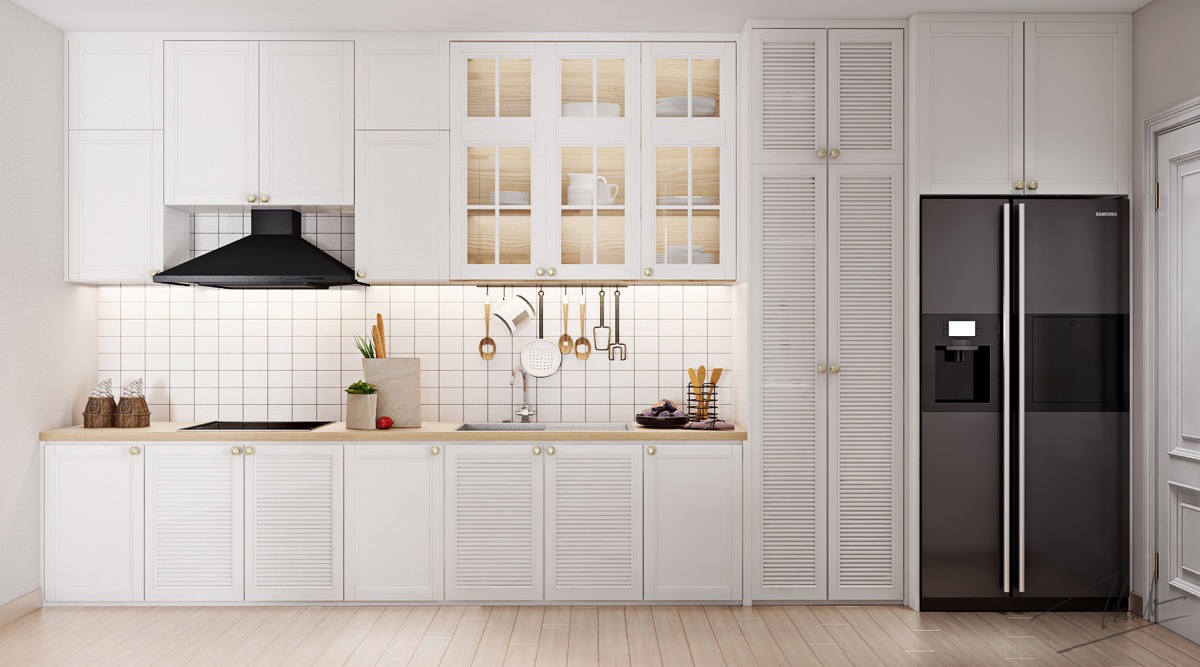 These louvre doors add a bit more charm than regular flat cabinetry and their textured surface spices up the kitchen. The horizontal louvre lines also create the appearance of wideness and space.
I also like that not all the cabinet doors are louvered, only a few of them. The contrast of that design decision adds some depth to the room.
Widen the Space With Open Shelving Solutions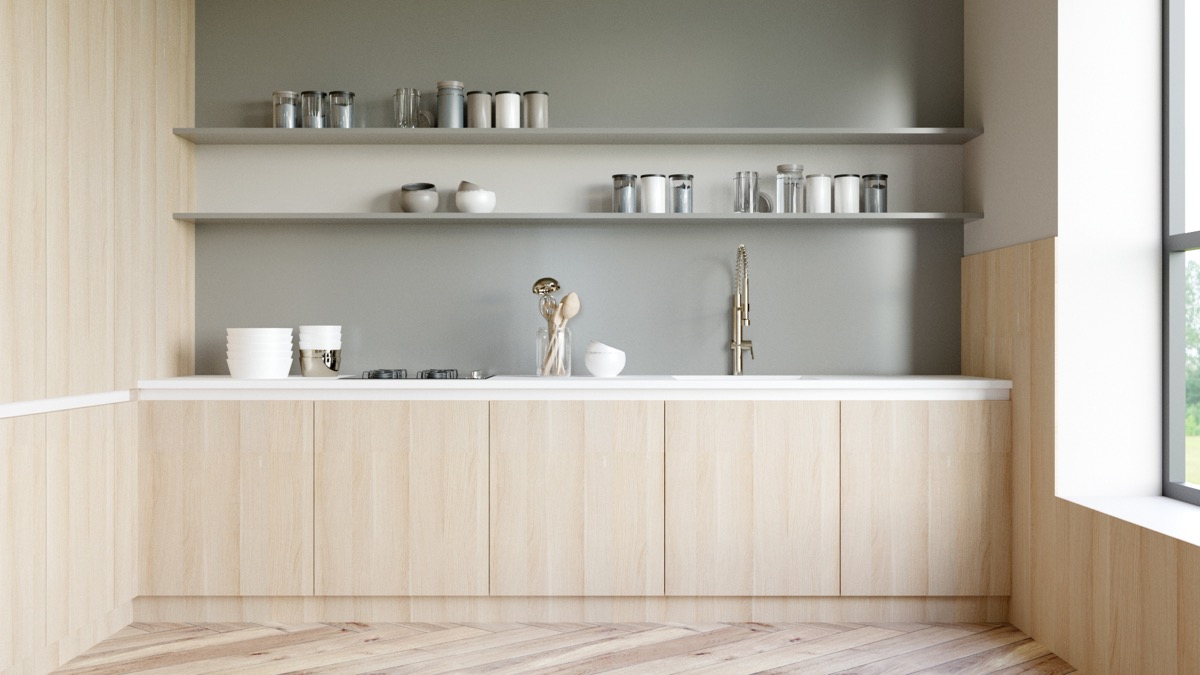 These two long open shelves are stylish and make a narrow kitchen appear wider. They've also been used to delineate two colors in a color block pattern on the wall, with two different shades of gray.
Cheer Things Up With a Bold Teal Backsplash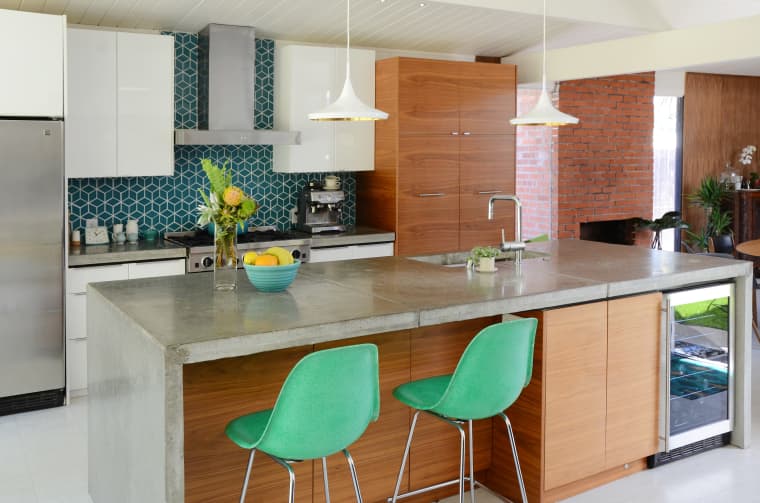 There are some touches of teal in this kitchen that add some color to the room. Although the kitchen is only one wall, there are a lot of places to work on the countertop and store things, thanks to the wide, concrete topped island.
The kitchen has two teal chairs that go well with the teal tiled backsplash. It's the perfect color choice to complement the wood of the cabinets and the gray appliances.
Install a Two-Tier Kitchen Island
If you want to add some different levels to your kitchen, consider getting a two-tier kitchen island put in. The top level is perfect for a bar seating area, whereas the lower tier is more manageable as a workspace, where you can even install a kitchen sink if needed.
It essentially creates the illusion of a second wall for your kitchen so it's no longer a single wall kitchen.
Create a Clever Outdoor One-Wall Kitchen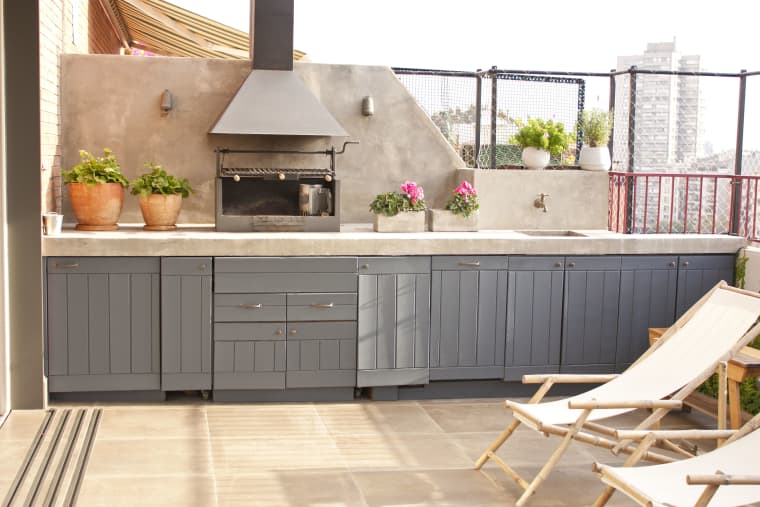 One wall kitchens aren't only for indoors. Do you have an outdoor entertaining area? Consider adding one wall outside where you can put everything you need for an outdoor kitchen. I really like the slanted wall that's two different heights to add privacy but also doesn't block the view.
There are slate blue cabinets with a stucco-type wall and countertop. There's plumbing, with a kitchen sink, and a little barbecue. What else do you need?
Use One Area for All Plumbing Needs
If you live in a tiny apartment or tiny house, and you're designing the place from scratch, you might be better served to put all your plumbing needs in the same part of the house.
In this example, we see that there's not only a one wall kitchen, but it's also the same wall that has a bathroom sink, kitchen sink, and laundry machine. There's a mirror partition separating the bathroom from the kitchen areas.
Choose Rustic Touches and Accents
Rustic touches can really add charm and break up a single wall kitchen. Instead of just boring, straight lines along one wall, there's an exposed brick wall that adds a lot of personality, but what I really think makes the difference is all the pots and pans hanging on the wall.
There are some storage jars on the counter and a few different areas where some hooks have been installed to hang kitchenware.
Break the Lines With a Recessed Countertop
This deep, recessed countertop is really unique and quite lovely. It's a perfect rectangle, with cabinets on all four sides. The whole thing has been edged in marble for a uniform look, and there's a single shelf running through it that's only half the width of the counter.
If you need to rearrange your layout into a single wall kitchen, have a look at Houzz's guide for managing storage and workspaces while doing so.
Choose One Color Block for the Center of the Kitchen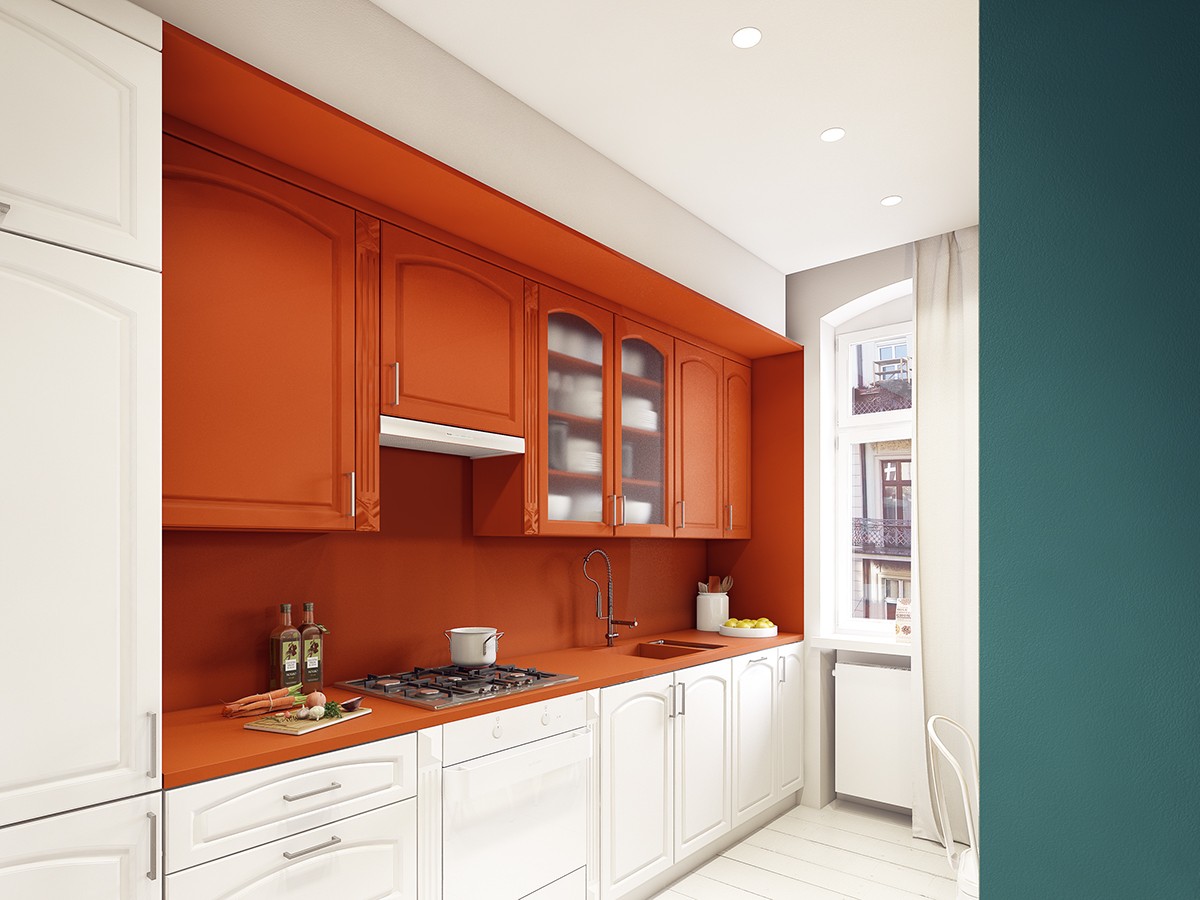 This idea is really similar to the last, with one standout recessed counter in the middle that breaks up the monotony of the one wall kitchen.
The key difference here, as you've noticed, is that the recessed countertop has been painted in a bold color to create an even more obvious visual block and make the space stand out. Everything inside the recessed space has been painted in the same bold shade of orange.
Add the Sink to the Kitchen Island
If you have a really small one wall kitchen, you can put in a large kitchen island and add your sink and other appliances to it instead. As we can see, the kitchen wall is quite small, so instead of cramming in a sink in there under the cabinets, it's been put into the kitchen island.
Now, there's a lot of space to clean up, and you don't need to compromise on the size of the sink.
Long Horizontal Handles Create the Illusion of Space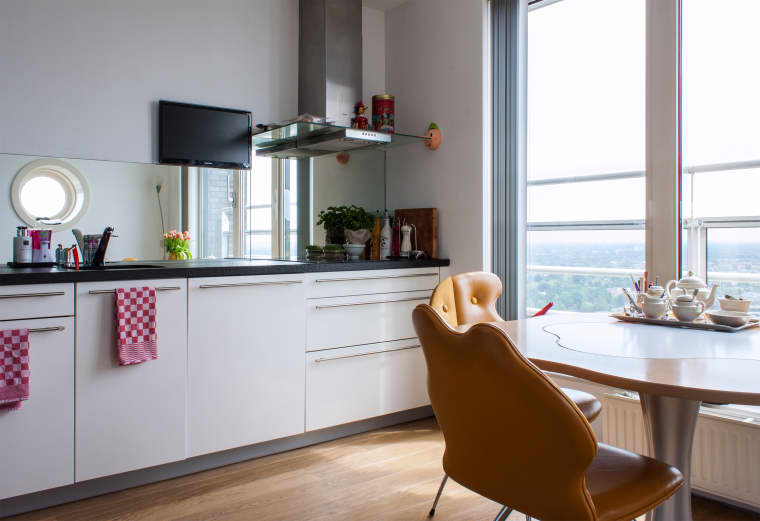 For smaller kitchens, there are a few visual tricks that you can use to create the illusion of space. One of these is to install long, thin horizontal handles on the cabinets, like in this example. It makes everything appear at once more streamlined and larger.
This kitchen also doesn't have any top cabinets so it's a roomier space. That all depends on whether you need the extra storage space or not.
Conclusion
Kitchens with a single wall design are quite common, but they're usually seen as a negative design. That is, until now. This type of kitchen has extreme potential for a more open concept space because the kitchen only takes up one wall and reduces the possible feeling of clutter.
You can then have more space for entertaining and keep the flow going between your kitchen and living space. It can be a really strategic design but it has to be done right, that's why these 25 ideas can help you adopt the one wall kitchen idea but keep it trendy and functional.