Ah, the kitchen backsplash – the one thing you'll see every day as you slice, dice, chop, and cook. This is why people spend a lot of time deciding the right backsplash for their kitchen. Do you want to keep it simple or make it flashy? Or do you want something that's outstanding, unique, but still minimalist?
While there are different types of stones, bricks, and tiles for the kitchen backsplash, there's a new trend that's catching on – stainless steel stove backsplash. It's simple and yet flashy. Let's check some design ideas.
The Disco Ball Look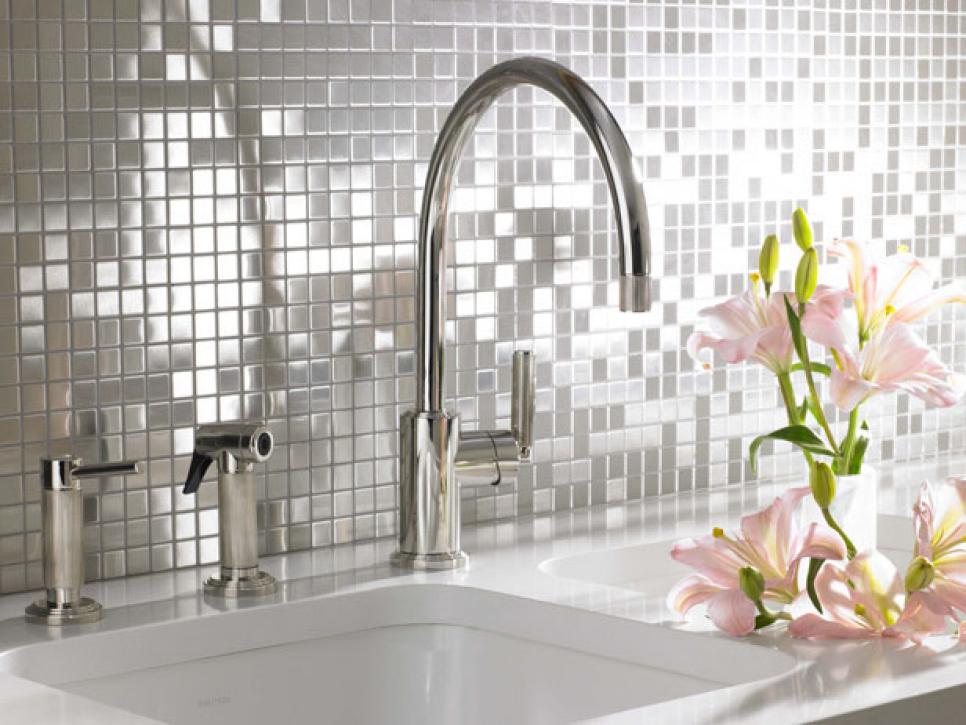 The disco ball has a simple design – small squares that are highly reflective. And this is what makes it so flashy. The disco ball look is simple and minimal. And yet it makes your kitchen very glitzy. Since it is stainless steel, it's easy to clean and doesn't wear out easily.
This design has a unique texture that's stylish and yet easy to clean. It will give a new look each time, depending on the intensity and direction of the light falling on it. So it's just one backsplash but it will still look different each time.
Waves of the Ocean
The wavy pattern is simple to clean with swipes that go in the same direction as the waves. Also, it hides scratches easily. While the stainless steel backsplash will not develop scratches easily, but as you work in the kitchen for years, the backsplash does get a bit worn out.
With the wavy pattern, the scratches and imperfections will be completely hidden. Since the area above the stove is where the grease settles down, with steel backsplash, it will be much easier to clean and thus the kitchen will look spotless even after long cooking shifts. Plus, it looks ultra stylish!
The Small Brick Pattern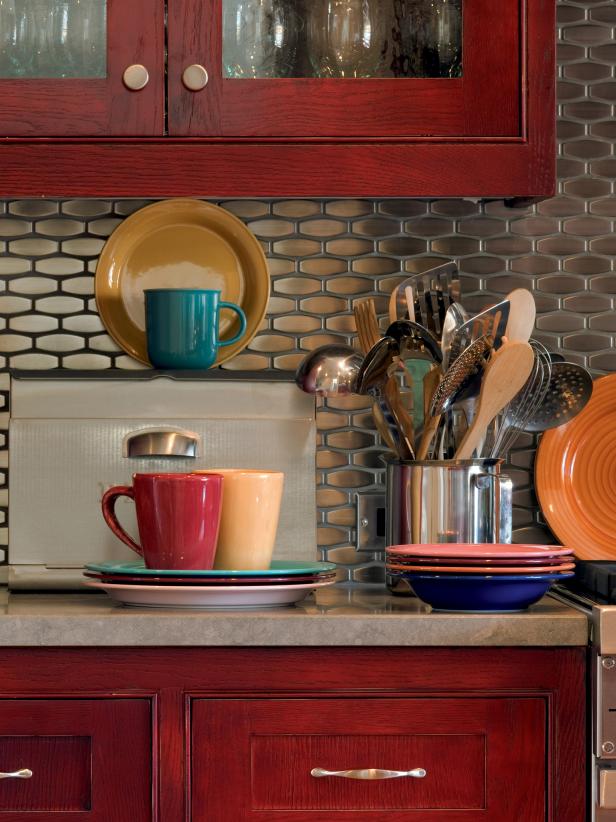 The raw brick look is amazing and this is why a lot of people select it for their kitchen backsplash. However, bricks are easily worn out and it becomes difficult to clean them in the long run. So instead of bricks, you can get the stainless steel backsplash and install a brick pattern on it. Of course, it will not look like real bricks but it will have the same texture nonetheless.
If the simple steel color makes you think it's boring, get multicolored dishes and mugs that make the kitchen look more vibrant and beautiful.
Multiple Chains of Steel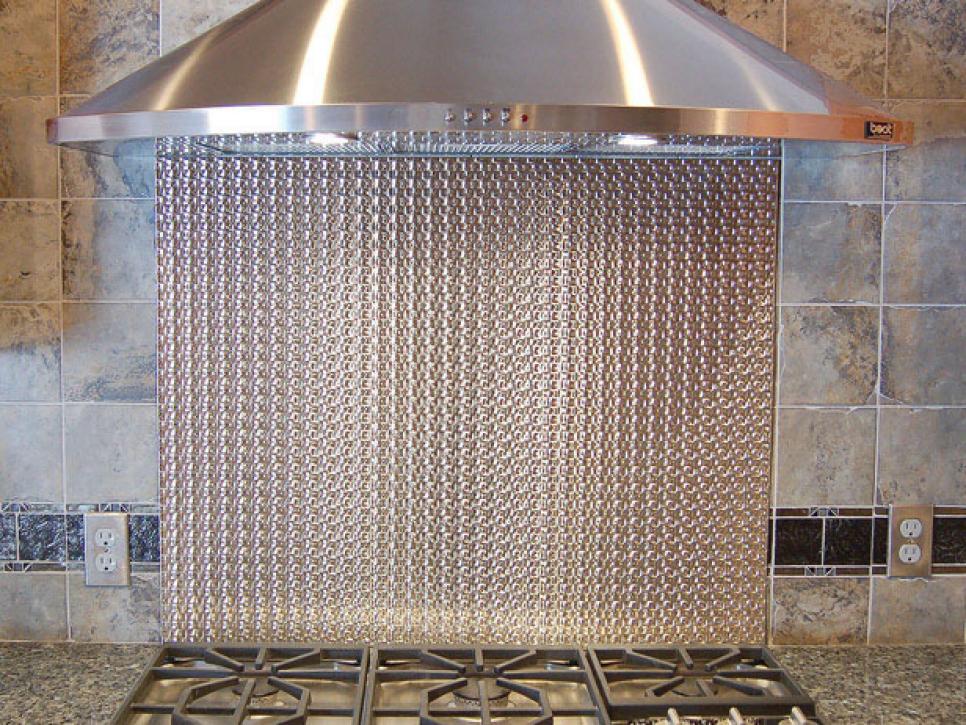 Love this chain reaction! It's such a complex design with the links of the chain fitting into each other so perfectly. It has such a polished and refined look. You can use it in just a small area or use it all over the kitchen backsplash.
It's a typical ridged pattern that looks great with wooden tones so if you have wooden flooring, this style will look good in your kitchen. While it gives a distinctively modern look, it is far from being minimalist. So if you're looking for a minimalist design, this will not suit your purpose.
A Little Glitz and Glamor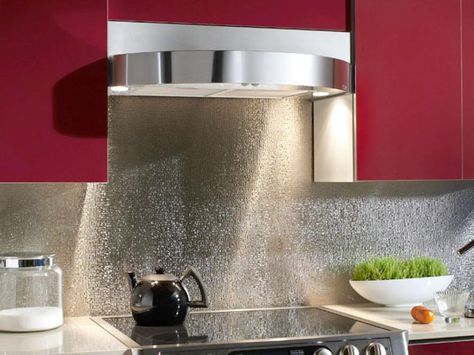 You can always add glamour to a plain kitchen by making small changes. In this case, a film-grain textured stainless steel backsplash will make all the difference. It's smart, it's different, it's convenient, and it's glamorous.
If you're craving for some bright colors in a metallic steel environment, check out the red cupboards of the kitchen. They make the place look livelier. The gritty look of this background gives it a dazzling appeal that's hard to miss. If you want to woo your guests, make sure they visit your kitchen once and fall in love with the backsplash.
The Matte Look
Metallic look is almost always glossy. And not everyone likes gloss. If you're the kind of person who doesn't like shimmer and shine, try the matte look. It's a metallic look, yes. But it's matte instead of glossy. It looks more professional and adds a serious tone to the kitchen.
If you want your home to look smart, modern, and futuristic, you should try the matte look. It's different and beautiful. You can even have a metallic countertop to make a uniform theme. The stainless steel and grey combination looks amazing in this kitchen.
Tiles and Steel Combination
You can combine steel and tiles to create the right blend. Here there are horizontal steel strips between rows of tiles. If you think steel looks too flashy but also amazing, you can balance it out with other materials such as tiles. It's the perfect white and metallic combination that will give a unique look to your kitchen.
You can combine steel with many other options like stone or brick. But wall tiles are the best choice because they are available in several colors and sizes. You can take your pick depending on the style you want.
Kitchen Backsplash with a Shelf
Kitchen backsplashes are places that aren't used for storage. Or any practical purpose whatsoever. But you can change that with a little creative thinking. Not only a backsplash will be helpful in storing things, but it will also look good if done properly.
This matte steel backsplash has the perfect looking shelf that can hold all your spices so they're there whenever you need them. Plus, vibrant spices will add the much needed colors to the place. Also, it has a small hanging rod and hooks that are great for your spatulas, ladles, and whisks. This kitchen looks modern, futuristic, and very practical. 
A Realistic Brick Look with Steel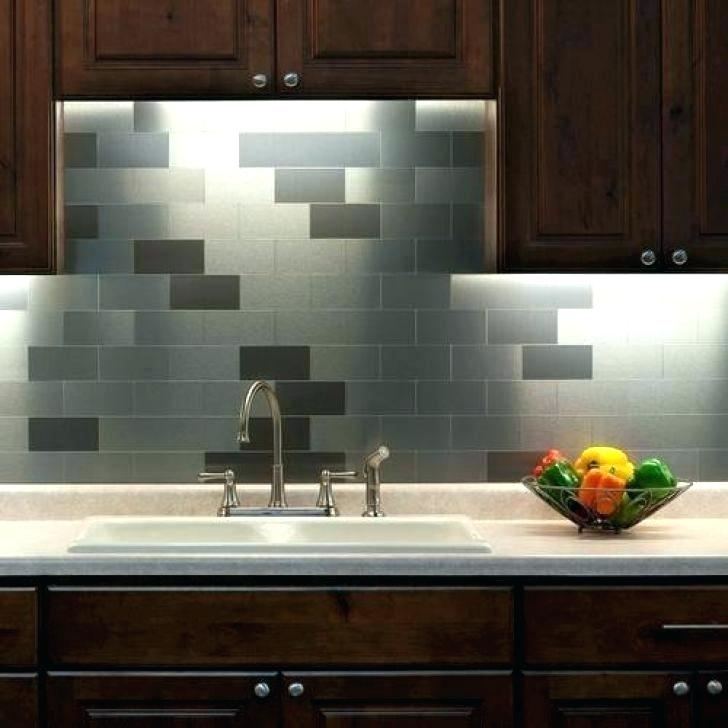 Create an almost realistic brick wall look with silver and black bricks. The backsplash is made of stainless steel and it is ideal for someone who wants a brick look. Made mainly of steel bricks, the backsplash is splattered with black bricks in between. These aren't real bricks though – it's a pattern made on stainless steel.
Since these black and silver colors create a contrast, it creates the perfect balance of colors. But if you still desire some bright colors in the kitchen, some fresh veggies and fruits will do the trick. You can even place a vase with fresh flowers in it.
The Diamond Pattern
You don't have to be a queen to have diamonds in your kitchen. This pattern has a mix of glossy and matte steel shapes. The matte and glossy rows of diamonds are arranged alternately and they create a beautiful and complicated look.
This look is beautiful because as the chimney is made of steel and the stove is also of the same material, the backsplash creates a uniform look and you get an innovative look. Plus, since this pattern makes use of matte and glossy, you get the best from both styles.
A Horizontal Strip of Steel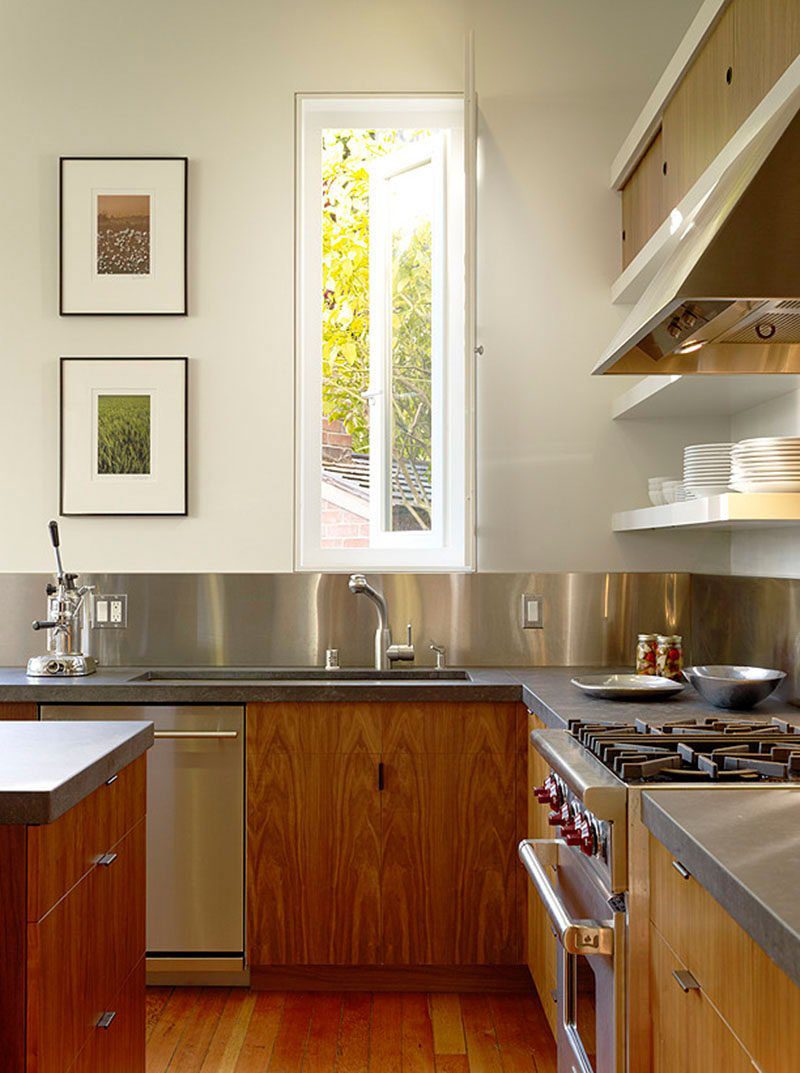 Instead of having a complete backsplash in your kitchen, you can put on a horizontal strip that goes across the kitchen slab. The strip has a beautiful matte look and if you don't want the entire backsplash area to consist of steel, this is a good idea to implement.
It makes the kitchen look sleek and stylish. Also, it's clean and tidy. The steel backsplash looks good with the steel faucet in the kitchen. The dark grey slab looks good with the wooden cabinets. The entire theme is well planned and looks amazing.
Combine Stone and Steel
If you like the raw look of stone but also want the glamor of steel in your kitchen, you can combine them both. Here, there are stone tiles on the kitchen backsplash and there are steel tiles in between. These tiles have a beautiful pattern on them.
The leaves on the steel tiles look intricate and beautiful. But that's not the only design you can get. You can also get religious or spiritual figures on steel tiles if that's what you prefer. Or floral designs. Or a quote that inspires you – there is so much you can experiment with!
Brushed Stainless Steel Backsplash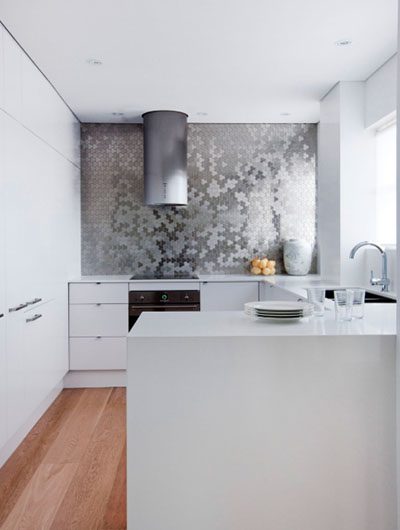 This backsplash gives a distinctive look that's royal and luxurious. The design is made by tiny hexagons that reflect light in different ways, giving it an uneven but beautiful tone. The chimney in the kitchen has a matte metallic finish and the rest of the kitchen is white, giving it a modern appeal.
While the ceiling and cabinets of the kitchen are white, the flooring is wooden, thus blending in a touch of colors. Of course, for more colors, you can keep a potted plant or fresh flowers on the countertop. And since it's the kitchen, fresh fruits and veggies would look amazing too.
Steel Backsplash with Steel Cabinets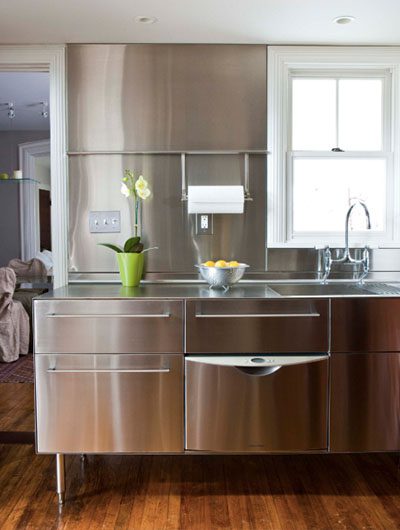 If you want a completely uniform look, ditch the wooden cabinets and go with the steel ones. And make sure the polish follows suite. So if you're going for a matte finish on the backdrop, get the same finish on the cabinets as well.
Here, the backdrop, cabinets, and countertop – all look the same. And it's a very even look. Nothing looks out of place. What is lacking here is a bit of color, which is very beautifully added by flowers in a bright green colored vase. Plus the oranges in the steel colander look splendidly yummy.
Steel Backsplash with a Rustic Look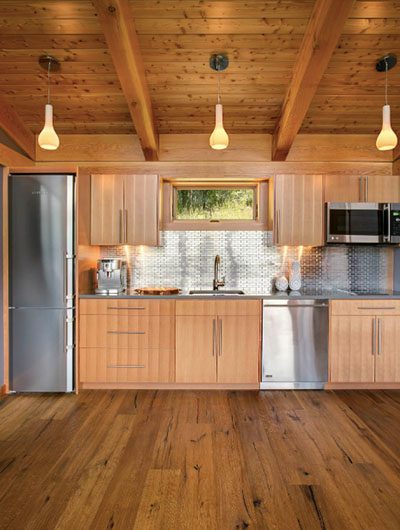 Steel has a modern look. So if you have a traditional setup, you might want to skip the entire steel backsplash idea. After all, combining the two might not look good, right? But wait… combining the two looks can create a very quirky and beautiful space.
More so, if your appliances have a polished metallic look. With fridges and ovens of a polished metallic look, it's easy to achieve this theme. Check out this kitchen that's made entirely out of wood. The ceiling, doors, cabinets, and even the walls are wooden. And yet, a steel backsplash is looking magnificent in this setting.
Steel and Plywood Combination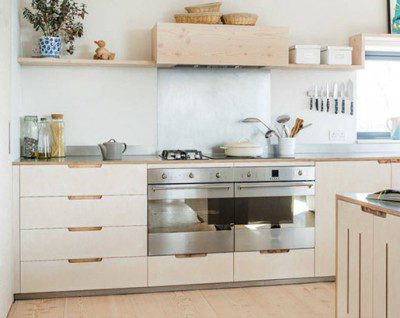 As we've seen in the previous example, steel looks good with wood. However, if you have a small kitchen, you need to make sure that the wood is light in color. Dark colored woods look classy but they'll make the area look smaller. If your kitchen is already small, it's best to have light colored installations to make the space look larger.
The plywood here is of off-white/cream color that is looking divine with the steel fittings. Since the ovens have a steel finish too, it creates an even tone that gives a modern touch to the place.
Get an Urban Kitchen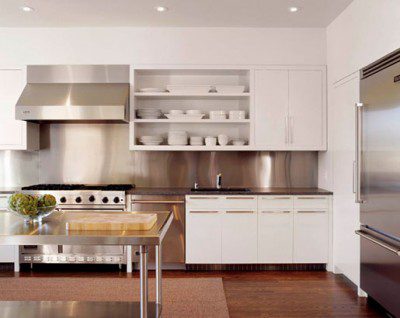 So a large part of your kitchen has a steel look now – the backsplash, the chimney, the stove, the ovens, and the faucets. To create a balanced theme, you can get a wooden floor and cabinets. The dishes tastefully arranged in open shelves also add to the look of the place.
But what about the kitchen island? Typically made of wood, the kitchen island is the place that anyone will notice first as they enter the place. If you like the steel look, make sure that island is made of steel so your kitchen has a unique and modern appeal.
Reclaimed Corrugated Steel Sheet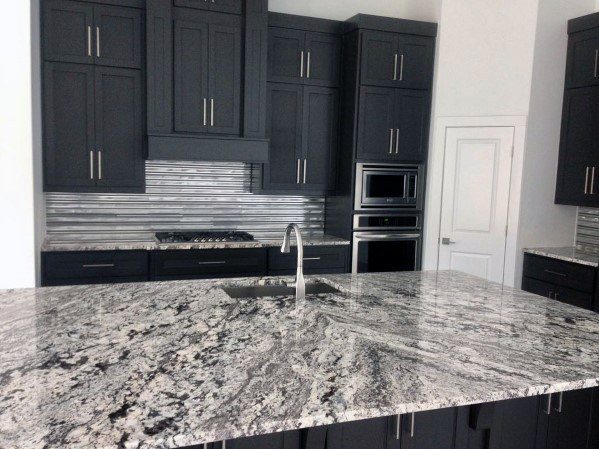 Reclaimed things are easily available and cost much less than first hand materials. And while cost cutting might not be the first thing on your mind, reclaimed things are also good for the environment. The more things you reuse, the less you'll have to dump them. The landfills will stay empty and the earth will thank you.
This kitchen has a dark theme, which is looking good. And since the kitchen has a large area, dark colors will not make it look small. The granite slab on the kitchen island introduces white color to the kitchen which is also seen on the door and walls.
Stylish Checker Plate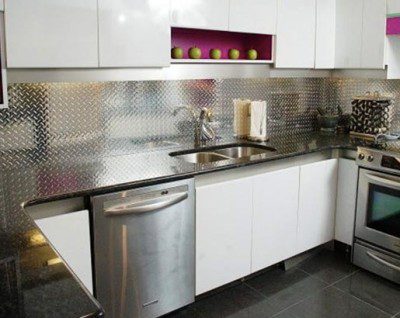 This checker plate pattern will reflect most of the light, giving a mirror appeal. And hence your kitchen will appear larger than it is. This is why it is preferred in small kitchens, although the design looks good in big kitchens as well.
The cabinets here are made of white ply so they help the kitchen stay bright. Also, white makes the space look big so it's a preferred color in small kitchens. To add a little color to the white and steel space, you can place some house plants or fresh fruits and vegetables.
An Industrial Look with Steel and Wrought Iron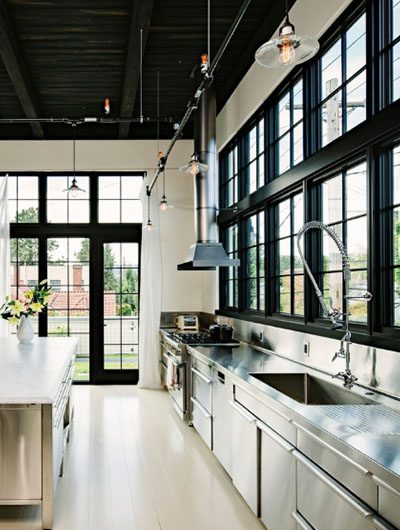 If you want your kitchen to be large and airy, windows will play a major role in it. Check out this kitchen with black wrought iron windows and doors. The ceiling is also black in color creating an industrial appeal. The hanging lights add to the theme as they hang from an industrial pipe that goes across the place.
The backsplash is made of steel and it looks good in the entire industrial setup. While the place looks amazing, you might crave for colors. This is why a vase with fresh flowers is placed on the kitchen island.
Adding a Gold Tone to Steel Backsplash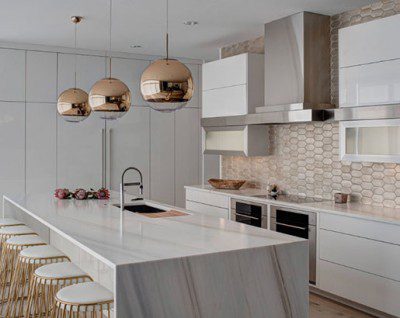 Add royal looks to your kitchen with golden color. While the backsplash is made of stainless steel, you can bring the golden luxury using hanging lights and the right colors on the kitchen island and the seating arrangement.
Keep in mind that too much golden will look out of place so make sure you use just a bit of it along with a neutral shade such as white. The white kitchen island has a hint of golden. And the stools are made of golden brown legs and white seats, carrying the theme forward. The kitchen looks very sleek and stylish.
Steel Backsplash in a Tiny Kitchen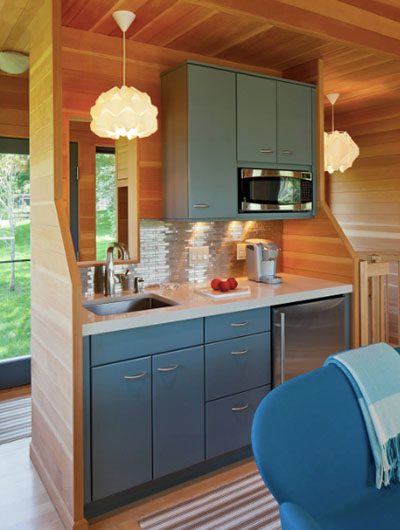 Sure, stainless steel backsplash looks good in a big kitchen. It makes the space look more modern and futuristic. But what if you have a small kitchen? Heck, forget small. What if you have a really tiny kitchen? Will a steel backsplash look good there?
Check out this tiny kitchen that's just a few feet in length. It's got a stainless steel backsplash and it's looking classy. The grey cabinets although aren't exactly color matching with the raw wooden look of the kitchen but the color scheme has turned out to be tastefully good. Plus the beautiful hanging lights add all the magic to the place.
A Vertically Brushed Design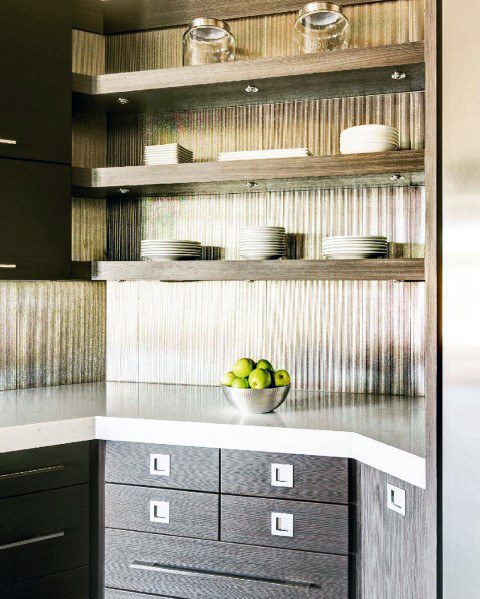 There are several patterns you can get for a steel backsplash. This vertically brushed backsplash looks good with the solid wood floating shelves. And the dishes stacked on these shelves look good. You can even place glassware on the shelves.
The cabinets are made of dark ply, which can leave you craving for some color. Thankfully, the color is added to the scene by green apples – fresh, juicy, delicious, and beautiful. And if you want more color, you can store some macaroons in the mason jars kept on the floating shelves. The pinks and yellows will bring your kitchen alive.
Stainless Steel Backsplash and the Right Lighting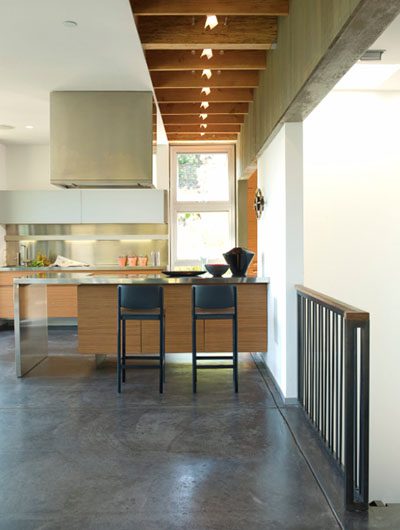 When you're using something as reflective as stainless steel for the kitchen backsplash, you must use the lighting judiciously. Here, the backsplash is made more beautiful with strategically installed light bulbs in the ceiling. The ceiling is divided in sections and there's one bulb in each section.
There are light sources directly above the backsplash as well. If you want to make full use of the reflective abilities of steel, there must be adequate light in your kitchen. This space blends in various colors and shades to create a warm and cozy environment.
Get That Outstanding Modern Sheen
Stainless steel can give a sheen to your kitchen while keeping it robust and safe for several decades. Since stainless steel is more durable than bricks or tiles, many people now prefer it on their backsplashes. Besides, steel looks stylish and can completely change the look of your kitchen. Pick any options from the ones I have mentioned and get a transformed kitchen.