A lot of people might overlook their baseboards since they're not the first thing you think of when designing a room, but the baseboards or trim can actually have an impact on the overall style and look of a room.
There's a lot to consider when choosing a baseboard. Whether you go with something plain and simple, or a baseboard that's a bit more elaborate, there are tons of different ideas below to inspire you.
Try Color Contrasting Baseboards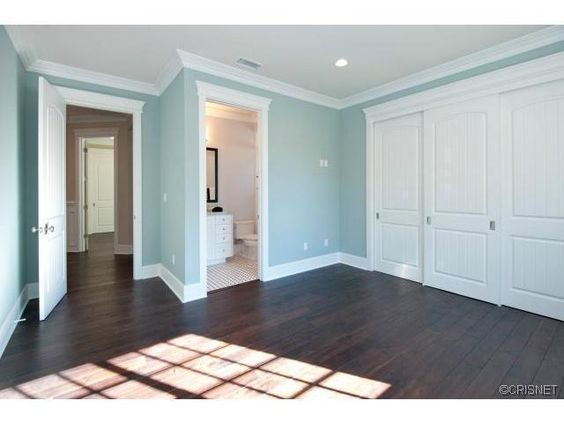 Your baseboards don't have to blend in with the walls. If you want, you can try different color combinations with your wall and baseboard, and nice complementing colors can freshen the whole place up.
If you have colorful walls, you might want to combine them with a white baseboard, like the pale blue and white combination pictured here. For neutral walls? Ivory, beige, or gray could be an interesting idea.
Consider a Stately Colonial Style Baseboard
North Americans may be familiar with the colonial style baseboard, which is very common in this region. There are evidently some varieties of the colonial style, but all of them channel a vintage and elegant look, perfect for a living room or dining room.
The style adds a bit of angle and symmetry and some more character than the typical simplistic, modern design. This is the style for you if you love the colonial look.
Use the Wall Baseboard as Art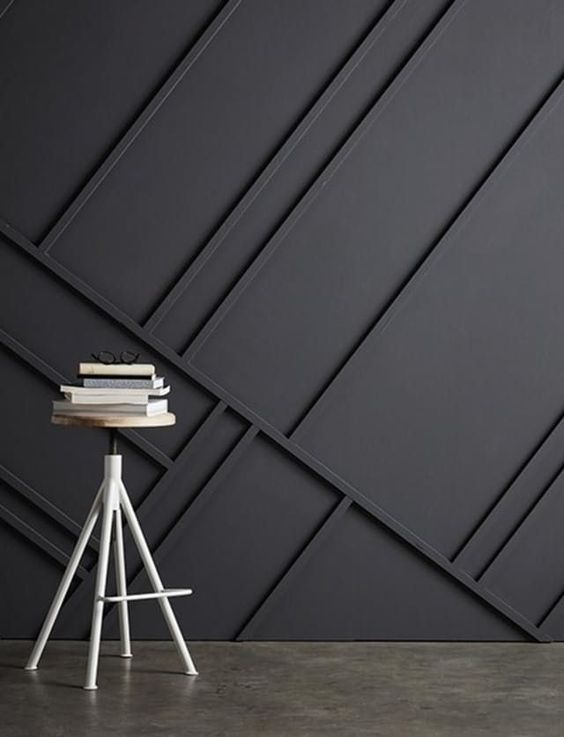 I love this wall because it uses the baseboards as artwork. With a wall like this, and geometric lines crisscrossing it, there's no need to hang up paintings.
The molding of the trim creates a design over the whole wall, and the dark color of the paint makes a statement in the room. If you want to go for a bold design, this may be the option to go for when it comes to baseboards.
Wooden Baseboards Are Charming and Rustic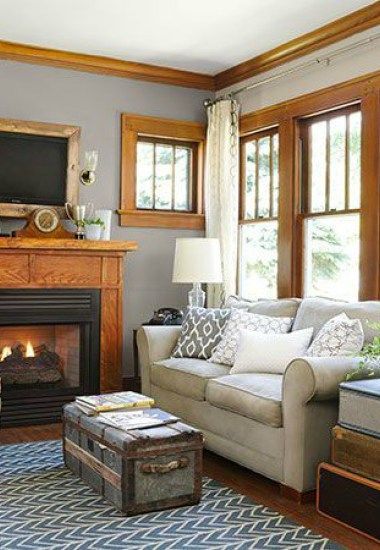 Wooden baseboards and trim are a good choice if your budget allows because they are usually more high quality. It's also a significant and eye-catching style choice that works for a lot of farmhouse, rustic, or coastal looks.
There are a lot of types of wood to choose from within that style and each of them has a different vibe. Oak wood is the most common one due to its durability.
Look for Popular Vinyl-Coated Baseboards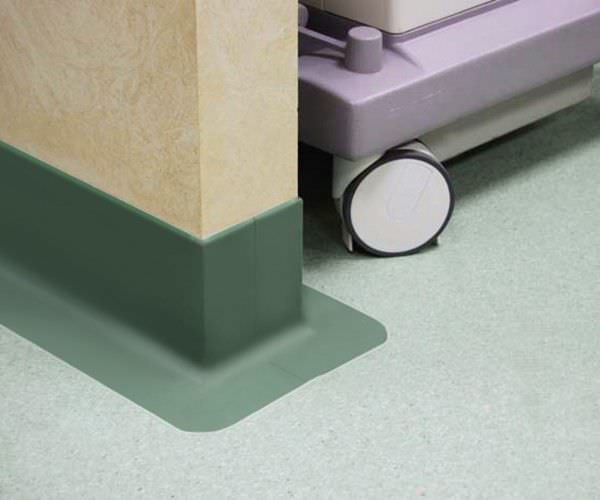 One of the most common options for baseboards is vinyl-coated MDF (medium-density fiberboard). It's easy to set up and size it to your measurements, and then you can use it in any baseboard profile or style that you want.
Keep It Simple With Plain MDF Baseboards
The baseboard pictured here is standard MDF, and quite ordinary. However, this type of baseboard is very flexible and durable and has a pretty simplicity to it when installed. It's easy to paint, or you can even keep it discolored for a more natural look.
In this example, the simple white baseboard with minimal adornment or design works well with the modern and spartan room, especially the darker shade of the walls.
Install Base Shoe Molding to the Bottom
Base shoe molding is the curved lip installed to the bottom of the baseboard, as you can see in this example. It adds a bit of personality to the baseboard and breaks up the straight line into the floor.
It's quite a traditional look and can fit in well to any room or decor style, especially the colonial look or the farmhouse style. Base shoe molding is also quite easy to add on to the baseboards yourself.
Use Pine as a Budget-Friendly Material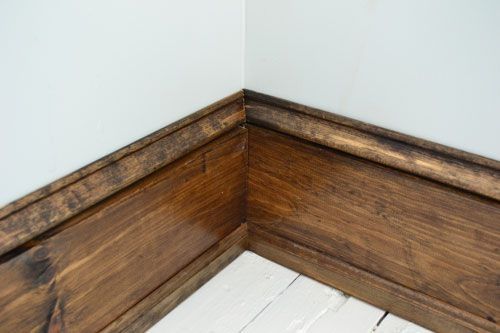 Pine is a gorgeous material to use for baseboards, especially when left in its natural state with rich coloring as we can see here. It's a popular product and also surprisingly quite affordable, especially with the quality that pine affords.
I love the classic look of the unpainted baseboards that adds a bit of rustic elegance to the room, but you can also paint over it if you want your baseboards to look more average.
Paint Baseboards White for a Low Maintenance Option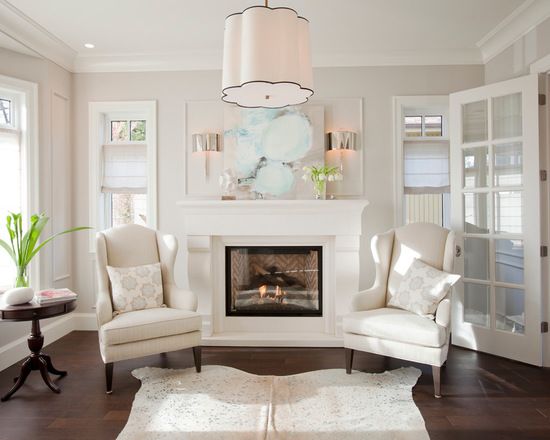 White is a very easy option for baseboards, and probably the most common of all colors for good reason. It works well with almost every decor style and it's quite easy to touch up if it ends up getting scratched or faded.
Another bonus with white is that you can easily tell if it gets dirty so you can keep it clean, especially if you go for a more high-gloss paint finish.
Look for a Simple and Modern Option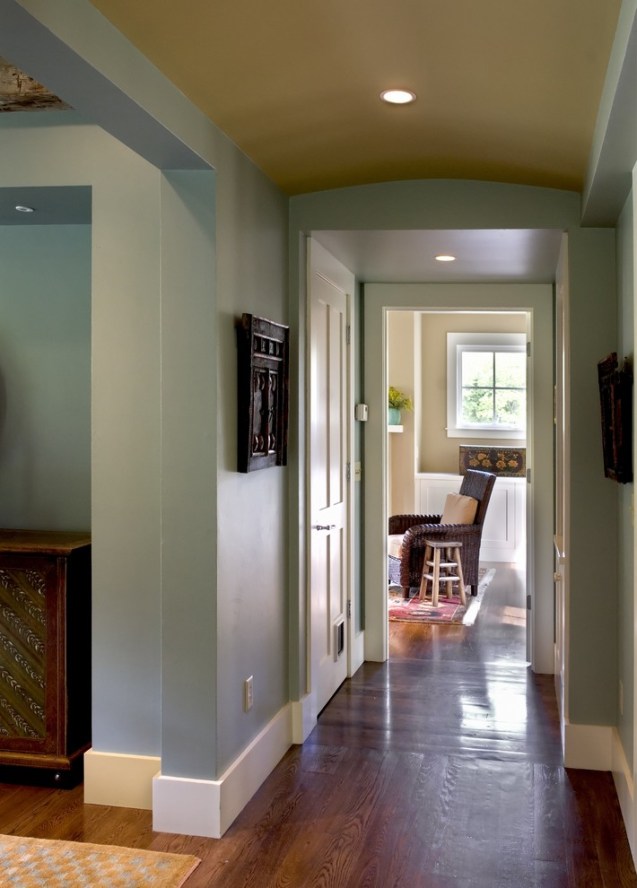 This baseboard option is very modern, all clean lines and no detailing. It's relaxed and informal but with the right decor style, it can also be modern and industrial. This is a great low budget option that actually ends up looking high-end.
The height of the baseboards also adds a bit of flair and really draws the eye to the clean, crisp lines. It's definitely a good option if you like the mid-century modern look.
Install a Modern Short Baseboard
This baseboard is quite a bit different than all the other options we've seen so far. It's a very low profile baseboard, much shorter than the traditional styles. The pale wood matches the floor and almost seems like it's an extension.
It's a great choice when you don't have a lot of space on the wall for a baseboard, like in this example with the floor to ceiling windows.
Go For a Classic Look With Vinyl Trim Molding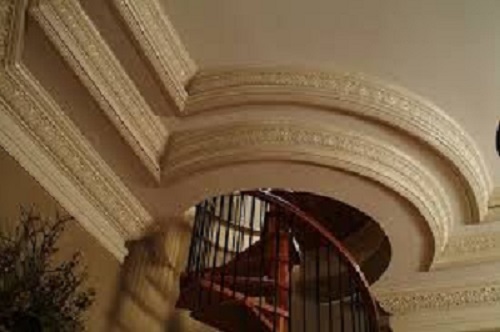 This image is old-fashioned and timeless, all done with vinyl molding in the ceiling around the stairs. The result is both vintage and classic and creates a certain atmosphere in the house. It won't work for every style but if you think it will complement your interior design, go for it!
Add Quarter Rounds to Your Baseboards
Quarter rounds are similar to base shoe molding but as you can tell there are some differences. It's a great addition to a flat baseboard because it adds some profile and definition. Quarter rounds are also easy to install after you've put in your baseboards as an extra step.
If you're interested in installing your own baseboard, you can follow this handy guide that outlines each step and makes the whole thing much easier.
Stand Out With a Baseboard Wall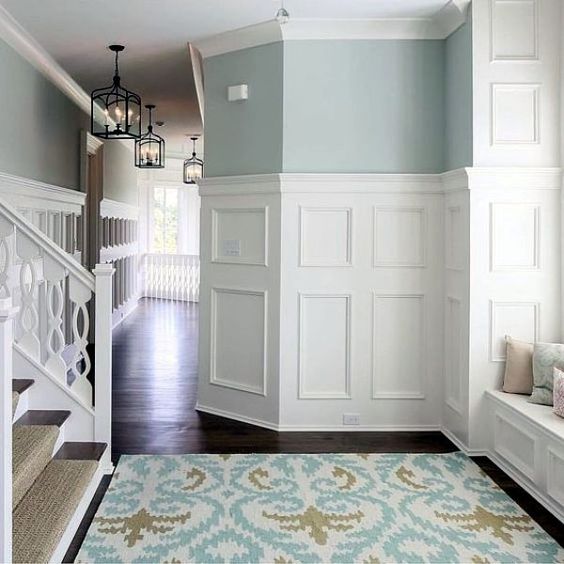 This is a true baseboard wall that covers up more than the bottom half of the hallway. It's an interesting design idea that you might like to get for your home. I particularly like the choice of white for the color, since it makes the hallway lighter and more delicate.
It's a great way to add some design and style to your hallway and make it stand out from the average look.
Use a Flat Baseboard Trim for Crown Molding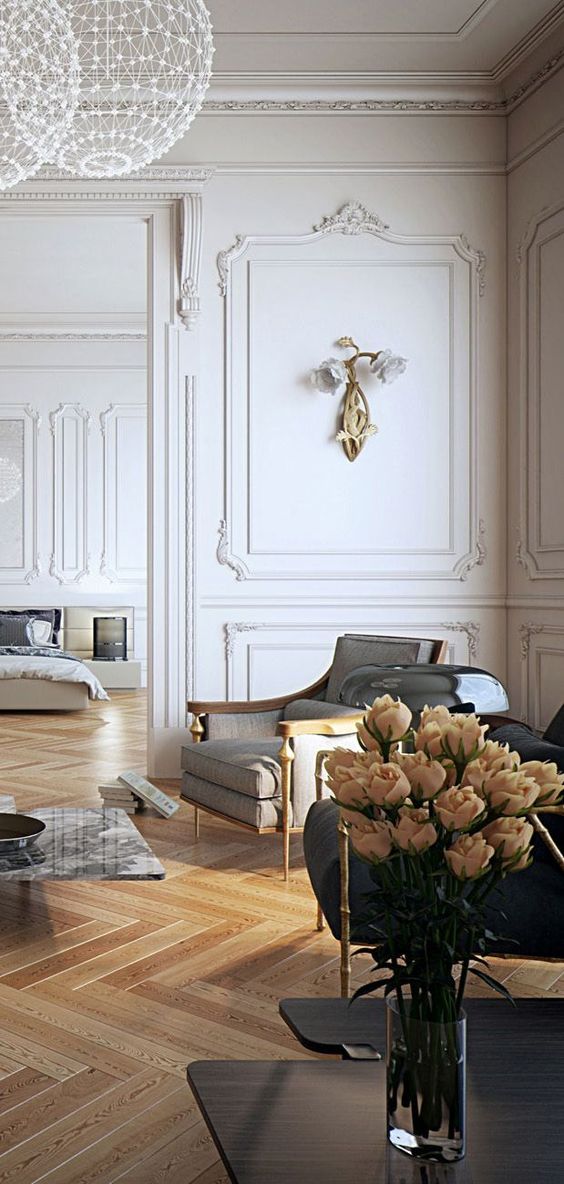 This is another baseboard style that involves molding on the walls. This is an interesting option if you want to decorate your home in the Victorian style because it adds a lot of trim and extra flourishes on the walls.
It's an elaborate and intricate option but the final result is truly stunning and channels the feeling of luxury and elegance.
Add a Two-Tone Baseboard With Wooden Accents
This is a double baseboard in white and wooden accents which stands out a bit from the ordinary. There's a typical colonial baseboard paired with an extremely low profile wooden addition for a two-tone finished result.
The wooden accent matches the floorboards and helps to blend the floor into the baseboard. The crisp white paint pairs beautifully with the paleness of the wood grain.
Design Your Whole Wall With Baseboard Accents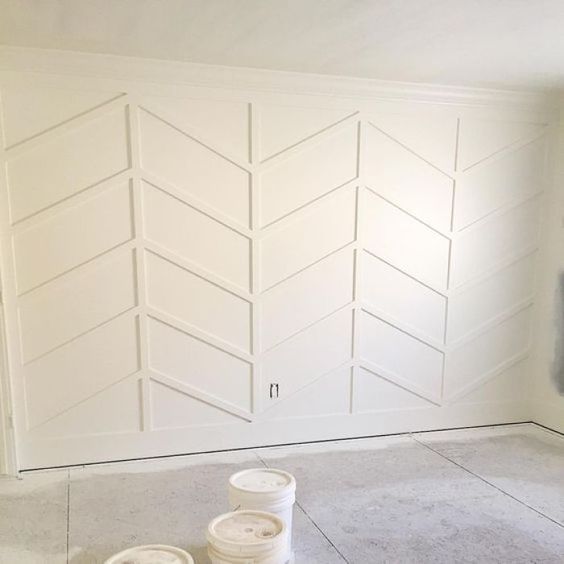 This is another entire wall design with quite a bold pattern and chevron accents. This type of installation may be difficult to do on your own, but if it's the look you truly want, it may be worth the work.
This type of molding can be limited to one wall only or expanded to a whole room, around a window, or the door trim.
Go With Dark Baseboards for a Stunning Contrast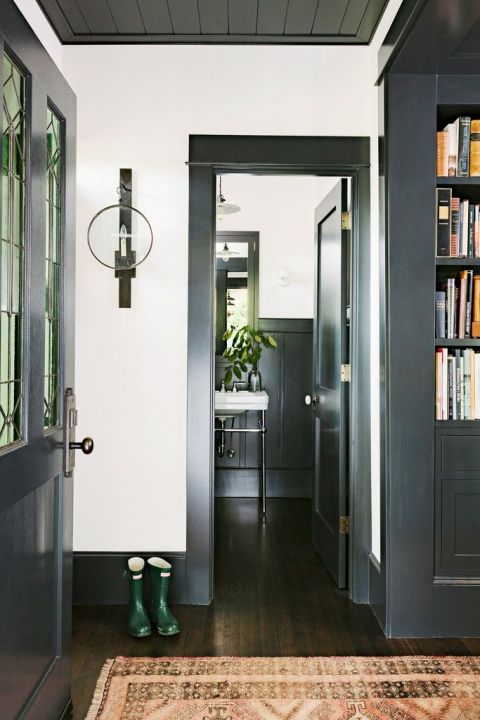 Most baseboard options we've seen involve white or pale colors, but that isn't the only way to go. This example shows us that a dark painted baseboard can actually complement a house really well and provide a much-needed contrast to your home.
The dark baseboards draw out the white walls and make the whole house appear brighter and warmer. It's a great choice if you don't want colorful walls and you're not a fan of the white-on-white look.
Play Around With a Slanted Baseboard Design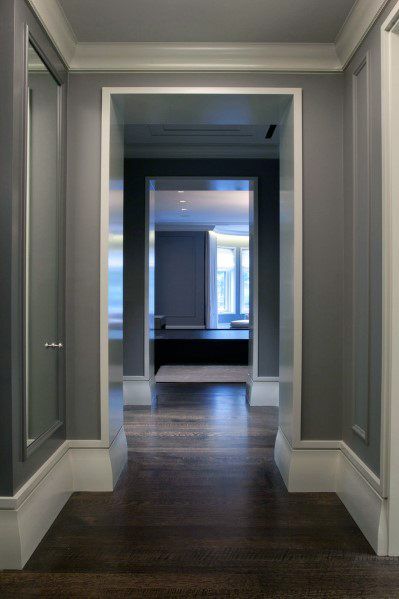 The problem with baseboards is that people are often tempted to go with a simple look or are worried about experimenting with different styles. In reality, if you want a modern look for your home, you can definitely install more modern baseboards to enhance that style choice.
In this example, you can see that the slanted baseboards add a bit of flair and look really sleek against the slate gray walls.
Summary
Choosing the right baseboards for your home can be much trickier than you would originally expect, let alone picking the right paint color. At the end of the day, it's a small detail in the room, but it can make a big difference to the final look of the house.
When you look through these ideas and try to find what baseboard is best for you, think of the budget you have, the style of rooms you're looking for, and you'll be sure to find a couple of options to suit your needs. There are a lot more ways to design baseboards than you'd think!