Garden fences are mainly put up to mark the territory and to protect your lawn or garden from stray animals eating up your plants or dirtying up your area. They also keep your kids safe and protect your fruits or vegetables from being stolen. But that's not the only purpose of a fence. Fences also look very stylish and there are so many ways in which you can have a fence around your lawn or garden.
Let's discuss some awesome garden fencing ideas that will make your place look beautiful.
A Fence with Enough Spacing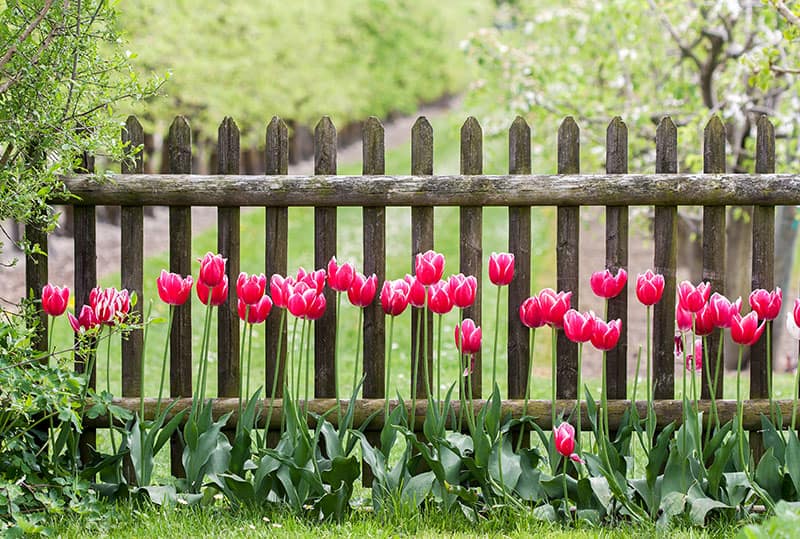 With a widely spaced fence, you can allow air to pass through and you'll also have a good vision of whatever is happening outside. So while your territory will be marked and your plants will be safe, you'll still get to see what's happening in the outside world as you sit in your chair and relax in your yard.
It also allows you to showcase your beautiful flowers or other plants. For example, these red tulips lining up the garden deserve to be enjoyed by others. A widely spaced fence will ensure your neighbors and passers-by get a look at these flowers and enjoy their beauty.
Modern Looking Gabion Fencing
If you want something modern and unique, try gabion fencing. These are large cages that can hold together rocks. You might have seen them in road building and civil engineering applications. Now you can bring them to your own home and create your garden fencing with them.
You can have a regular fence spaced by gabions that carry large rocks. This fencing gives a very stylish appeal that's unique and contemporary. If you want something different than what your neighbors are doing, this can be a good idea. You can even use rocks of different colors in the gabions to give it a colorful appeal.
Wrought Iron Fencing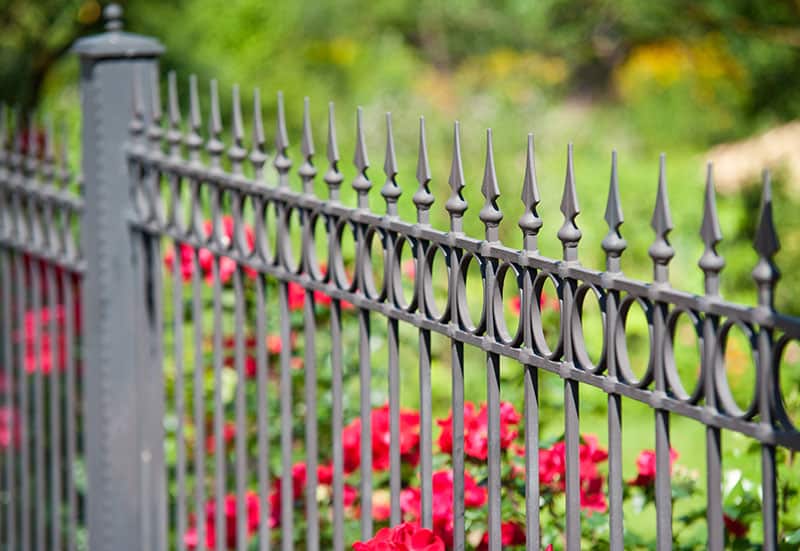 Wrought iron makes excellent fences. These fences are sturdier than wood and give a royal look. Of course, there are different patterns when it comes to choosing fences but no matter which style or color you choose, wrought iron always looks delightful.
Here's a tip when going for iron fences, try to stick to black color. Unless you have a specific theme, black is a color that looks good with wrought iron. If you want to make it look extra royal, you can use a hint of golden as well but make sure you don't overdo golden.
Fencing with Rolled Bamboos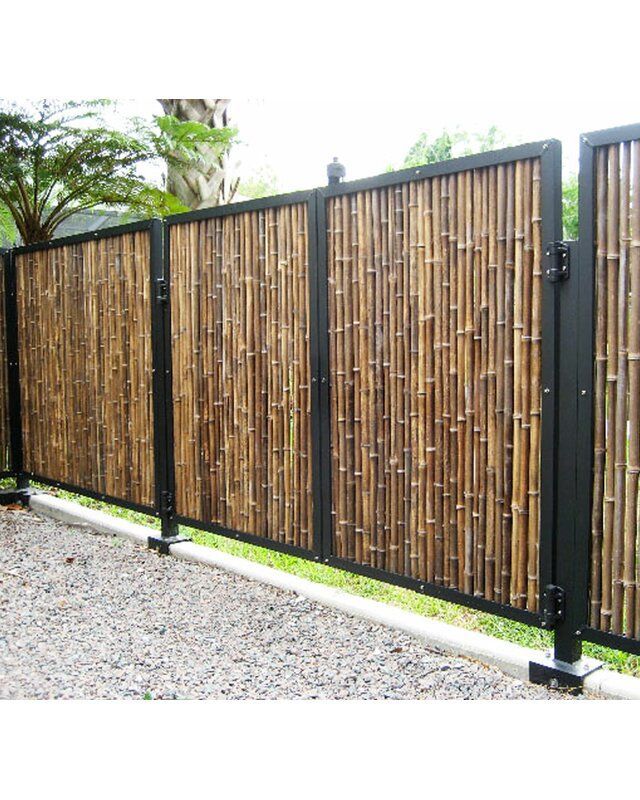 Bamboo is common among landscaping fence ideas. But this one is different instead of the entire fence being made of bamboo (which looks extraordinary by the way), it is rolled in a steel or iron frame. As a result, the fence turns out to be even and well adjusted.
Also, it increases the life of the fence. A regular bamboo fence doesn't have a long life. Since bamboos have to be tied together firmly to create a fence, the door of the fence can sometimes be the weak link of the fence. But not with this one. With bamboos rolled in steel frames, you add durability to the classic bamboo fence.
A Classic Archway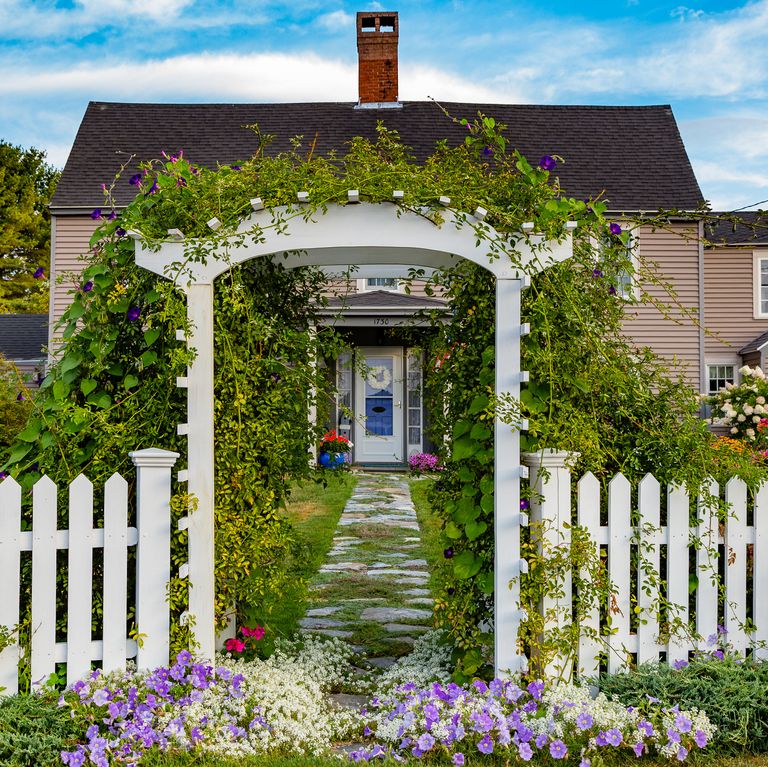 Turn your garden into a fairytale land with the old white archway fence. These fences are made to look more beautiful with vines crawling over them. Make it even more divine with a flowering vine. This fence isn't just a protective mechanism but also makes the garden more beautiful. Check out the small flowers growing outside, giving it a unique and magical look.
Even the pathway is covered with grass here and there, making it look like you're living in a fairy kingdom. If you always wanted to live in a palace, this fencing style would be perfect for you.
Mini Fencing to Define Landscape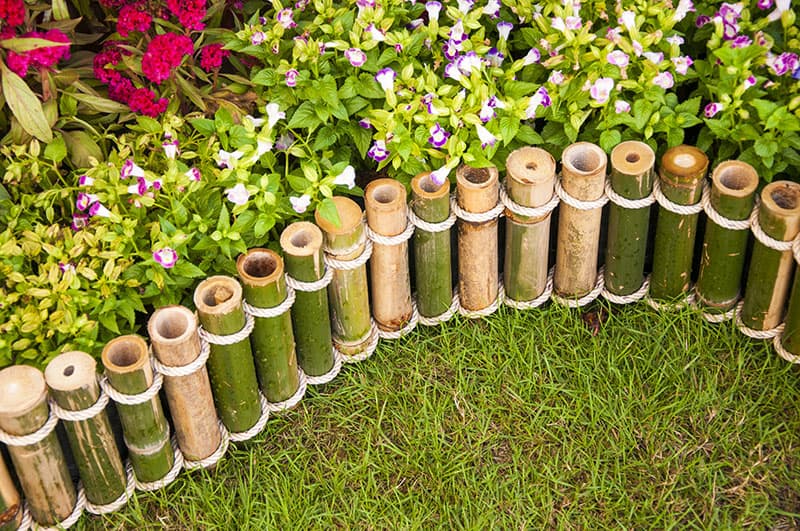 While the external fencing is done to keep your area protected, you can also use internal fencing to define the landscape. This fencing is considerably smaller and is used to mark boundaries for certain kinds of plants or bushes.
This can be made with bamboos to look natural and you can decide the area in which a particular grass will grow and so on. Depending on your landscaping abilities and preferences, you can use this mini fence. While it may not protect your land, it does look beautiful and helps with landscaping.
Geometric Garden Fence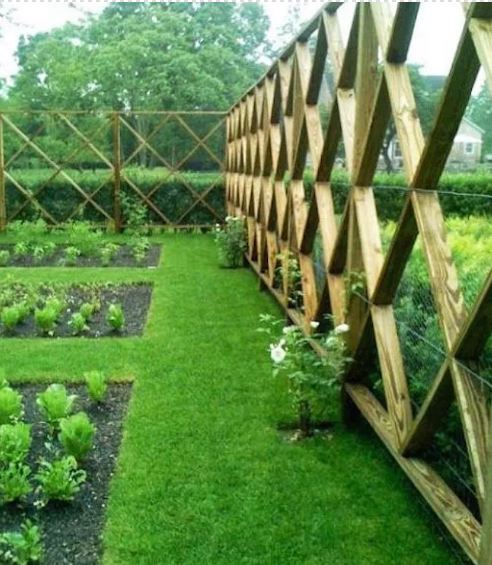 Convert the regular wooden fence into something new with this geometric design. Instead of planks arranged vertically, the fencing is divided into diamond shaped patterns. This will allow enough visibility and protect your territory as well as your plants.
This fence has large gaps so while a large animal cannot go through it, a small one can still make it through. So installing horizontal wires (including barbed ones) is a good idea. This will ensure that stray dogs or other small animals don't enter your area. Depending on your needs, you can have small or wide gaps between the wires.
Wooden Planks Among Concrete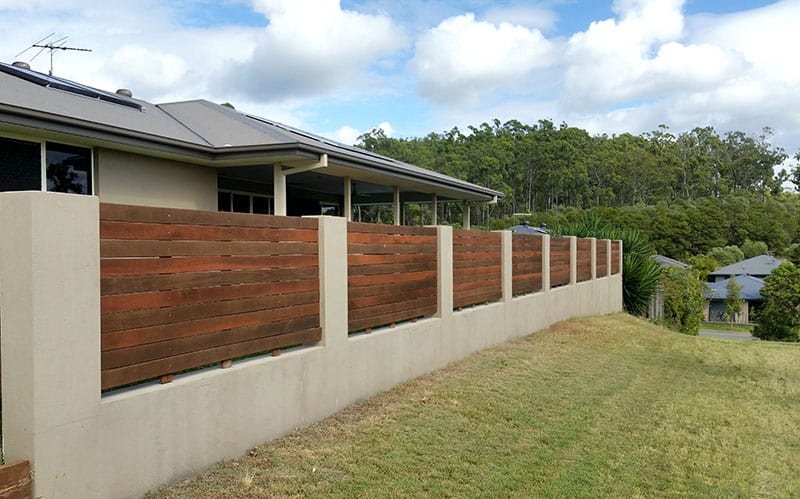 If you like a rather neat look that defines your borders properly and marks a clear territory, concrete is the best option. There's nothing stronger than concrete. However, if you want it to look like a fence and not a wall, you must add something else to it.
These horizontally arranged wooden planks between the concrete wall give it a fence look. However, it's not economical to install a concrete wall around your yard. And it's not even permissible in some areas. So this can be an option when you want to fence a smaller area than a full-fledged garden.
A DIY Garden Fence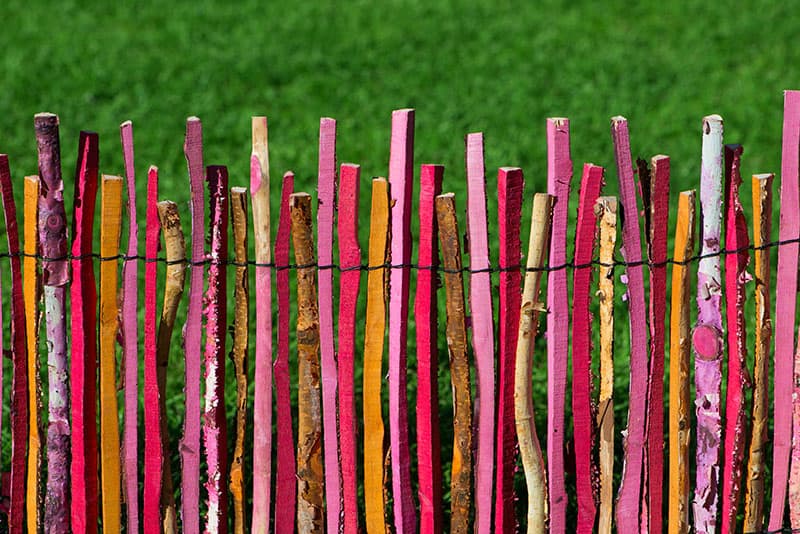 A low-cost solution – this fence isn't exactly meant to defend your territory. But perhaps if you want to mark a children's area in your garden, this fence can be useful. Take some wooden sticks and paint them with multiple colors. The more colorful the better.
And then place them firmly in the ground and string them with a wire, creating a makeshift fence that defines a boundary. Of course, it won't be sturdy but it will be a fun project, especially when you want to spend quality time with your little ones and teach them arts and crafts.
Stepped Fence on the Hills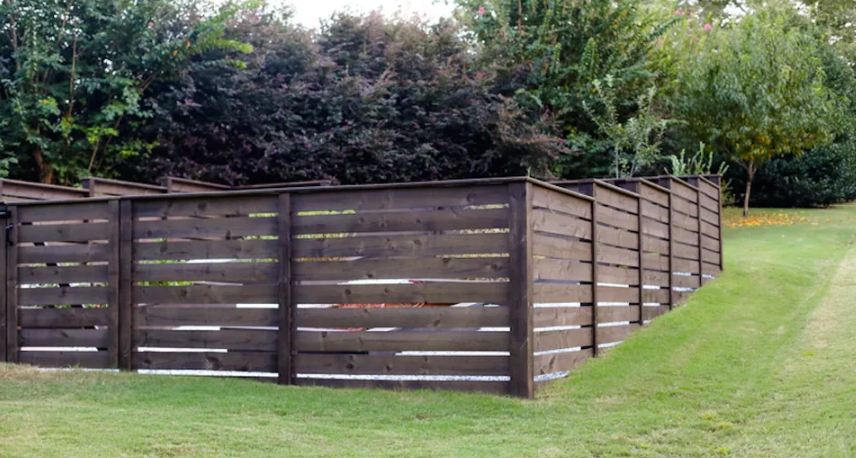 When your land is on the hill or an otherwise ascending land, it becomes difficult to have an even fence. A stepped fence can come to your rescue here. The fencing is done in the usual way but the edges will feel as if they are in steps.
Stepped fencing can be done with anything. There are no material or type restrictions. It is just a design that's more suitable to areas that are not in the plains. If you live in a hilly area and are looking for a fencing style, this will be good for you.
A Weaving Wattle Fence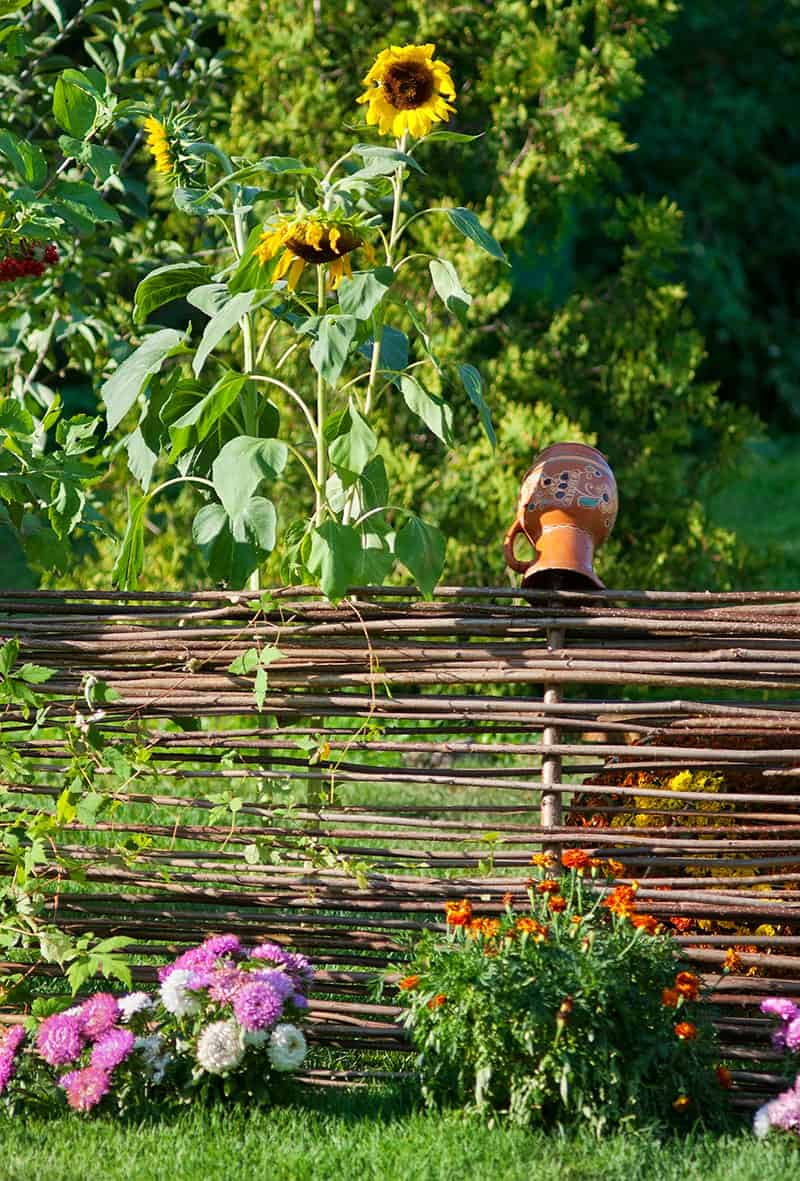 Wattle fencing makes your territory look like it's been marked by nature. It is mainly used in the British countryside where farmers herd sheep. But this doesn't mean you cannot have it in your yard. And the best part about this fencing is that once it is dried, it is very strong and will remain for a long time.
Before you set up a wattle fence, you'll need to set up a frame. This frame is made of wood so it doesn't look out of place. Wattle fences look amazing and natural and many times, you'll notice yourself just relaxing in the yard, looking at the fence, admiring it.
Wire Garden Fencing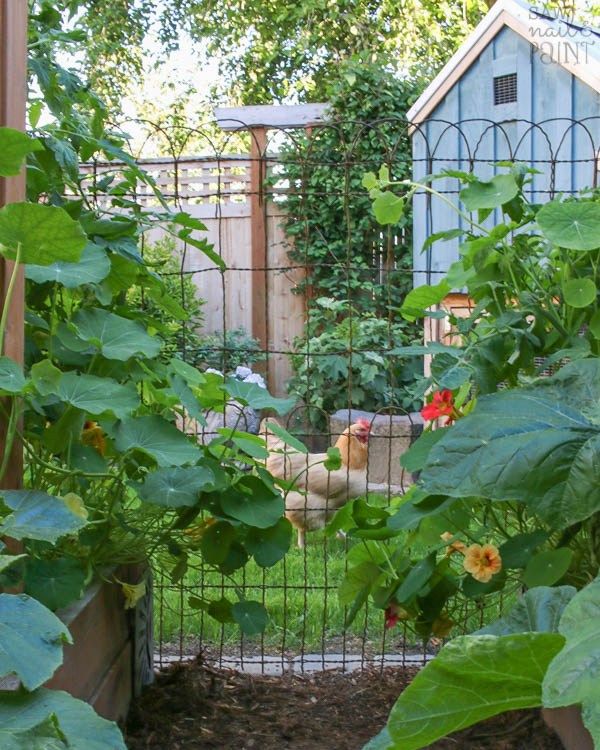 Whether you're looking for small garden fence ideas or inexpensive garden fencing, wire fencing fits the bill. You can do it in just about $10-$25, depending on your area and the type of wire. There are different types of wire mesh you can get in a hardware store. They are rather easy to set up too.
All you need to do is unroll the fence and install it around some pre-installed poles on the garden. You need to put some poles or posts that will support the wire fence. This fence might not look the most stylish but it will keep cows and other stray animals out.
A Picket Fence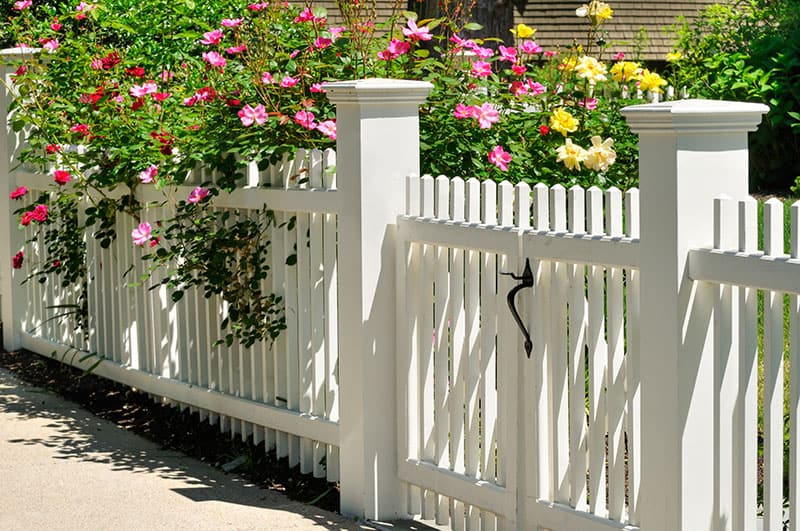 A picket fence is a classic fence that we grew up with. It's generally white and if you've read Tom Sawyer books as a kid, you know what fences are and how kids were sometimes given the responsibility to paint them.
These fences are pretty simple. Made of wood, they were painted white and needed a new coat every now and then. While they are pretty old now, they are still in style because of their evergreen looks. They allow air and light to pass through and let the lawn and garden be airy and beautiful.
A Rope Fence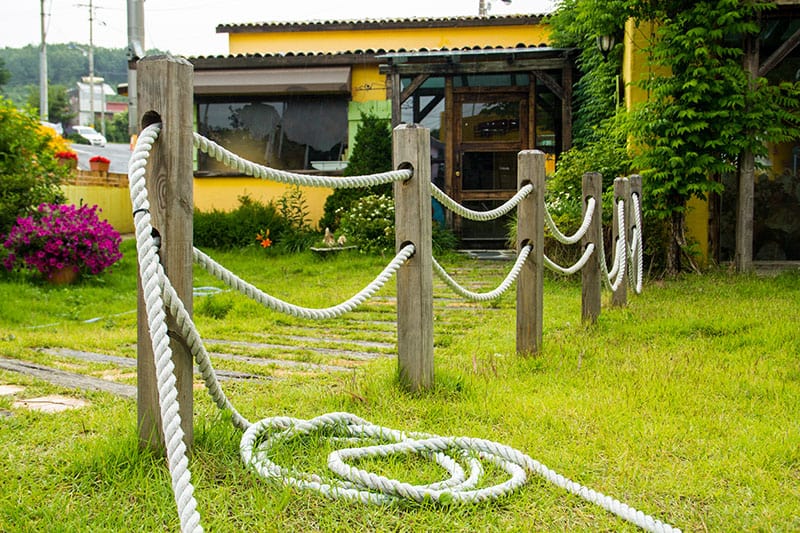 A rope fence looks stylish and has a long life. While it won't exactly stop people or animals from trespassing, it does look good. If trespassing isn't a problem, a rope fence will be a cheap garden fence idea. It is easy to install and can be changed pretty easily too.
All you need is rightly spaced poles. The ropes can go through the poles. Depending on your needs and the width of the fence, you can install 2, 3, or 4 ropes throughout the fence. If the ropes are narrowly spaces, you can prevent some animals from entering your area.
Bright and Colorful Fencing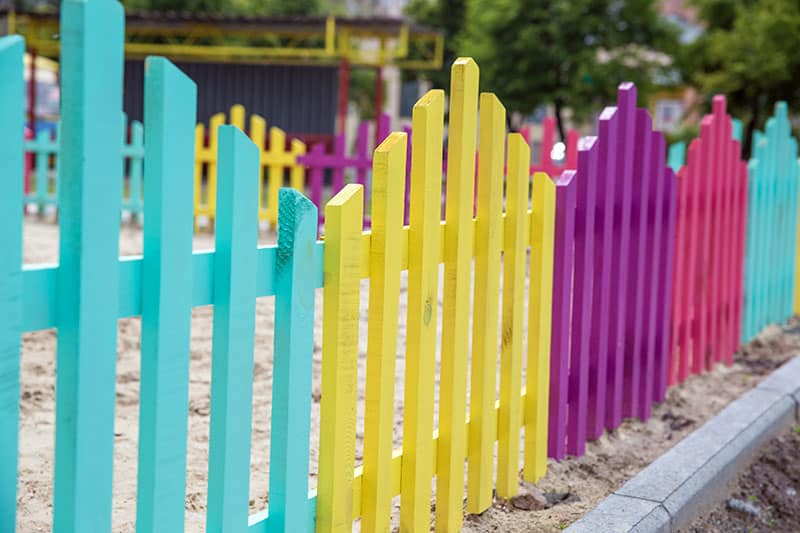 Fences are usually of a single color – mostly white. But you can select absolutely any color for the fence. Better still, you can select multiple colors for the fence. You can either splash various paints on the fence before installing it or install the fence first and paint it later with multiple colors.
Splashing will give a more uneven and artistic look but painting it will give a more even and uniform look. Whatever way you prefer, it's a great idea for garden fencing, especially around the kids' play area. You can use multiple bright colors to paint the fence.
A Vertical Garden as a Fence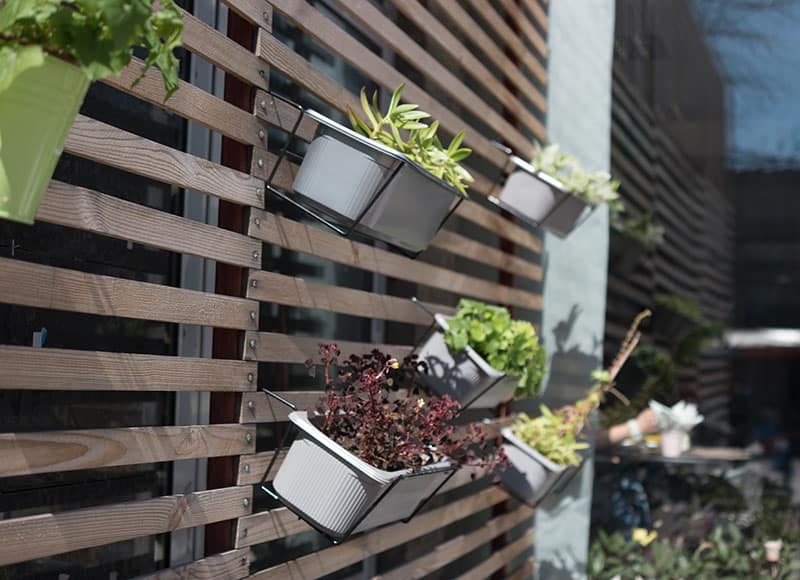 Plants grow on the horizontal surface and fences are the vertical surfaces that mark the boundary. Not anymore. Convert your fence into a vertical garden using vertical planter boxes. These boxes can be hung on the fence. So the vertical area of the fence is also being used to add more greenery to your garden.
Vertical gardens are a new concept and they provide more area to smaller spaces as they can have not just more plants but also homegrown vegetables. So if you have a small garden, you can utilize the fence space to have more greenery.
Logs and Chicken Wire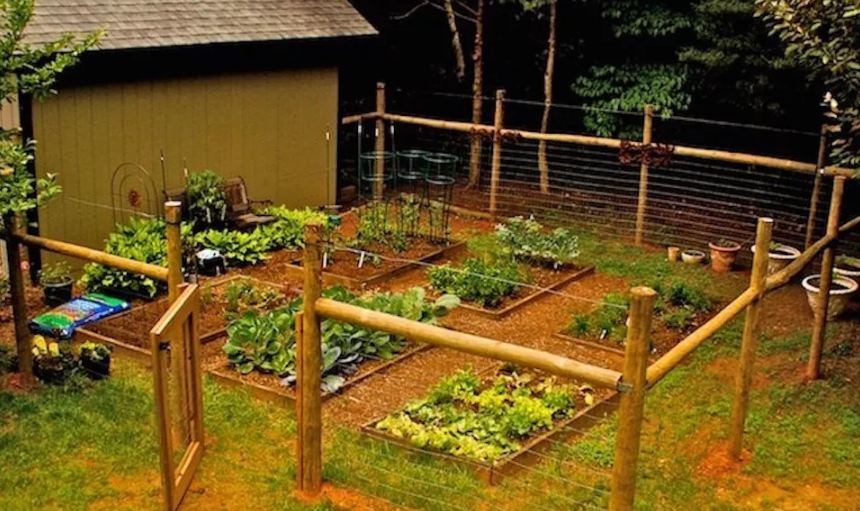 If you don't want your pets or toddlers to wander into your vegetable patches, set up a small fence made of logs and chicken wire. You'll need to set up posts on which you can put up the chicken wire. It's a basic fence that won't keep out intruders and trespassers so it's not an ideal external fence.
But it's a good way to keep pets and kids away. Install it around the vegetable patch and keep a small hinged door that you can open and enter the area. You can either paint it or leave it like that. It looks good either way.
A More Private Fence
If you want some private area in your yard, the fence shouldn't make the insides visible. The wooden planks on this fence are closely fixed together so any neighbor or passerby cannot clearly see what's happening in the garden or the lawn.
This gives you enough space to sit and enjoy with the family. You can have barbeque parties in this place and relax with your friends. Of course, fencing the entire garden like this could be expensive so you can just fence a small area in it where you can sit and relax.
Upcycled Pallet Fencing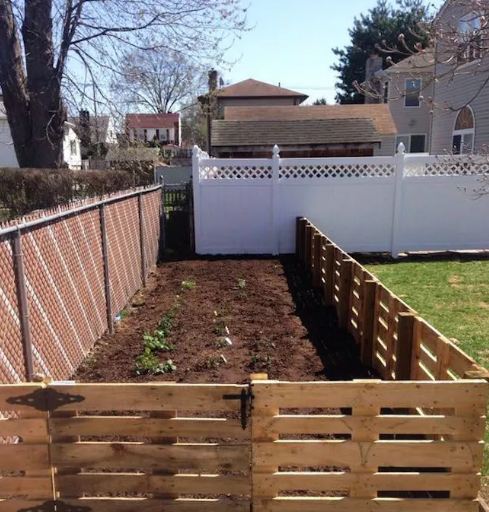 Upcycling is a good way to save money and to be more kind to the environment and the earth. If you have some wooden crates left over, you can use them and create a fence around a vegetable patch. As you can see, the main garden fence is done with wood over a steel frame.
But the smaller fence that's meant to protect the vegetable patch is made from upcycled wood that's reclaimed from old wooden crates. This will not just save you some money but will also mean less material being dumped in landfills. It's a win-win.
Patterned Wooden Fence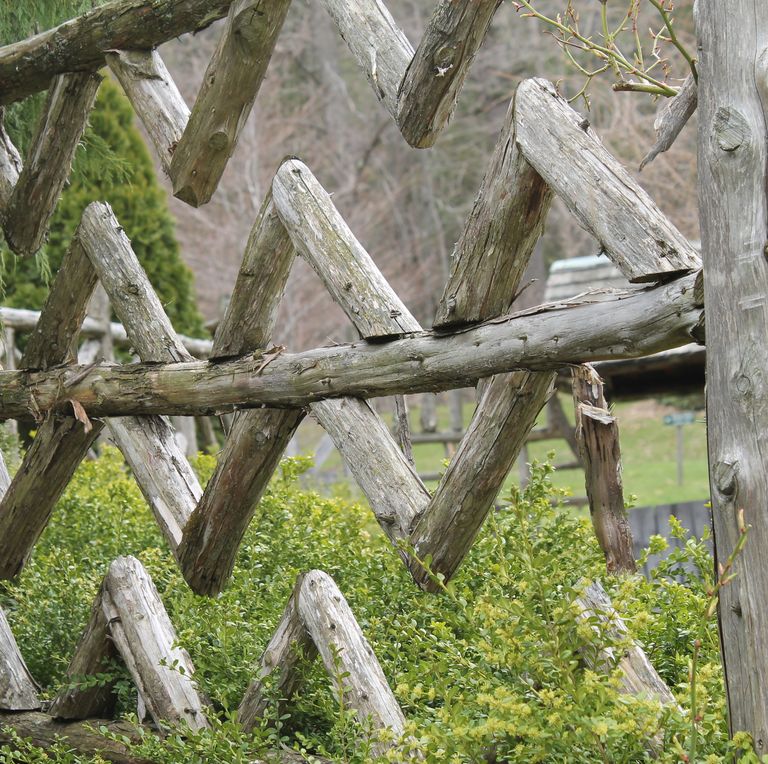 If you're the artistic type, let your creativity be known through a patterned fence. This fence is made with wooden logs but instead of simply arranging the logs horizontally or vertically, they have been cut up and arranged in triangular patterns.
Of course, this takes up a lot of time and dedication to cut up the pieces just right and then to fix them in their place. But if you're someone who gives attention to details, this might be a good project for you. Once it's complete, you can paint it or leave it like that – it looks good either way.
A Shabby Chic Garden Fence Appeal
Get a shabby chic appeal on your garden fence by having a picket fence that's not repainted on time. Let's face it – we delay so many chores. And painting the garden fence is one of them. I mean who wants to paint the whole thing over and over again? It requires just too much time and energy.
Instead, if you leave the fence unpainted for just a few more weeks or maybe months, it will have a shabby chic appeal that's irresistible. The fence looks like it's from a bygone era and gives off a rustic and magical vibe.
A Slat Fence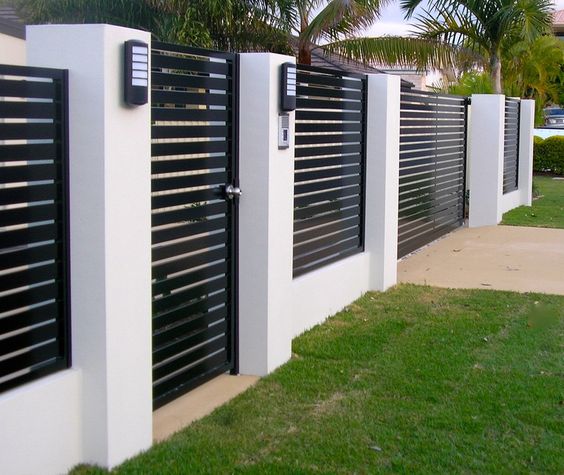 Just like wood looks good with a concrete structure, a metal fence also creates magic. Check out this wrought iron fence that's installed between concrete pillars. Arranged in the patter of horizontal slats, it looks magnificent. Especially, the color combination is absolutely charming. Jet black with pure white.
It carries a formal appeal and is ideal for the front part of the yard. Or course, covering the entire yard with it will be expensive but depending on the area you have and your budget, you can get this fence too. It is durable, reliable, and difficult to break into.
Etched Garden Fence Door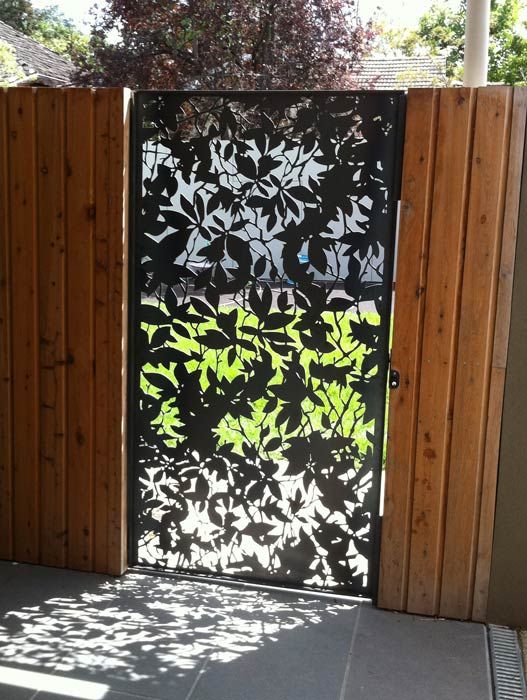 If you have picked the perfect design for your garden fence, it's time to look at the door. If your fence looks lovely but the door is boring, it will make the whole thing look bland. There are several ways in which you can get a beautiful looking garden door.
One of those ways is to get an etched door. Several patterns can be etched on the door. A metal door that has a vivid and lovely pattern etched on it will look beautiful and add more magic to the fence.
Frosted Glass Fence
If you have a modern looking yard, you can choose a different material for fencing. Have you ever given a thought to glass fencing? Of course glass is transparent so to add more privacy (and style), you can get frosted glass. It doesn't just make the yard more stylish but also gives you complete privacy.
If you want some visibility, you can get a transparent pattern in the frosted glass. When you have a fence that's as stylish as this, you need the perfect door too. Try an etched door that's discussed above.
A Fence Made of Climbers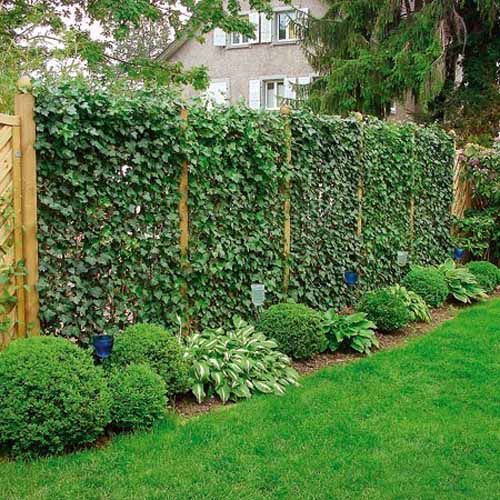 Let vines climb on your fence and give it a green look. You can have any fence for this purpose. Try getting cheap or reclaimed items for fencing because when they'll be covered with greens, the original fence won't be visible anyway.
The good thing about this fence is that it's very good looking and gives a natural vibe. The difficult part is that it will take time to grow. You cannot just install the fence and be done with it. The vines will take years to give it the right look. But once it will be done, it will be worth the wait.
Create the Right Curb Appeal
The right kind of fence can create the right curb appeal for your home. In fact, if you install a good fence, your home value can also go up. Since the curb appeal plays a major role in the home value, a fence can be a good place to start if you're planning to increase the market value of your house. You can use the ideas given here or get creative and find your own idea! All the best!