Nautical decor is a popular choice for bathrooms and for good reason, since it channels the idea of the sea, marine life, and the calmness of the open ocean. There are a few key features of nautical bathrooms to keep in mind when designing your own.
The first is to go with a shade of blue paint or blue accents on white or pale gray walls, and this will serve as your canvas to add some maritime touches. Let's have a look.
Build Some Nautical Inspired Shelves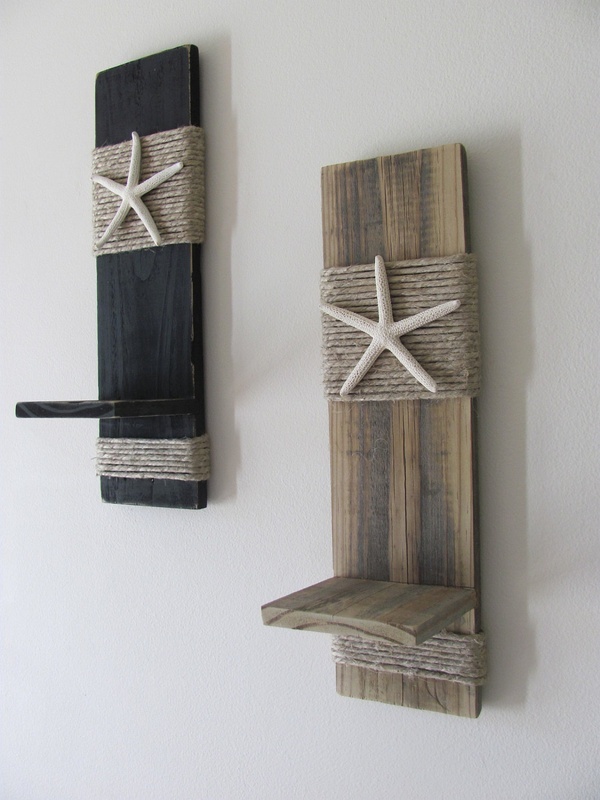 These are extremely simple shelves to make yourself and they add a lovely nautical touch to the bathroom. They're small and unobtrusive so you can hang them in the bathroom without making the space appear cluttered.
Keep the wood unpainted for a more natural look, and decorate them with starfish, coral, or seahorses — anything with a marine or maritime theme works perfectly, and the rope accents make the whole thing more nautical.
Hang a Large Anchor on the Wall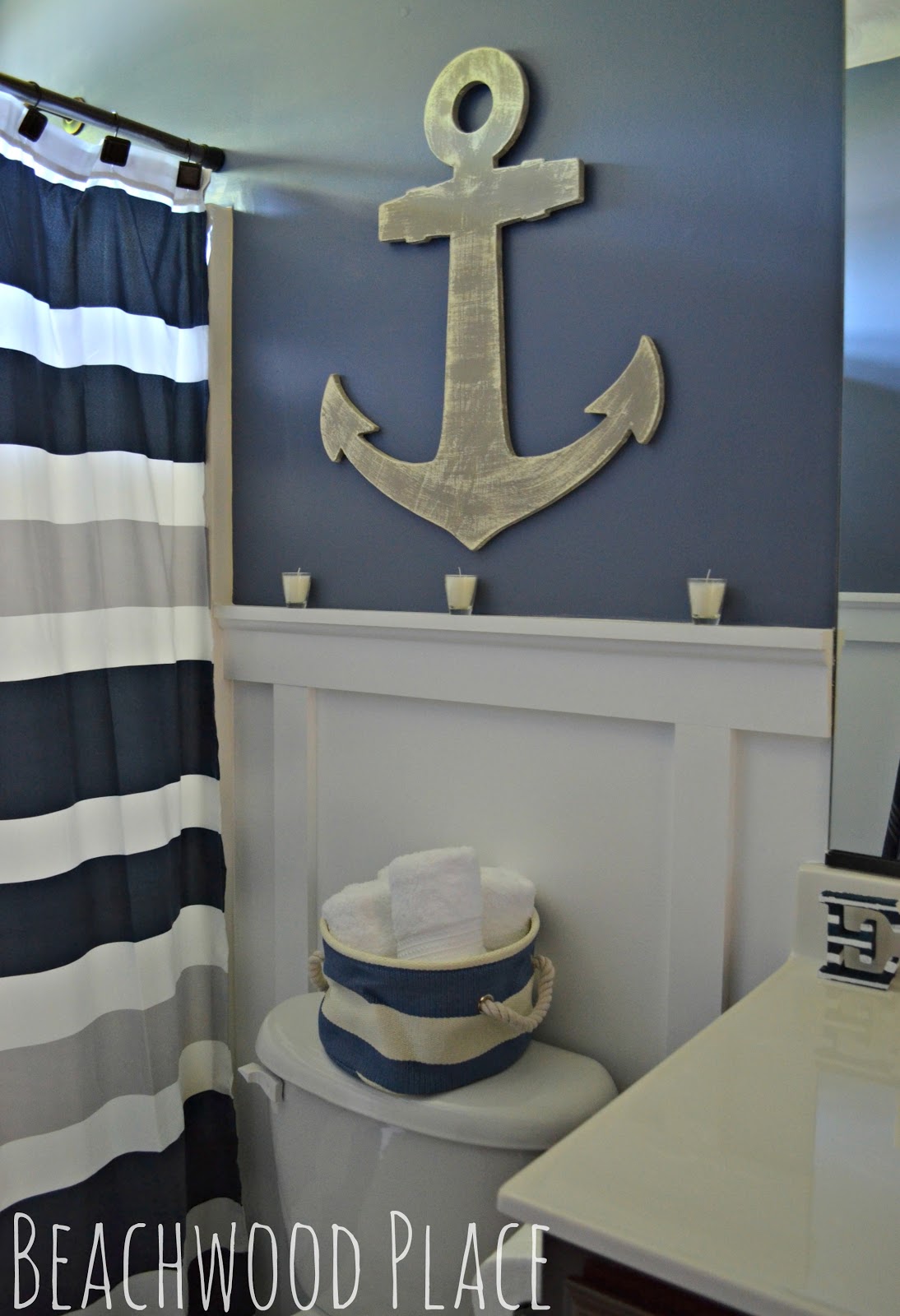 This large anchor is an excellent focal point for the bathroom because it adds the maritime vibe and also works as the artwork in the bathroom. You can try to find one in store, but if not you can carve a panel of wood into the right shape.
The weathered and gray look of this anchor complements the white and blue bathroom really well, and it's been measured to fit just right in the space.
Use Shiplap Paneling for the Bathroom Walls
Shiplap paneling is an excellent choice for all kinds of bathroom styles, from nautical and coastal or beachy to rustic and farmhouse style. Shiplap walls are either horizontal, like in this example, or vertical.
The white shiplap keeps the bathroom simple, especially if you'd like to keep the color palette in grayscale. The large piece of art adds a bit of a boat vibe to the room, without the need for any other nautical touches.
Hang a Small Gallery Wall of Nautical Art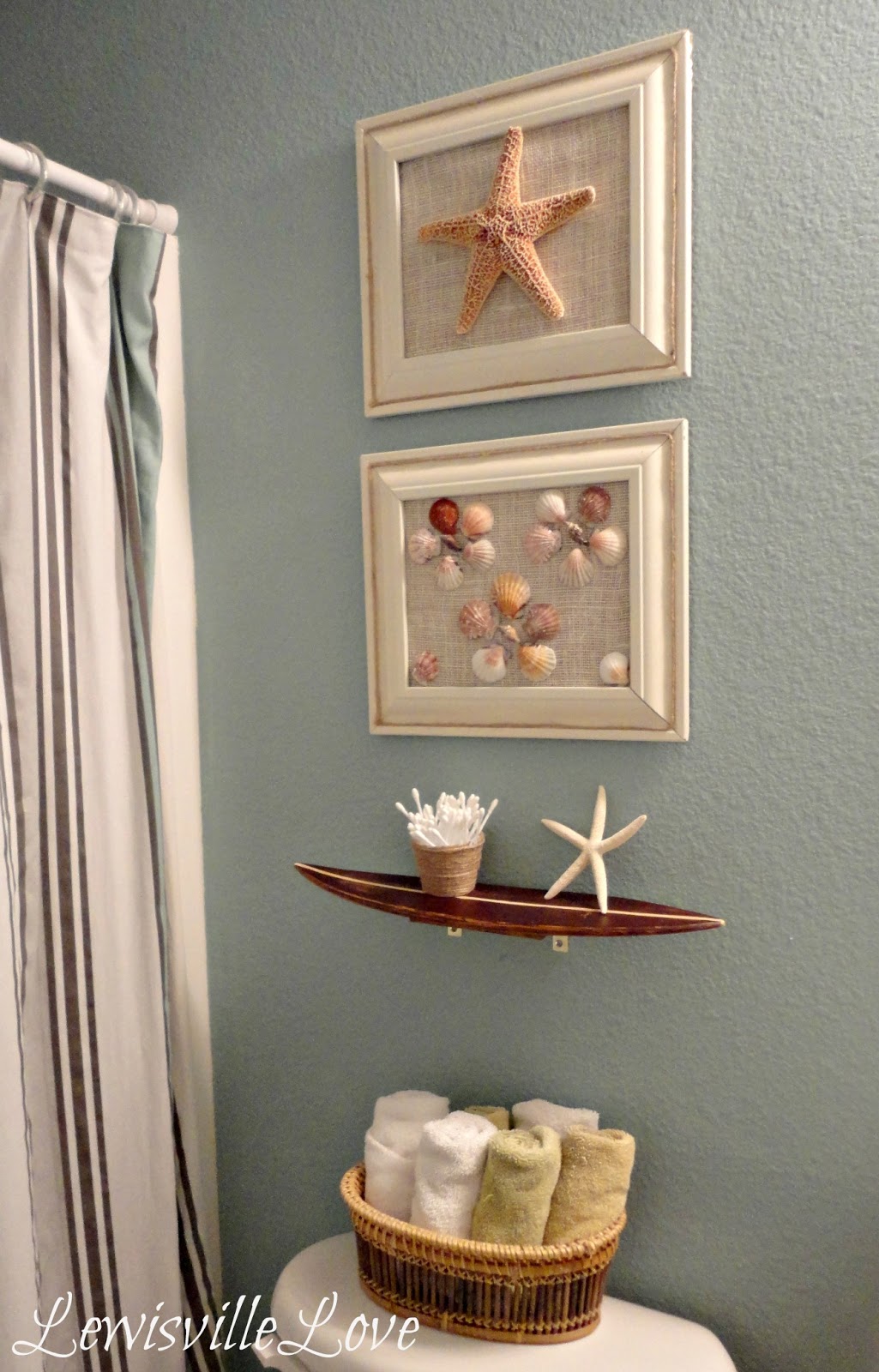 This is a lovely small gallery wall, which is just big enough for the little room. The gallery wall consists of two frames with shells and a starfish inside each.
It's quite easy to make yourself and requires few supplies. You don't have to follow the pattern pictured here, simply frame a couple of maritime or coastal items and you can accomplish the same thing.
Use Wooden Crates as Shelves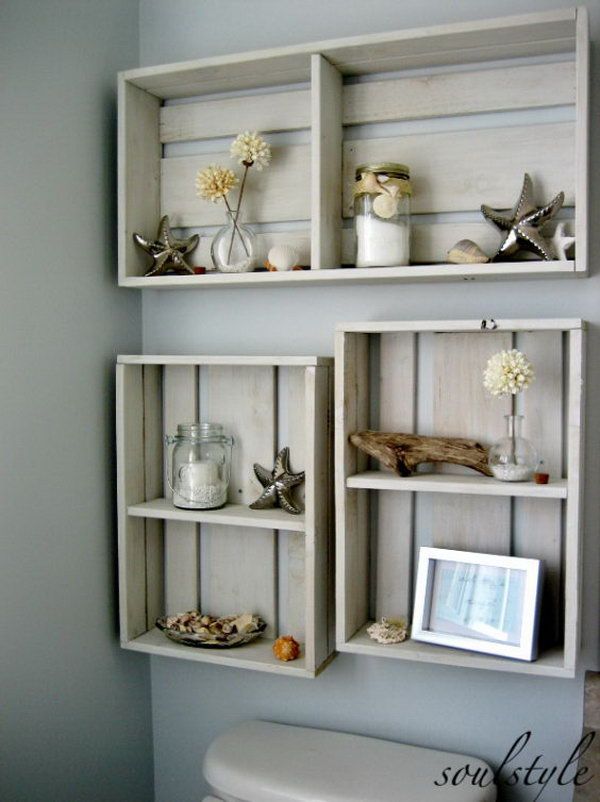 These white weathered crates are a great option for shelves in a nautical bathroom because they work with the whole coastal look and the weathered appearance is completely the right vibe. Get some natural wood shelves and paint them white or distress them to achieve this look.
You can use the shelves for towels and toiletries, or they can be used as a space to display beach-themed accessories, like shells, sea glass, or driftwood.
Add Some Navy and Red Accents
If you've got a white bathroom, it's really easy to make it nautical. Add some navy touches, either with a shower curtain and towels, or paint the cabinet and mirror frame in the same shade. Red is another great accent color for nautical rooms.
If you thought nautical bathrooms were only white and navy, think again! Wayfair has an awesome guide that breaks down all the aspects of the style to help you pick the right decor.
Look for a Weathered Bath Tray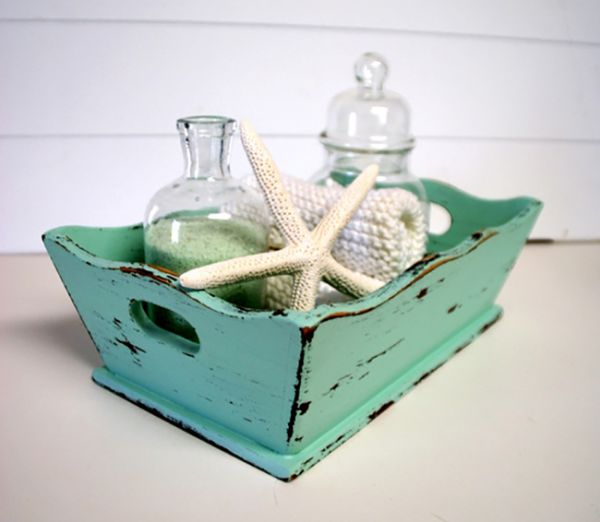 Sometimes, the little touches make all the difference. If you have a little bath tray on the shelf or behind the toilet or free space there, utilize it. Get a weathered bath tray either in white or gray or use it to add a pop of color.
Then, add a few items to the tray that channel the beach, like a vase full of sand or seashells and a piece of coral or a starfish.
Make a Beachy Hanging Bathroom Light Fixture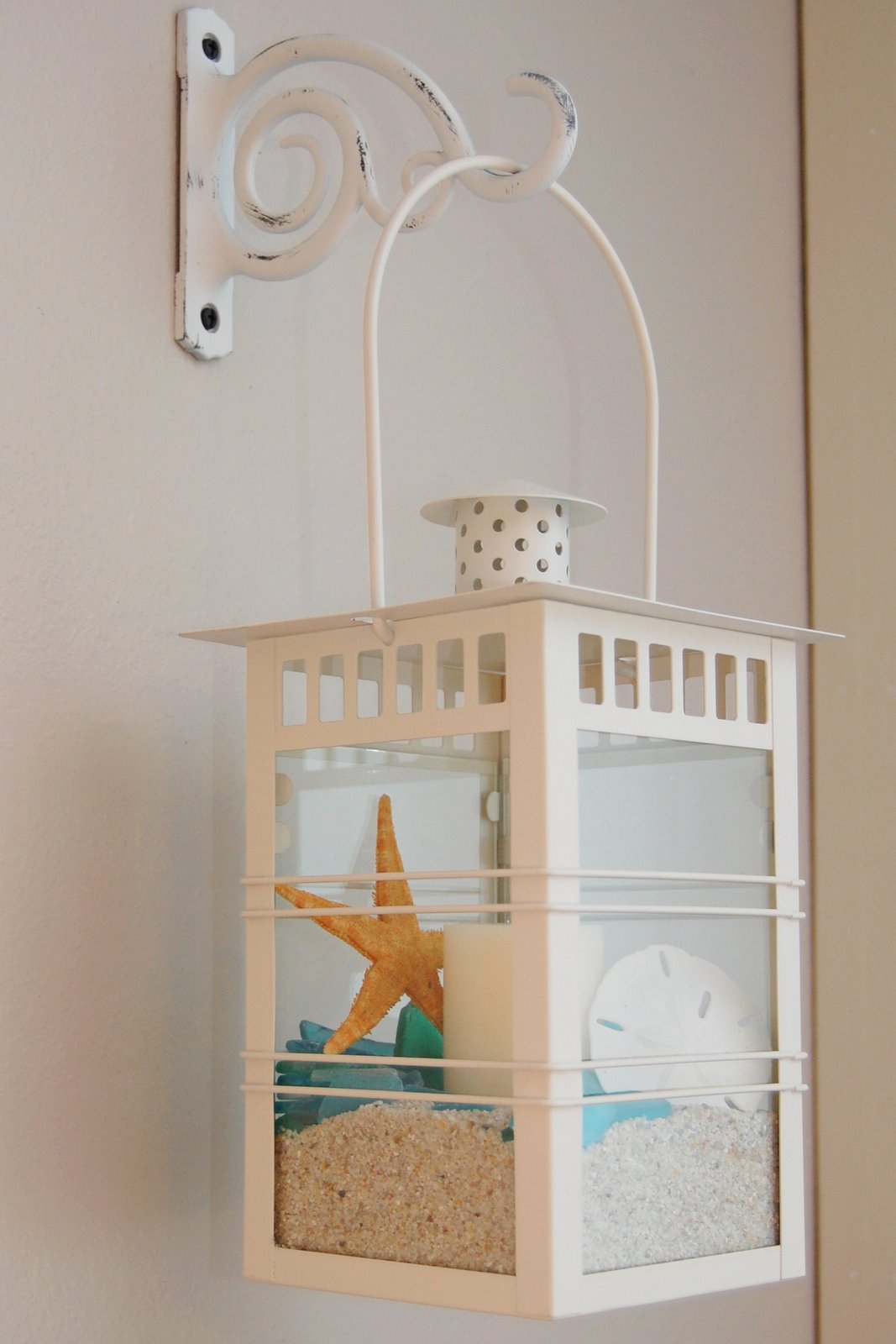 This is a cute hanging bathroom light that you can easily make yourself. All you need is the lantern and the hook to hang it. Look for something white or weathered. Then, put in a candle, some pebbles or sand, and a few other coastal touches.
In this example, we can see a few gorgeous shells as well as some lovely sea glass in shades of blue and green, all sitting in a bed of sand.
Paint the Walls Navy Blue
As mentioned a few times, navy blue is a key color in the nautical theme. It's a crucial way to differentiate a bathroom between nautical and just beachy or coastal, which will sometimes use lighter blue shades.
This bathroom is very simple with the two-tone navy and white. The gold light fixtures, sink faucet, and cabinet handles all complement the navy and white theme really well for a more glamorous and stately appearance.
Look for a Weathered Beach Dresser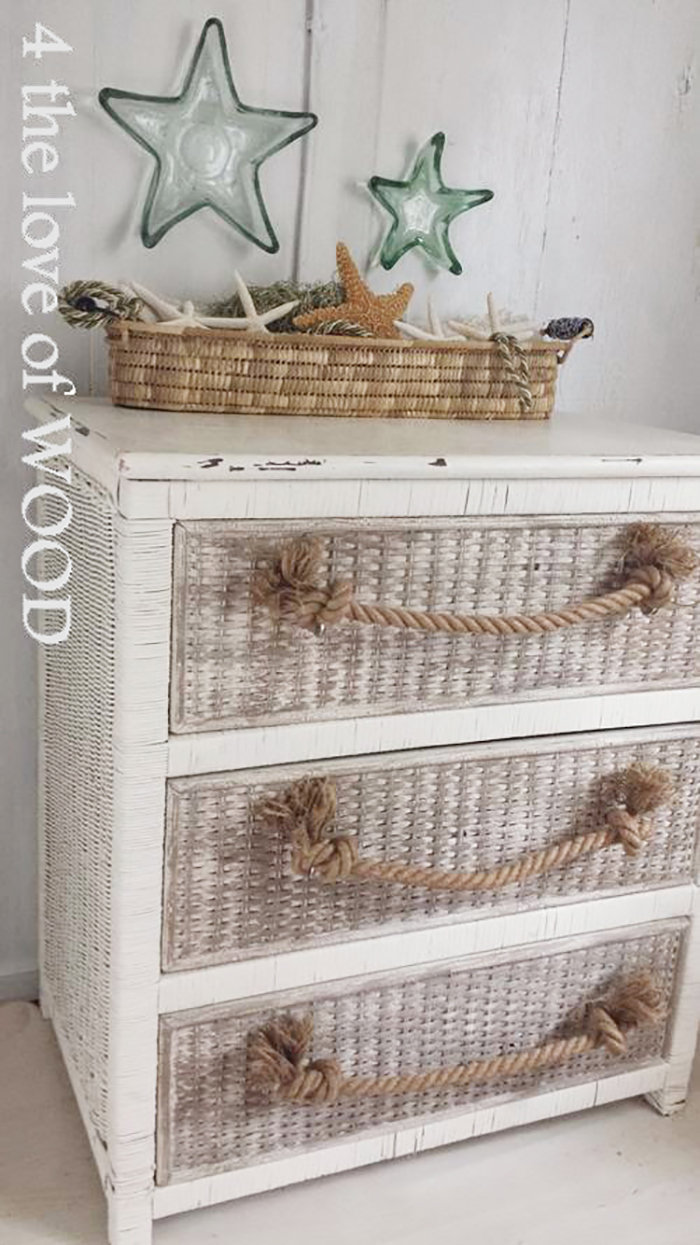 If you've got a larger bathroom and space for additional furniture, consider getting a beach themed dresser like this one for storage.
It's white with some chipped and faded paint, contributing to the beach theme, and the wicker drawers and rope handles add a nice nautical touch. All that's left is the coastal bath tray sitting above it for a complete look.
Look for Sea-Inspired Accents Like Coral and Starfish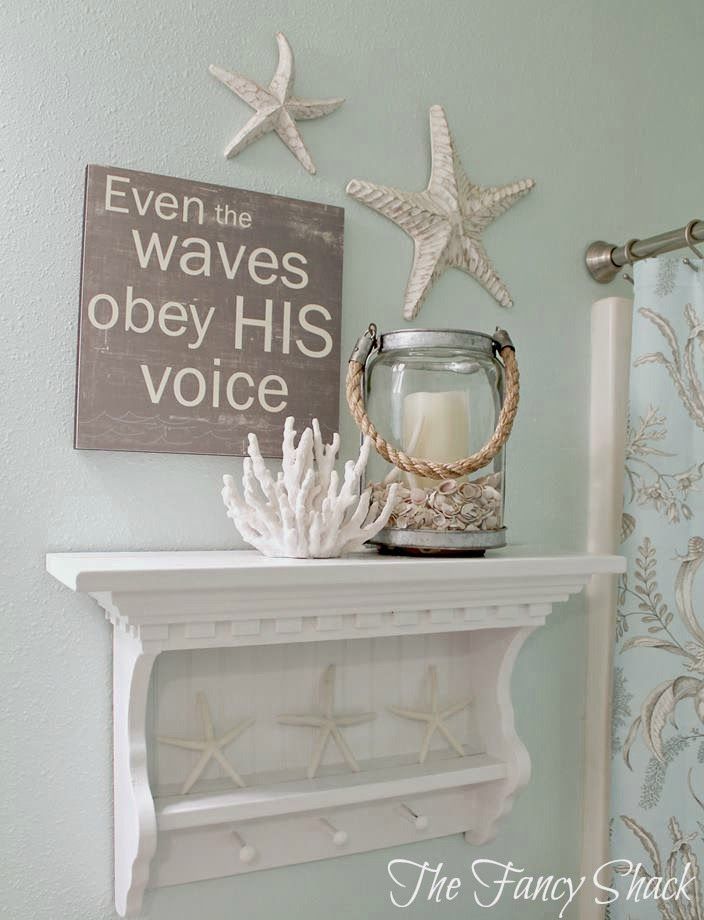 There are a lot of different sea-inspired accents to choose from for your bathroom, and it all depends on what you prefer. Here, the starfish is used frequently, with two different sized ones hanging on the wall, and a series of three lined up on the shelf.
There's also a lovely model of some coral on top of the shelf, alongside a very nautical DIY lamp filled with small shells.
Keep It Pale With White and Gray Colors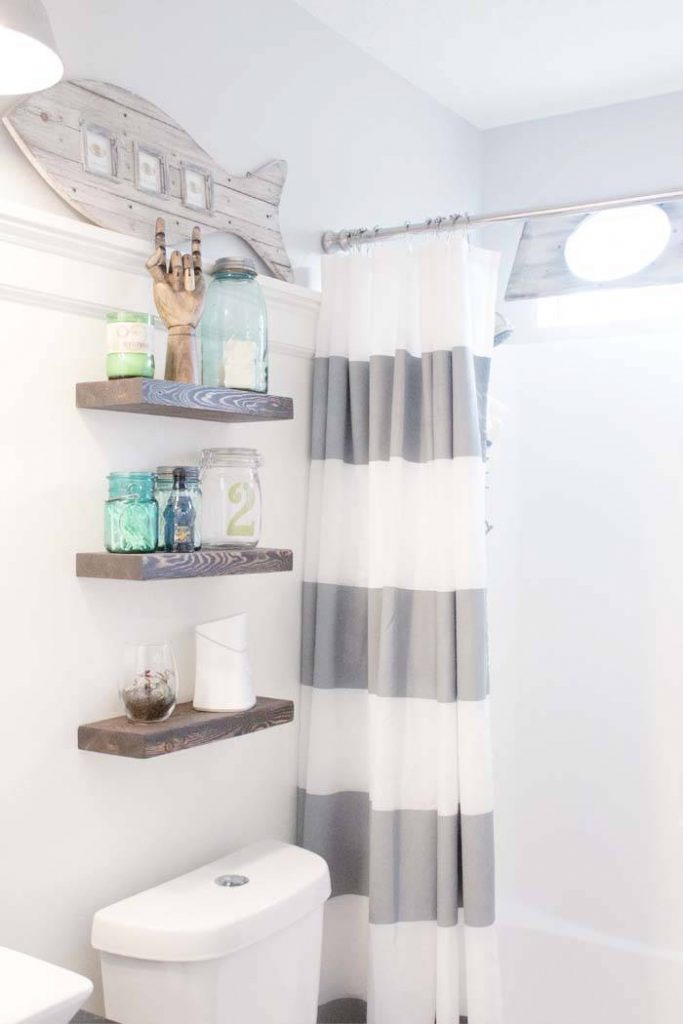 Although navy is often used in nautical bathrooms, it's not necessary. If you'd rather keep your room light and bright, you can use white and gray instead. The thick stripes on the bath curtain are a great start, along with the wooden fish-shaped decor.
The rest of the nautical look relies on the items placed on the shelves. This look shows that you can create a nautical bathroom without breaking the bank or going over the top.
Make or Buy a Cute Rope Towel Holder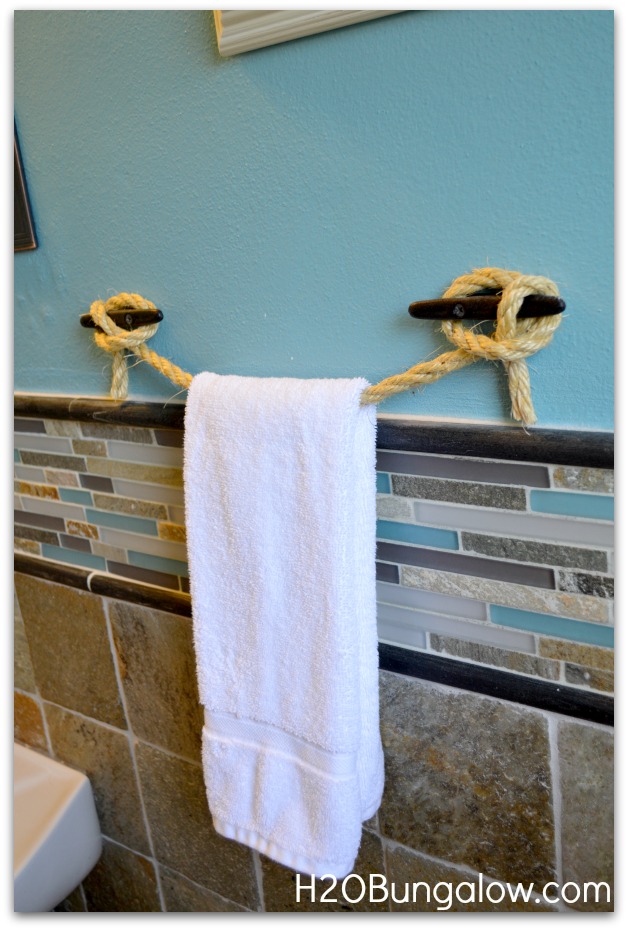 This is a really cute rope towel holder that you can easily make yourself with just a couple of anchors and a thick rope. The way it's tied between the two points there brings to mind a boat tied at a dock, and it can't really get more nautical than that, can it?
Create a Gorgeous Nautical Gallery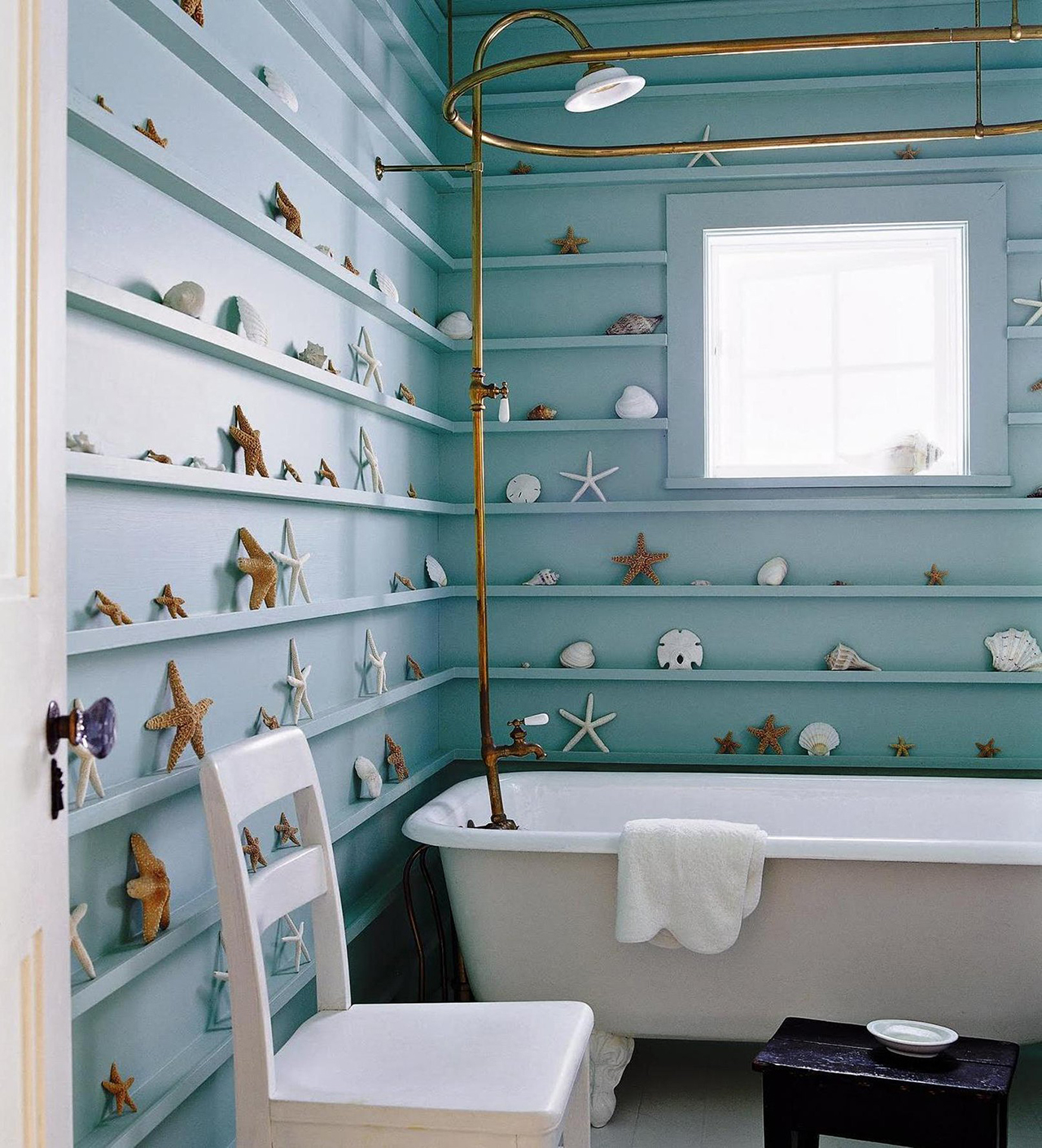 This bathroom is really unique and absolutely stunning. As soon as you walk in, it's like being underwater in a calming seascape, surrounded by shells, coral, and starfish. This is a bit more of a commitment since you'll need to install thin wooden shelving all around the room.
Then, simply place an assortment of shells and starfish of different colors, sizes and shapes, and coral along the shelves. Keep a fair distance between each to avoid clutter.
Hang a Driftwood Seahorse on the Wall
This is a lovely piece of artwork that you can buy or even make yourself if you've got the artistic skill and patience. Dozens of thin pieces of driftwood more or less the same size have been attached together in the form of a large seahorse.
It creates a piece of artwork and a stunning focal point to the room, especially in a white or grayscale bathroom.
Make Your Own Nautical Candle for Atmosphere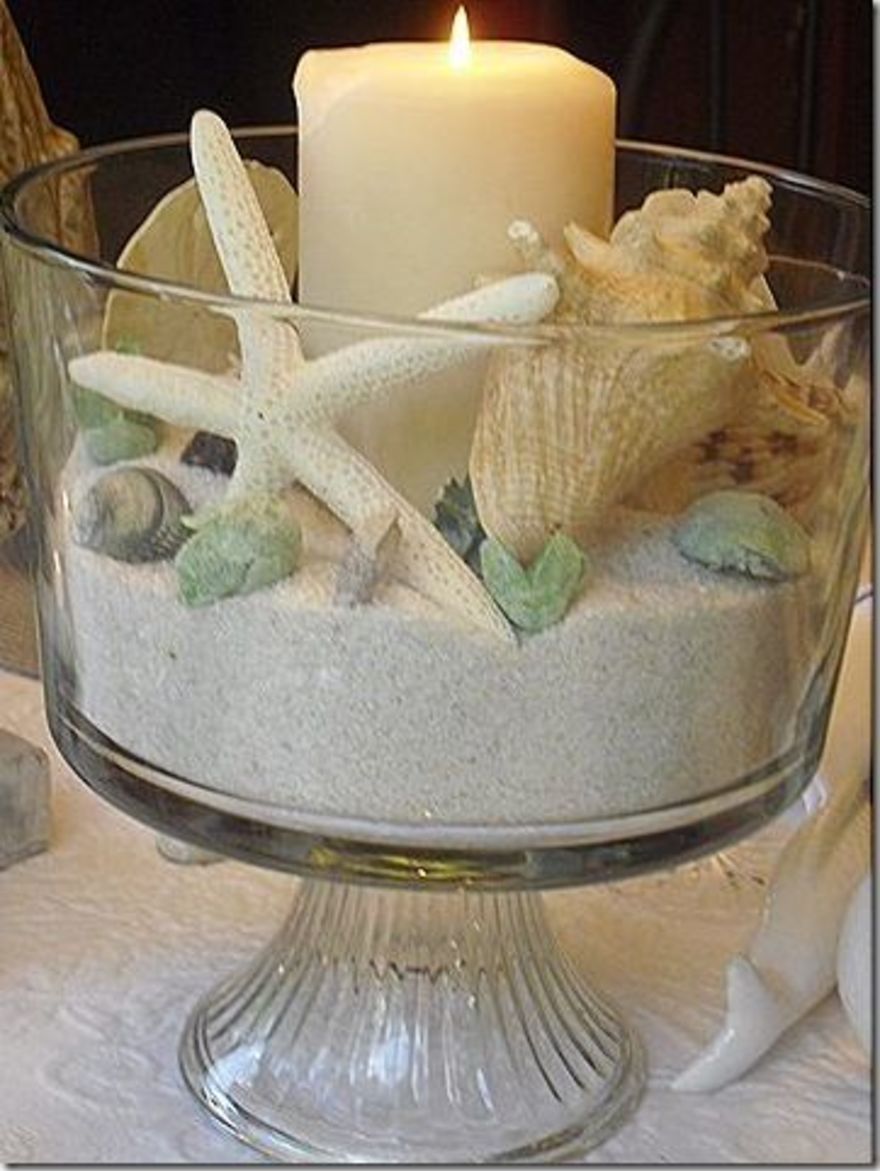 This candle is a large centerpiece to a bathroom shelf or counter, made using a large vase or cake serving platter. Fill the glass container with fine, white sand, and then arrange some shells of different colors around a thick white candle.
It's simple and easy to put together, but the final result can transform the entire atmosphere of the bathroom.
Use a Vintage Buoy as a Focal Point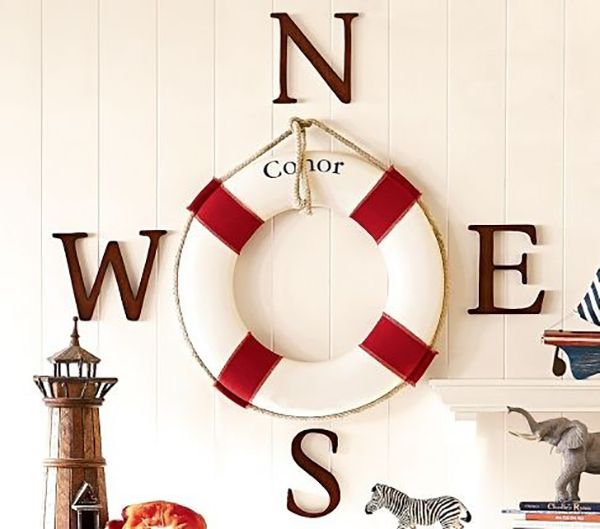 A lot of nautical bathrooms use objects as artwork or statement pieces, like an anchor or this vintage buoy. The red stands out against the white bathroom and the style and rope of the buoy make this excellent in the nautical setting.
A nice additional touch in this example is the compass points that have been added all around the buoy, making it a true nautical addition by acting as a compass.
Focus on the Small Touches in the Bathroom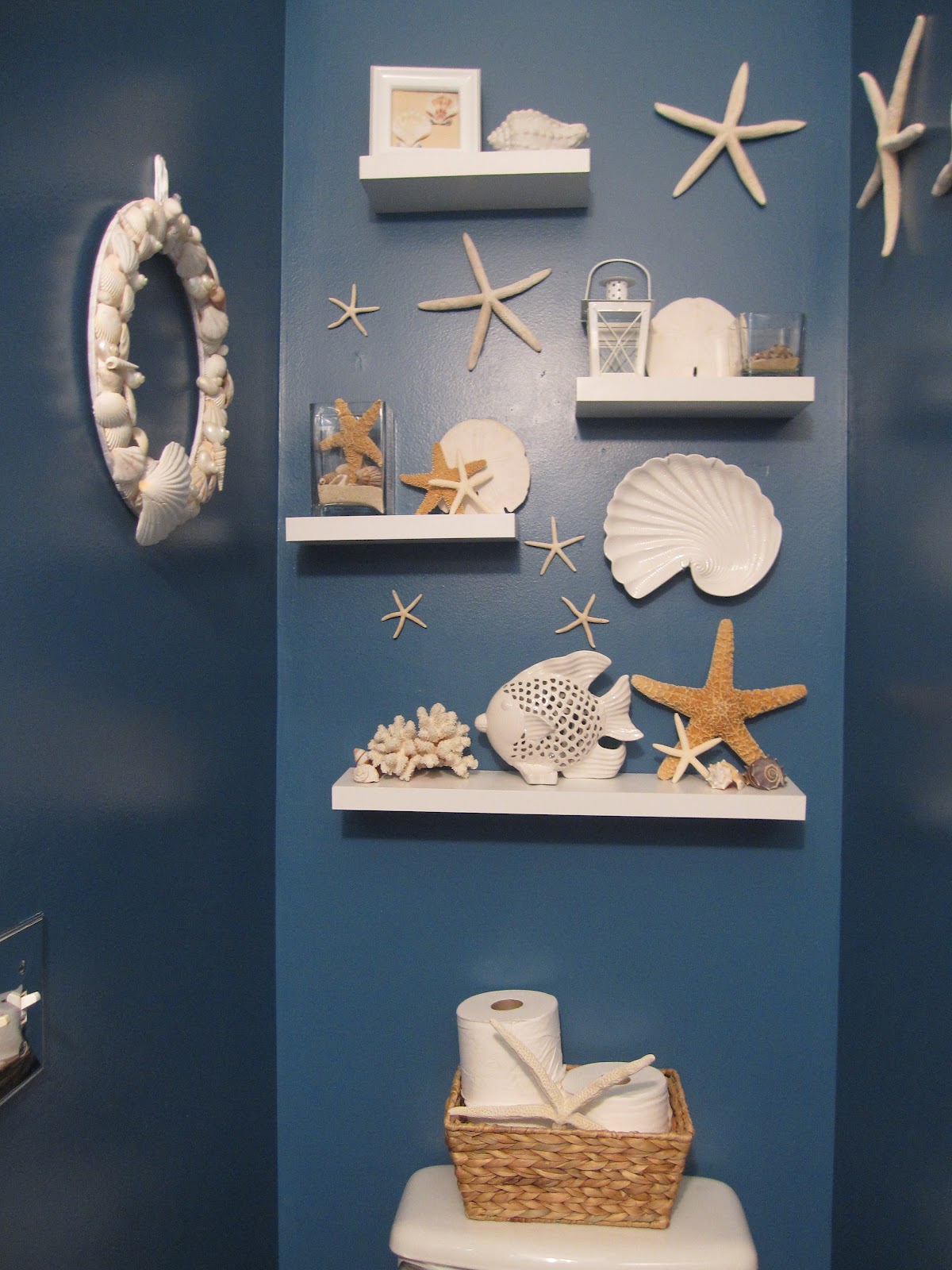 Sometimes, the small touches are all that's needed, especially in a smaller space like a powder room. Here, this is achieved by putting a ton of starfish in various spots, like on the shelves, hanging on the walls, and even tucked into the bathroom tray,
The mirror on the wall is also a nice touch, as the frame has been completely covered in a collage of small white shells.
Add Hooks to an Old Paddle for a Towel Rack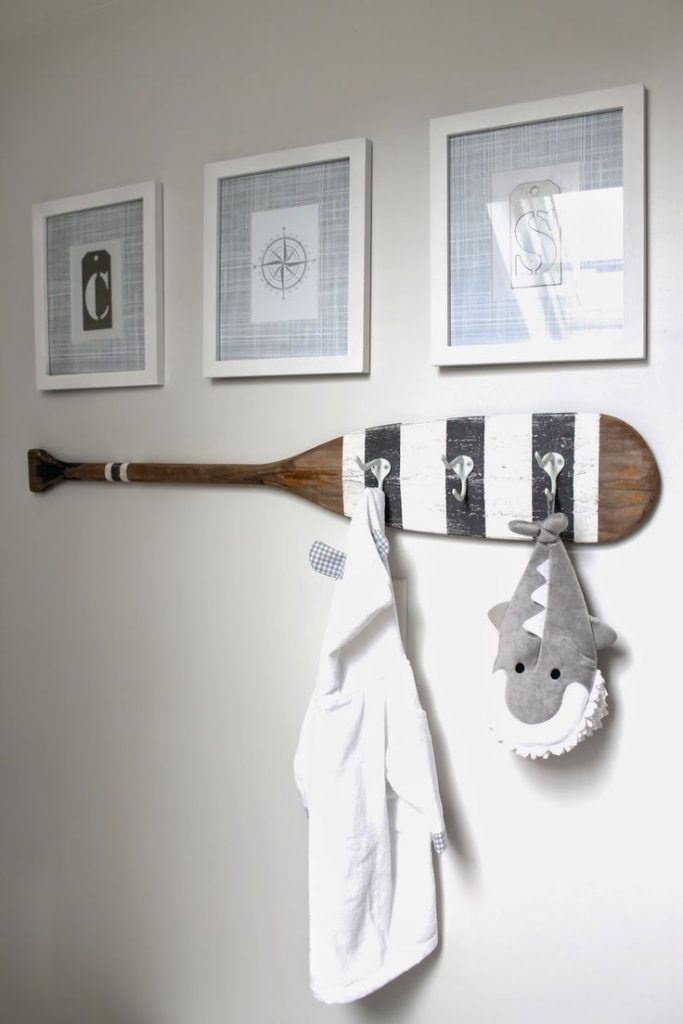 This is a bit more coastal than nautical, but it's a clever way to make use of an old or vintage paddle. Simple screw in some hooks and hang it on the wall for an easy and unique towel rack.
The three paintings form a nice symmetrical gallery wall above the paddle, with a compass adding a good nautical touch, not to mention the little shark hanging from one of the hooks.
Buy Some Unique Rope Floating Shelves
These floating shelves are a really good choice for a smaller bathroom since they're not too bulky, and they're especially great for the nautical theme. Some rope has been used to connect the three shelves together and hang them from the wall above the toilet.
The shelves themselves have been painted navy blue to enhance the nautical style, and there's a gorgeous ship's steering wheel hanging above them to finish off the look.
Hang a Nautical Sign for Artwork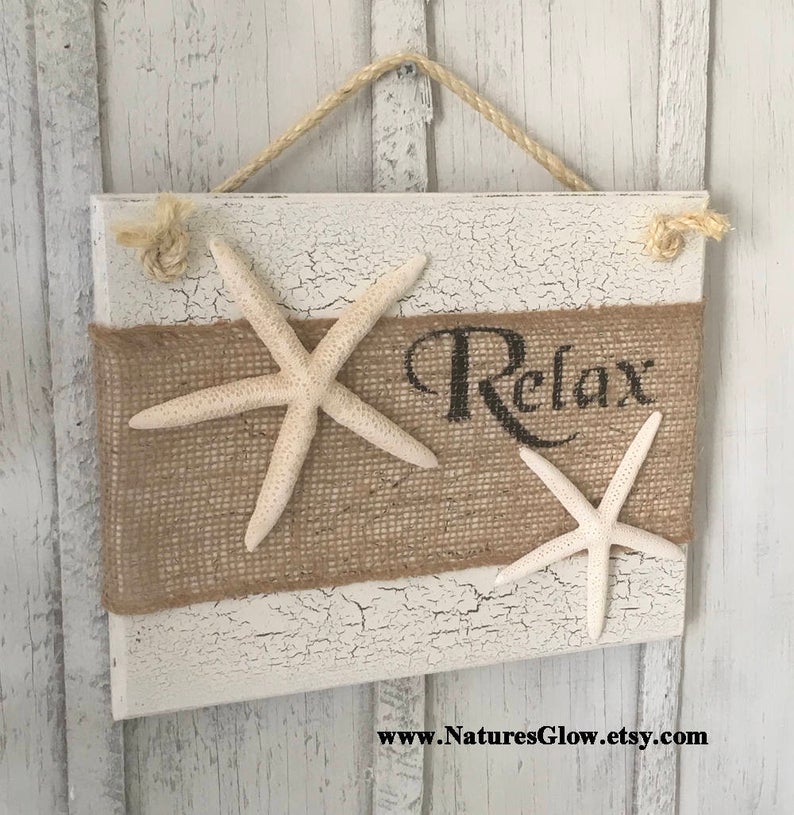 Another way to channel the nautical vibe is to hang a beach or marine-inspired sign like this one. It's been created simply, with some netting attached around a white and weathered piece of wood.
A thick rope is used to hang the sign from the top, and a couple of starfish have been attached to it. Feel free to engrave or paint the sign with any message you choose.
Play With Navy and White Stripes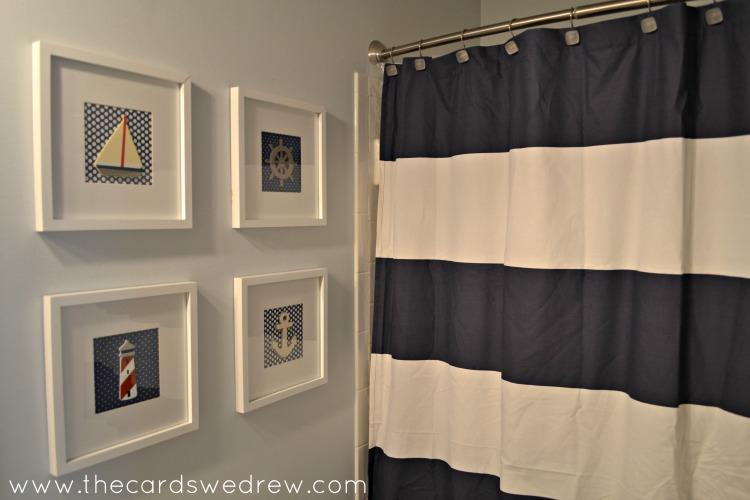 We haven't really explored navy and white stripes yet, but it's quite a common part of the nautical look. An easy way to incorporate them if you don't want to paint your bathroom is by getting a shower curtain with that style.
In this example, the bathroom stays white, and a shower curtain and four simple frames showing an anchor, ship, lighthouse, and ship's steering wheel are enough to make the whole room feel nautical.
Paint Mason Jars for Nautical Toiletry Holders
If you like making mason jar crafts, there's of course a way you can use them in your nautical bathroom. A set of mason jars can be used as a toothbrush holder, soap dispenser, cotton balls, and swabs holders.
Simply paint the jars in a dark navy and add a white stripe around the rim of the jar. The larger mason jars can also get a white symbol on them, like these simple anchors.
Get a Beach in a Bottle Decorative Vase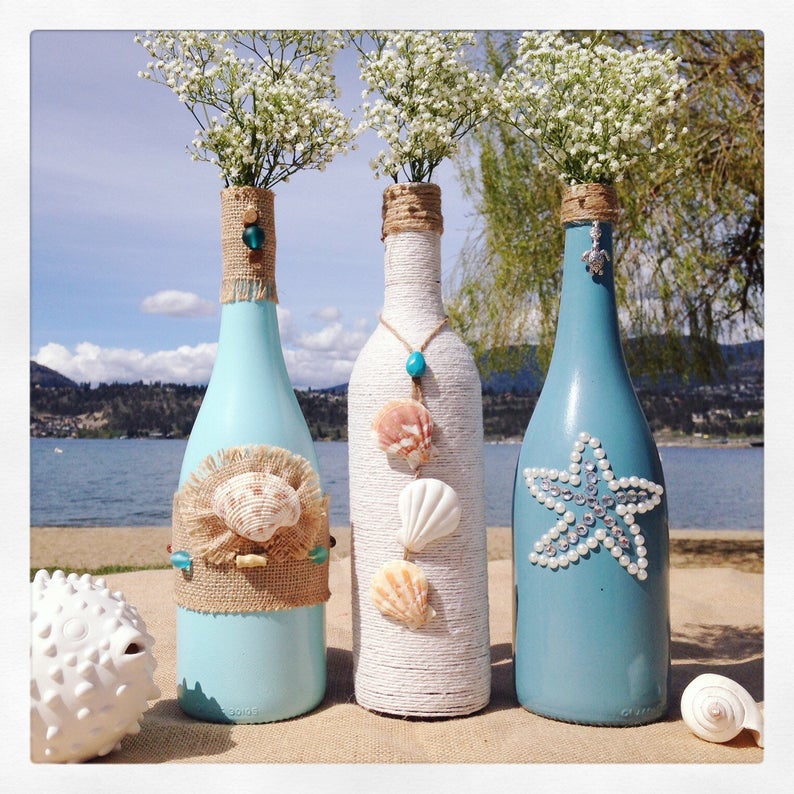 If you want a flower vase in the bathroom, there are some clever and pretty ways you can make your vases more beachy, like the ones pictured here, using string and shells and light blue paint.
If you like the idea of making your own beachy decor for your bathroom for a more unique look, check out this site for plenty of crafts and clever ideas to add nautical touches to your room.
Candles Add a Relaxing and Coastal Feel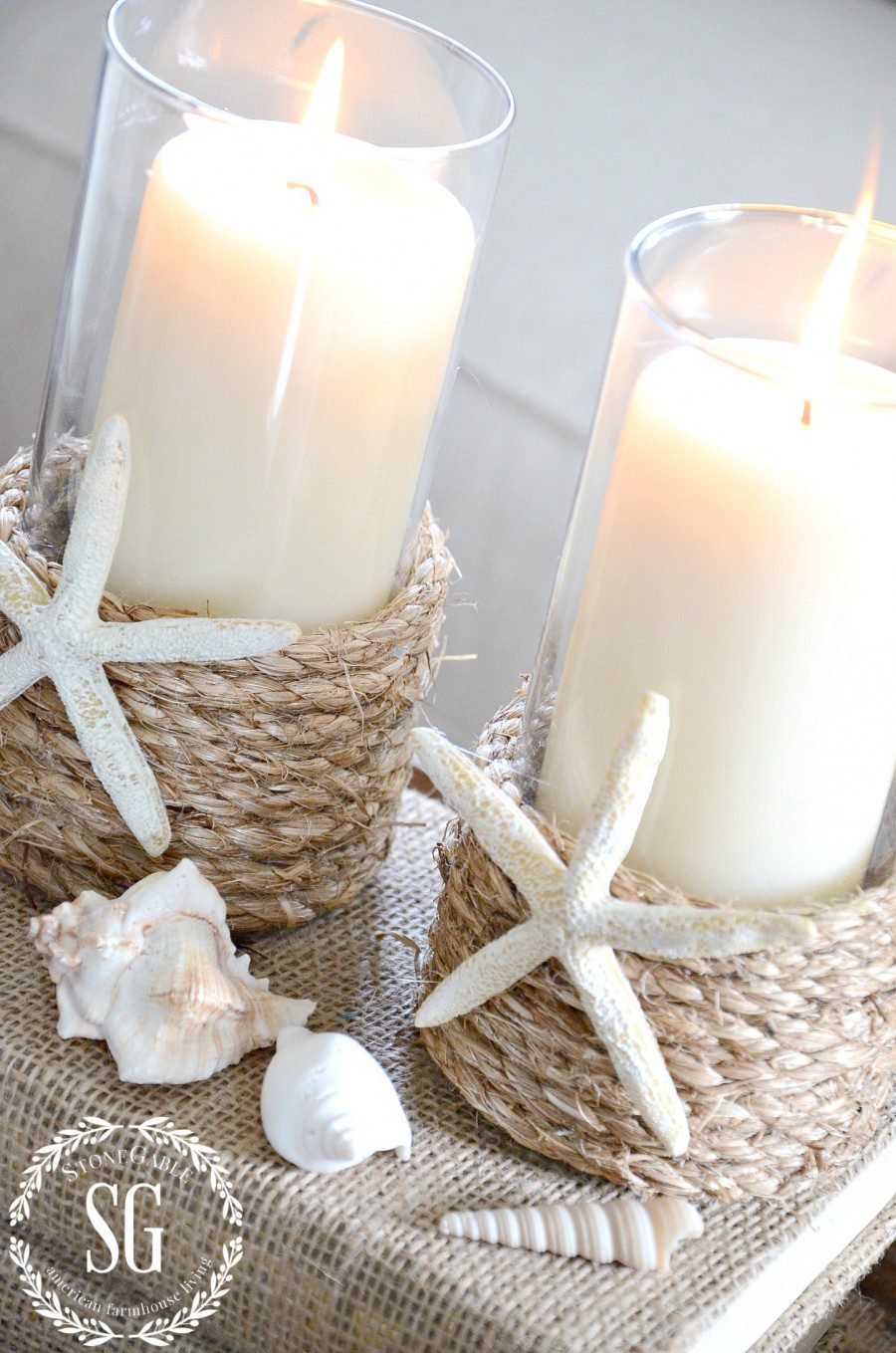 If you like candles, you should definitely add them to your nautical bathroom since they go a long way in making a space appear more relaxed and coastal. Candles also add the opportunity to create beachy candle holders, like this rope and starfish option.
Final Thoughts
Nautical bathrooms are quite easy to accomplish, even on a budget. Start by thinking of the color palette that you want, and then look for the right accessories. These can be anything from anchors, ships, buoys, a ship wheel, seashells or coral, or a round porthole-style mirror.
You can use these touches to add some decor or artwork to the bathroom, or you can add a couple of complementary splashes of color like yellow or red. Once you get started you'll see how easy it is to channel the ocean vibe in your bathroom with just a few simple touches.