When designing a ceiling for your home, should you go for plain or textured? Always a difficult choice. And if you want textured ceilings, there are so many choices that it can be mind boggling. And what if you saw just a couple of ceiling textures and made up your mind without knowing the plethora of choices you had?
To make an informed decision, you must know about the ceiling textures you can get. Since different textures look good on different rooms and décor, you need to plan carefully.
Here are some ideas for a textured ceiling that can make your room look even more beautiful.
Crows' Feet Ceiling Texture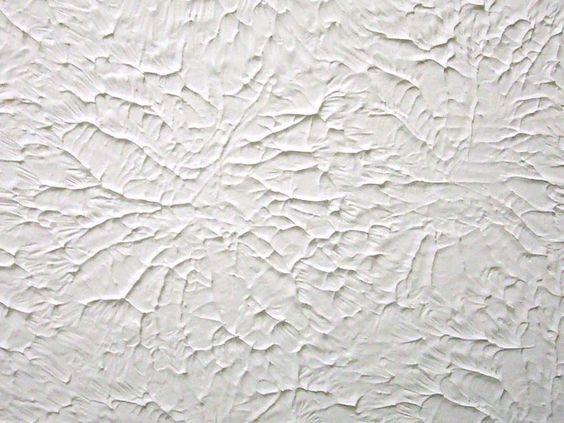 You need a stipple brush for this texture. This is going to be a messy job so make sure you cover up the floor with newspaper or cardboard. To begin, cover the stipple brush with drywall mud and start making patterns.
This texture is excellent as it covers up all imperfections in the ceiling. But before beginning, it's best to practice it on scrap wood or cardboard so you get the pattern right. It's among the most popular ceiling textures used in homes. In fact, it's used in offices as well. If you think your ceiling has minor imperfections, this is the best texture for it.
Sheetrock Ceiling Texture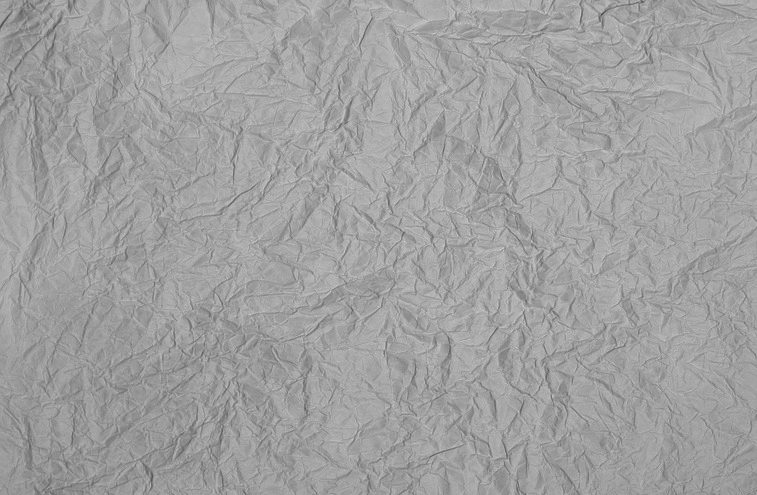 It is another one of the most popular drywall texture types. This rough yet artistic texture can make your ceiling look unique. You don't need any special brush for this and it looks great with a room that has a farmhouse style décor. It even looks good in a modern space. It's a versatile texture and looks amazing anywhere it's used.
It gives the impression of a ceiling made of rock. And even though it's made of drywall, it looks very stylish. And just like Crows' Feet texture, this one also hides minor flaws in the ceiling.
Rosebud Ceiling Texture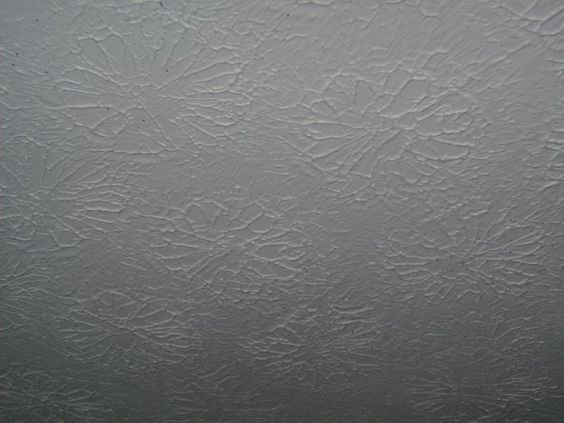 Get the beauty of rosebuds on your ceiling with this unique texture that looks like, well, rosebuds. While it looks difficult to apply, it's actually not. Just take the drywall mud and apply a fine layer of it on the ceiling. Then stomp patterns on it using a soft bristle brush. It's a beautiful pattern that's suited mainly for ceilings and not for walls.
For this texture, you can use any kind of drywall mud and it should be applied uniformly. It should be thin because if it's too thick, the stomping will have sharp edges. You need to smoothen out the edges so they merge well with the ceiling.
Skip Trowel Ceiling Texture
Also known as Santa Fe, Spanish Knockdown, and Mud trowel knockdown, the skip trowel texture should be used by someone who is experienced in plastering methods. It looks like another popular texture called a knockdown. However, skip trowel is more spread out as it is more spaced.
Depending on the thickness of the texture, you'll need to add water in the mixture – for a thicker texture, add less water. Apply the mixture on the ceiling using a mud knife in random arches. Keep following the pattern throughout the ceiling
Swirl Ceiling Texture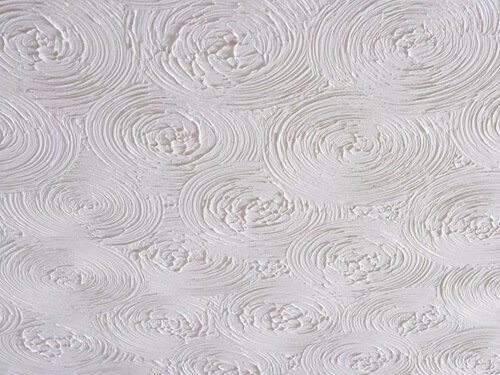 Swirl patterns are beautiful and symmetrical. Since humans define beauty in symmetry, it is more pleasing to the eyes. This texture creates detailed patterns on the ceiling and they can either be rough or smooth, depending on how you want it.
Swirl patterns can be made by rubbing the mud with a brush for a rough look. And if you want a smooth look, it's best to use a sponge instead of a brush. Swirl can be in full circles or half circles. There are also different types of swirls, for example, you can choose a perlite swirl or a sand swirl.
Lace Ceiling Texture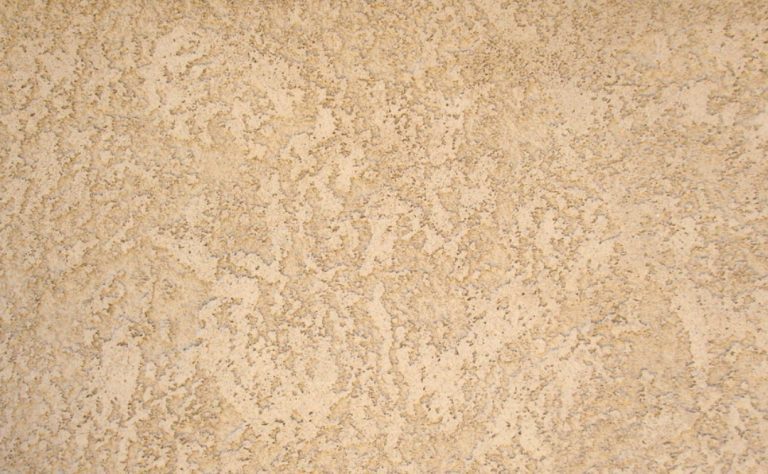 This texture is called lace as the base color is slightly different than the pattern color, making it look like a lace pattern. Of course, this makes it more difficult to implement it as well. To begin, you'll cover the ceiling with a base coat. Once it dries, you need to apply the pattern using the texture color. Make sure both the colors are just a shade apart to get the right lace look.
If you want a wild look, you can apply strikingly different colors instead of similar ones. For example, if your primary décor colors are red and white, you can use a white base and apply red on top.
Spray Sand Ceiling Texture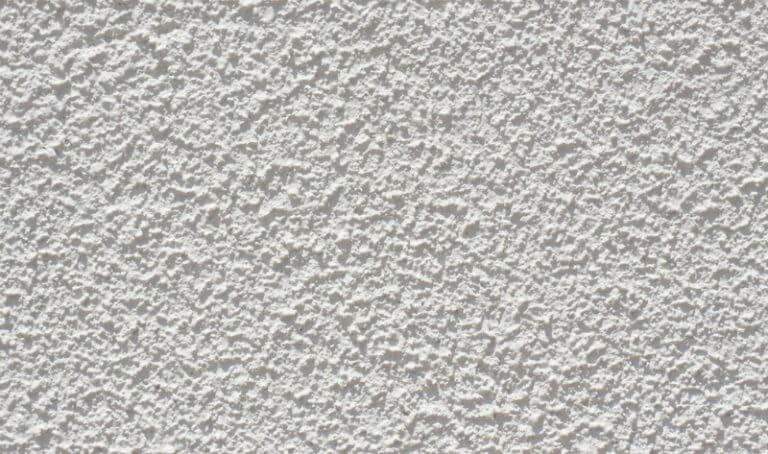 This texture is made by spraying sand on the ceiling, hence the name. Just mix sand with water, and primer and spray it on the ceiling. You can use a hopper gun for this purpose. There are many other ceiling texture options but this one looks unique as it is made by spraying sand and not by creating a particular pattern.
If you do the job right, the surface will not crack. It is usually applied as a slight accent and is used on ceilings instead of walls. However, it can be used on walls as well.
Hawk and Trowel Ceiling Texture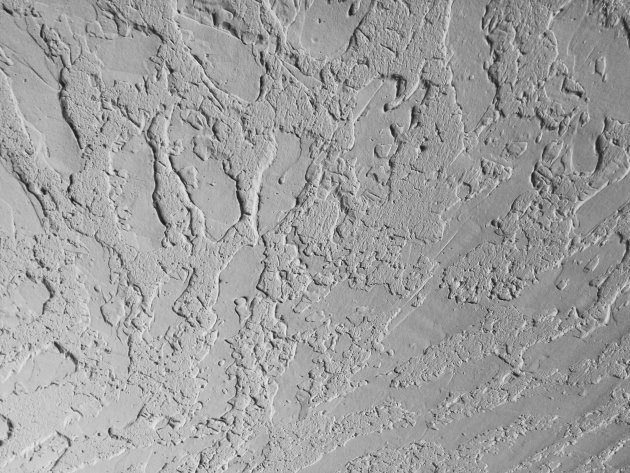 This texture uses two tools – a hawk and a trowel and thus it got that moniker. A hawk is a flat plate with a handle. The hawk collects the material on one end. The material is moved on the ceiling from the hawk to the trowel. Since it needs a quick motion to spread the mix from hawk to trowel, it needs an experienced hand to do it.
The texture looks like drywall mud layers sliding over other drywall mud layers. Depending on your preference, you can select the material thickness. Since this texture can have different looks, it's best to see samples if you're planning to hire someone for it.
Orange Peel Ceiling Texture
Ever looked at an orange skin? I'm sure you have – it's kind of bumpy but in an even way. The orange peel ceiling textures are the same. And since it also looks like an eggshell, it is also called eggshell texture. However, it resembles an orange peel better.
If you want this texture, you need to use a spray gun to apply a thin layer of mud to the ceiling. The spray gun should be at high pressure. This texture looks beautiful and more artistic than most other types. It gives an even look and the room looks more sophisticated.
Smooth Ceiling Texture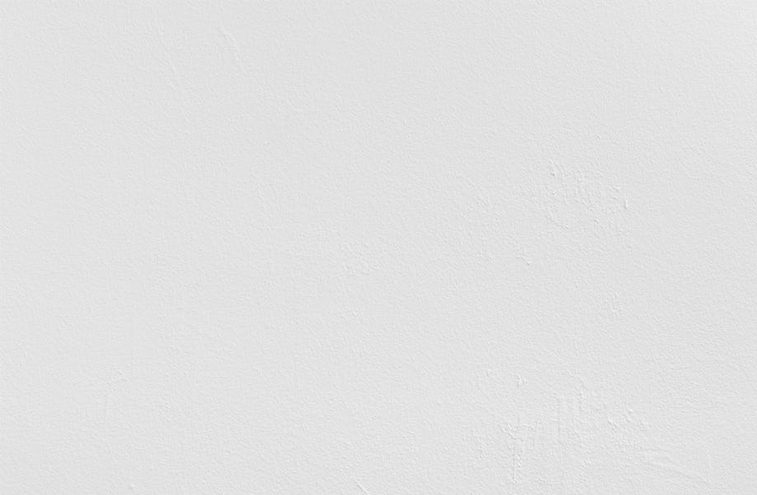 Many people like a smooth ceiling that doesn't have any texture. It's easy to apply and since it is minimal, it looks good in all types of rooms – whether in houses or offices. It can be used with plain walls or with textured walls. If you want to have an accent wall with texture, it's best to have a smooth ceiling.
If you want to do renovations later, this texture will be pretty easy to remove. Just replace it with any other texture you want. And since it's easy to apply, you can do it yourself without hiring a professional.
Tree Bark Ceiling Texture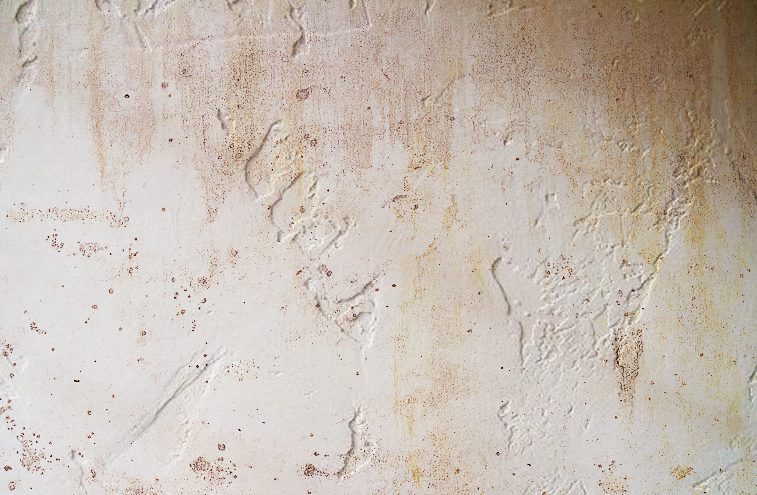 The tree bark texture looks like the bark of a tree. You won't need a brush for this. There are special foam rollers to create this texture. These are foam rollers that have tree bark type engravings in them. Then again, you'll get foam rollers to create any type of ceiling texture.
A tree bark texture looks amazing if you love wooden textures. If you're like a traditional touch and have wooden flooring, this ceiling texture will match the décor of your house.
Santa Fe Ceiling Texture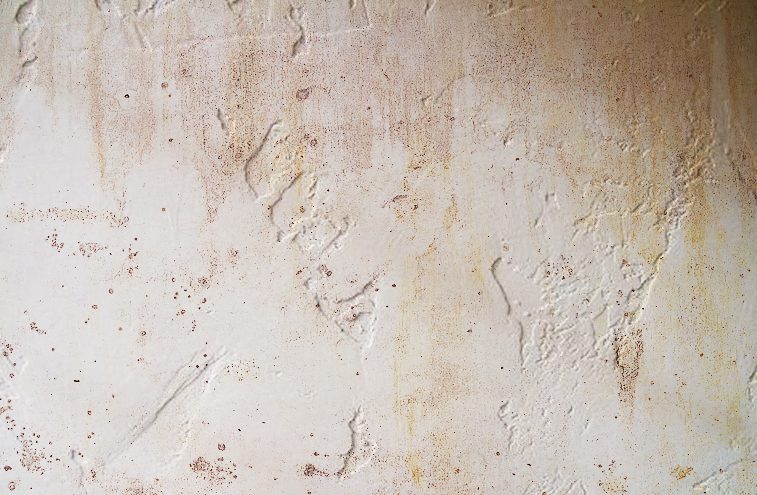 Santa Fe texture is popular in many places across the US. It can be seen in different states but the texture will vary from one place to another. It's possible that it got its name from Santa Fe in New Mexico because a lot of homeowners used it there.
The city is popular for its single story houses that have an old American Indian touch to them. It's not a very prominent texture, although it can vary from state to state. This patter is made by applying two layers of mud and the upper layer lets you see the lower layer in random places.
Popcorn Ceiling Texture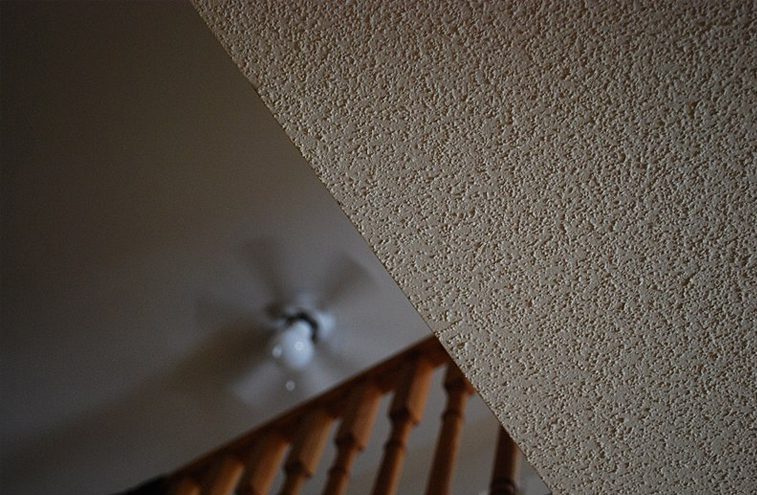 Also known as acoustic or cottage cheese texture, it is among the most popular ceiling finishes. It is named that because of obvious reasons. It resembles the fluffy snack we enjoy while watching movies. And how is it created? Mix loose material in paint and apply it on the surface. This can be done with the help of a sprayer.
Since this type of ceiling offers some noise reduction, it can be used in acoustic purposes. These ceilings gained popularity in the 1950's to '80s. If you're looking for a classic traditional touch, this type of ceiling will be the best for you.
Skim Coat Ceiling Texture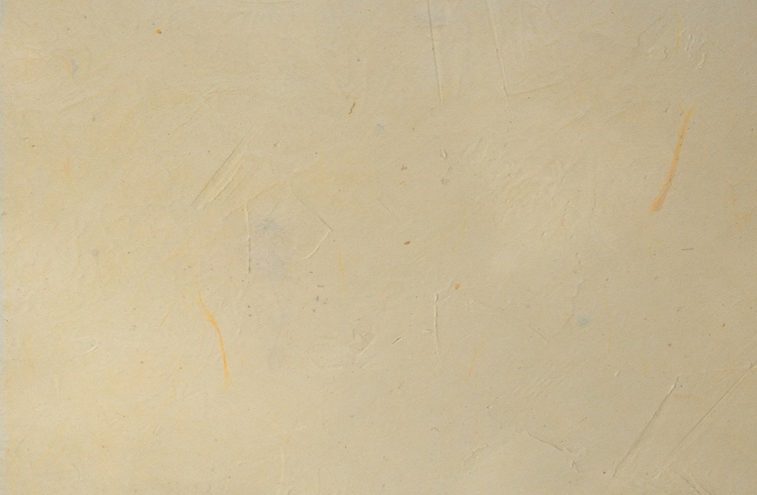 You need a thin coat of mud for this texture. You need to smoothen out the ceiling surface and rough wall with it. This is one of the ceiling finishes in which you decide how many coats you want. If there are minor imperfections, only one coat is enough. But if there are bigger issues with the ceiling, you might want multiple coats of the mud.
You can do skim coating on a small part of the ceiling or the entire ceiling, depending on your preference. Skim coating is easy and can be done on any type of paint finish. However, if the paint is too glossy, there are chances for bubbles to develop so make sure you take precautions.
Fish Scale Ceiling Texture
It's a unique ceiling texture were one swipe of mud overlaps the previous one, giving the illusion of fish scales. But the first swipe has to dry up before you apply the next one, this one is particularly difficult to apply. If you like the fish scale texture, it's best to hire a professional.
The arches created by swipes have to touch each other but just a bit so they are overlapping each other. Make sure the mud layer you apply is a thin one for a fine touch. A thick layer will create an uneven look.
Brocade Knockdown Ceiling Texture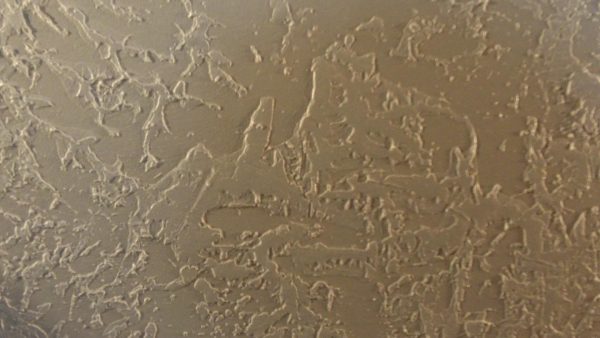 There are many knockdown ceiling texture patterns and brocade knockdown is probably the most beautiful of them all. It has a stylish flair that covers up imperfections while being beautiful and attention grabbing.
You can use any knockdown tool for this texture. Two hawks and a taping knife is enough. Place some mud on one hawk and use the other hawk to press it. Now smoothen its surface with the taping knife. Just like most textures, brocade knockdown also hides cracks and imperfections and makes the interiors look more beautiful.
Comb Ceiling Pattern
Comb ceiling pattern is beautifully elegant and rather easy to create. While it looks difficult, all you need is a special tool for it. You can get a texture combing tool in a typical hardware store. For this, you need to apply mud on the ceiling and create a smooth layer. Now take the combing tool and create patterns.
There are many ways in which it can be done – straight lines, arches, waves, or a combination of these designs. Just create a rough blueprint on paper and work it out on the ceiling to get an amazing texture effect.
Scalloped Ceiling Texture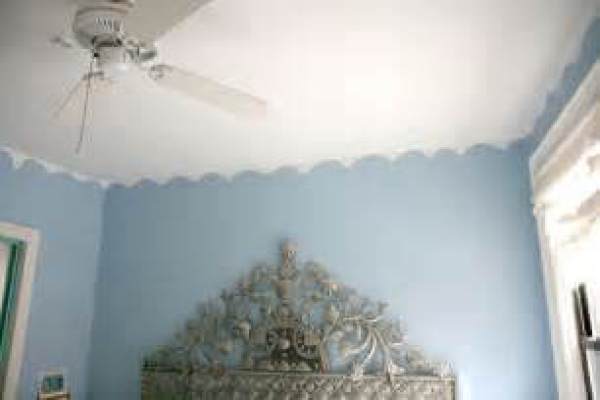 Have you ever seen cake icing where it looks like the icing is melting on the cake? The scalloped ceiling is a bit like that, except instead of the icing melting on the outside of the cake, it's the paint dripping on the inside of the room from the ceiling. But the paint isn't dripping. It's made to look like that.
While it can be used with any combination of colors, white and blue look amazing with this design. Since this ceiling looks very fancy, make sure your furniture is fancy enough to go with it.
Linear Metal Ceiling Texture
If you're looking for something fancier than drywall, take a look at metallic ceilings. They are glossy and beautiful. And of course, they have a unique touch that makes the room look extraordinary. But metallic ceilings don't have to be plain. You can add texture to them as well.
A linear texture is beautiful and it provides space for ceiling lights as well. While this ceiling is mostly seen in warehouses, it can also be used in homes. It looks the best with an oil-like finish that adds a different shade of gloss to it.
Square Metal Ceiling Texture
When it comes to metal ceilings, your options aren't just limited to linear designs. You can get stretch metal ceiling tiles that are available in many designs and patterns. And you can always replace a tile with a square light fixture to get a beautiful look. These tiles were commonly used in offices but given their designer appeal, homeowners have started using them now.
They create an amazing visual effect and make the room interiors more beautiful. You can get them in several colors so they can match your room's theme. Since it's a versatile material, it can be used in any room.
Coffered Ceiling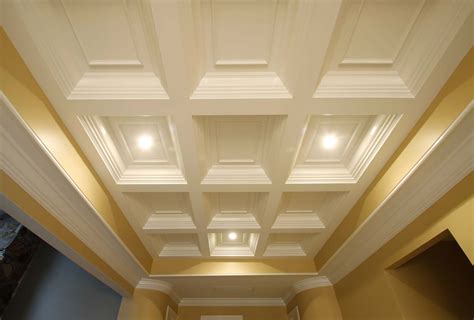 The coffered ceiling is made of several panels and they are embedded inside the wall. The panels can be of any shape and size. For example, you can have square, rectangular, or even octagon shaped panels. It can be used anywhere but since it is detailed and complicated, it is generally used in living rooms.
This texture lets you fit a small light bulb in each panel so the light is not overly bright but diffused out. Also, with multiple light sources, it doesn't create a shadow and illuminates the area beautifully. However, since it needs a lot of work, it's best to leave it to experts.
Tin Ceiling Tile Texture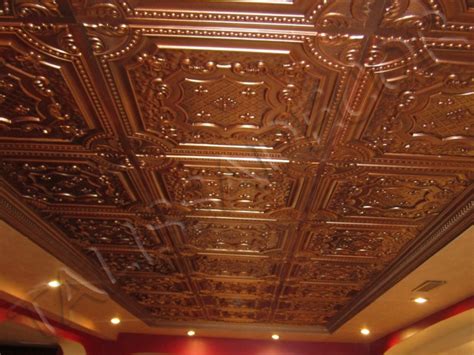 Not many people prefer dark colored ceilings. But they can make your house look unique. Take a look at this ceiling, for instance. With a bronze color shine, this ceiling is made of tin tiles that make the ceiling look elegant and palace-worthy. Make sure the lights are installed at strategic places so the ceiling is illuminated perfectly.
This tile ceiling has a luxurious appeal that will make a room look warmer and more welcoming. It will go well in a room with yellow walls. It will create a cozy ambiance that is traditional and enchanting.
Mud and Tape Ceiling Texture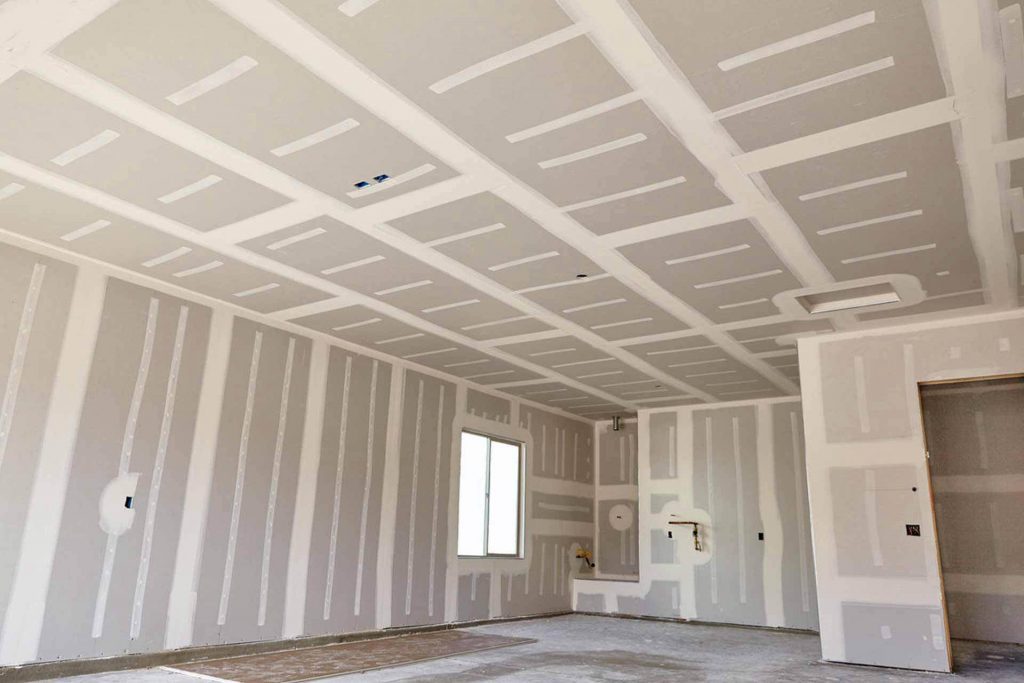 You can create any type of pattern with a tape roll. You need a tape of the right width. Depending on your design, you can also get tapes of different widths. To create a pattern, just apply the tape on the ceiling according to the pattern you have decided. Now apply a fine layer of mud on the entire ceiling.
Once you have evenly spread the mud, wait for it to dry. Once it dries up, remove the tape. This will create the desired pattern. You can do this with mud or you can get a smooth ceiling and do this with paint.
Linear Wooden Ceiling Texture
If you're a wood lover and have wooden floors, this might be the right ceiling texture for you. The linear wooden ceiling texture is like the linear metallic ceiling one, except the material is different here. This texture adds a lot of warmth and coziness to the room.
Also called as slats, this texture makes the room look more interesting. You can mix the slat shape to create a zigzag pattern too. Or slats can be a part of the entire ceiling while the remaining ceiling can be plain or have another minimal looking texture.
Stomped Ceiling Texture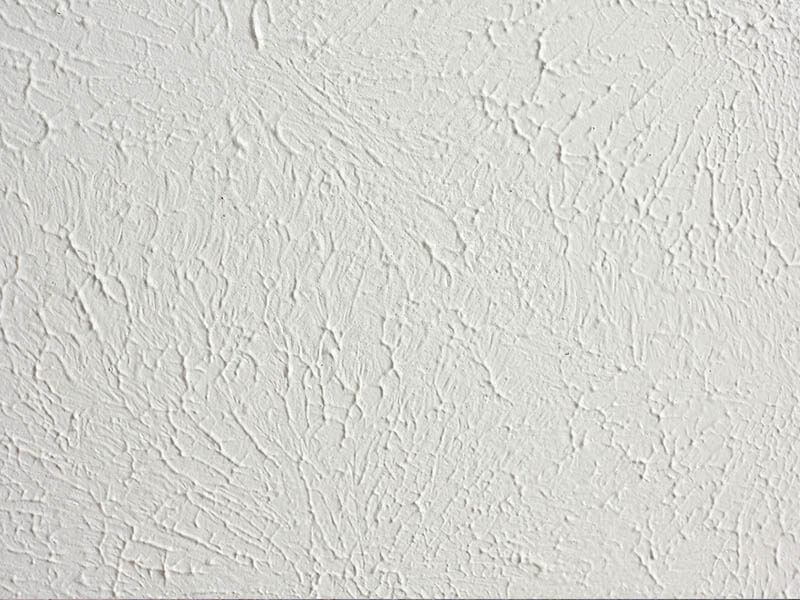 Stomp texture can hide some imperfections but not all so if you have unevenness in the ceiling, it might reflect through after the texture. Before you apply the mud, check the lighting, joints, and other places and fix them. This texture is made by stomping the brush on the ceiling and thus it's called stomped ceiling texture.
Cover the ceiling with mud and make clear edges with a taping knife. Before the mud dries, quickly start making the pattern on it. It is best if you have another person with you as one can apply the mud and the other can stomp it.
Woven Bamboo Ceiling Texture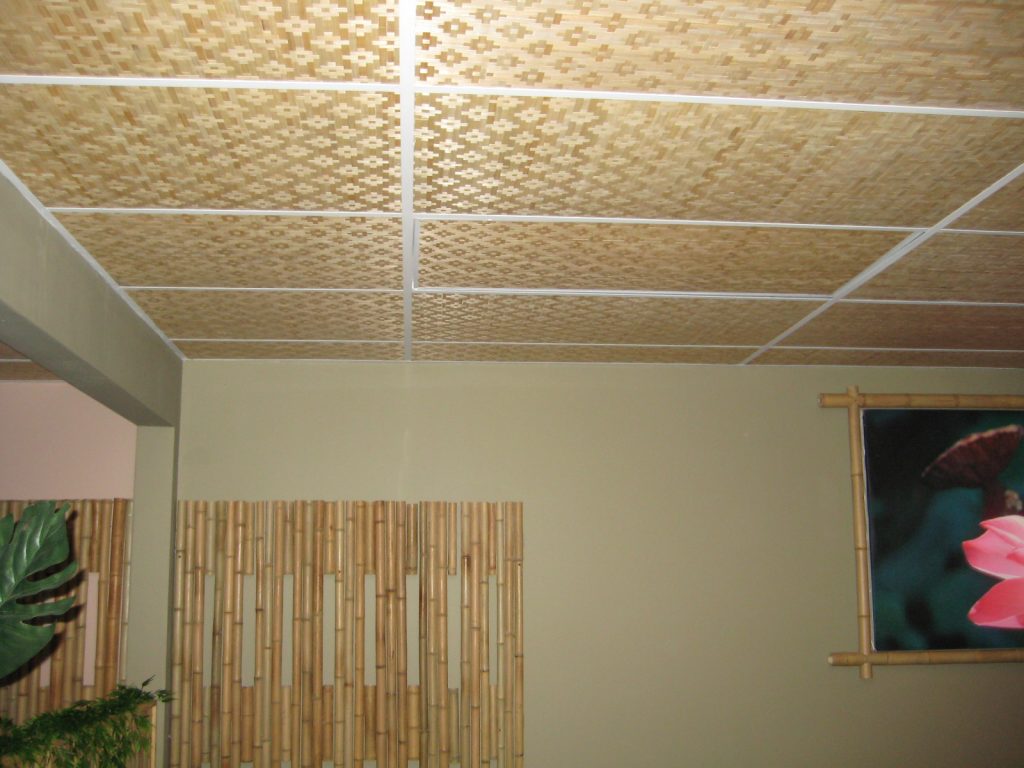 The woven bamboo ceiling can make any room look remarkably beautiful. It has a unique beautiful Asian touch to it. If you're a fan of King Fu movies, like Kung Fu panda, you must be aware of the traditional Asian décor. While this ceiling texture will make your room look cozier and more inviting, it is high maintenance.
You will need to treat the bamboos before installing it. Also, it needs to be cleaned regularly else it can go bad quickly. So choose this texture only if you can do that extra work.
Stipple Brush Ceiling Texture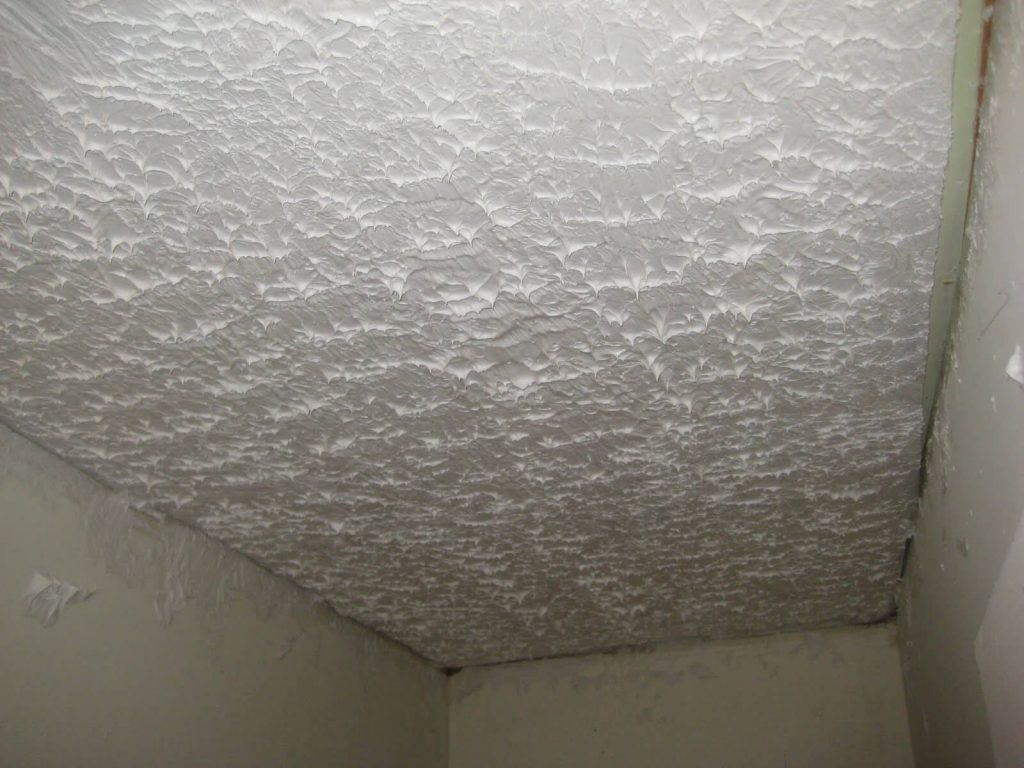 It's a very easy ceiling texture. Use thick mud for this and apply it on the ceiling with a stipple brush. This texture will hide all flaws including holes, dents, and uneven surfaces. To get this texture, keep your mixture on the thicker side. Then take a stipple brush and dip it in the mud.
Now just dab the brush on the ceiling to get this texture. It's pretty easy and you can't go wrong. However, it can be pretty messy so make sure you cover up everything that lies below with sheets of paper or cardboard.
Statement Ceiling Texture
If you want your home to have a different personality, you can get a statement ceiling. This ceiling has a very modern appeal. If your home is designed in a modern and minimalist way, this will be the perfect idea for it. And since it has many colors, you will not feel that the ceiling is boring.
This ceiling is of yellow and grey colors but if you want your ceiling to be the accent piece of the room, use red instead of yellow as it is more eye catching. This ceiling will look good in a modern kitchen and it can incorporate the theme of your home.
Victorian Ceiling Texture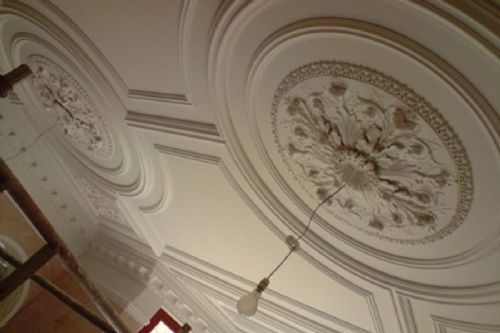 Victorian is the opposite of minimalist. These designs are always intricate and look good in traditional homes. If you like classic things, you might want to try the Victorian ceiling design. There are many ways in which you can implement it. You'll find many patterns and designs for this texture.
And it can be created in a dual shade too. White and golden will look good on a Victorian texture. With Victorian style, you can create a statement that says you like refined things. Let your living room reflect luxury and opulence with this texture.
Spray Ceiling Texture
A spray ceiling texture can be sprayed directly with a can and gives an even look. You don't have to do much for this. Just use the can and spray the texture on the ceiling. Since it gives a popcorn texture type look, it can be used to fix chipped off texture from the ceiling.
If your old popcorn ceiling is chipping off, you can remove the chipped parts and just spray the can mix in that area and it will hide all the flaws and broken areas. This makes repairs easier and the ceiling looks evenly textured.
Multiple Choices – Which One to Get?
The right ceiling depends on the theme of your home. If you have a minimalist approach, the Victorian look wouldn't be right for you. And if you like traditional things, you might want to avoid a statement ceiling that adds a touch of modernism to the place. So before you decide on the ceiling, analyze the layout and theme of your home.