Coming up with the perfect room decor for a baby girl can be challenging. Parents may wish to have a nursery perfect for the child, but it will have to be updated as she grows older. An alternative is coming up with a decor theme that will age well along with your baby girl.
There's a lot to consider, from going with an overall theme to choosing colors and accessories. Here are 30 fantastic ideas to inspire you for your own baby girl's bedroom.
Look for Pastel and Pale Gray Touches
A lot of parents want to keep their baby's room very light and bright with a lot of pale colors and whites. It's a soothing theme, but it doesn't have to mean boring. You should look for a lot of pastel touches and light gray, which go well together.
In this room, we can see that there is an accent wallpaper on one wall with pastel-colored flowers. There's also a light pink footrest for the armchair.
Keep It Simple and Easily Changeable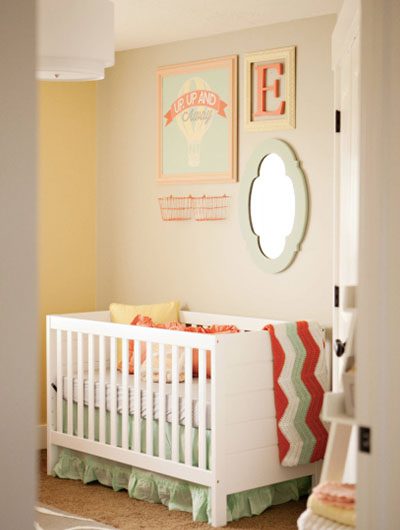 If you're looking for something that will last a long time and is easy to change as your daughter grows up, look for a simple theme that has a few elements that can be updated. For example, this room has been painted and decorated in neutral yet soft colors.
There is a wall of art and a mirror that can easily be switched up on a budget to suit your daughter's taste.
Go for a Delicate Butterfly Theme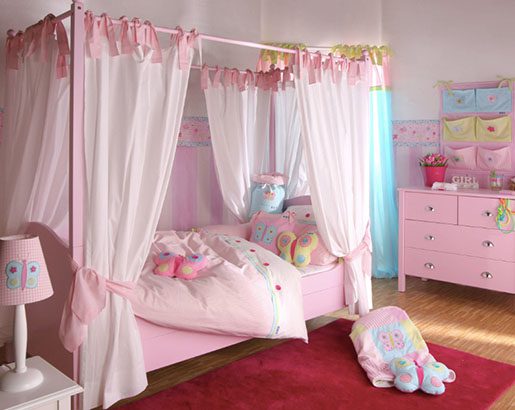 Many young girls' bedrooms involve one consistent theme throughout the room, and this one is no different. The butterfly theme in this room is great because it's a bit unique but also lovely and delicate.
The same style of butterfly pattern is found on the lampshade, the pillows and more. There is also a hint of butterflies on the wallpaper pattern.
Get a Crib That Can Become a Bed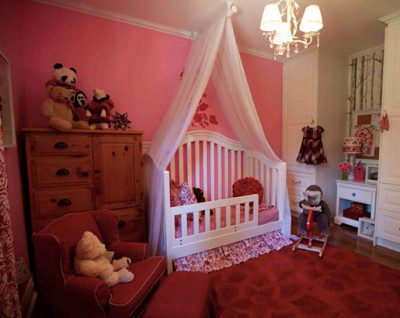 One way to get an adaptable room as your girl grows up is to look at the furniture you're putting in there. There are cribs that can be adapted into beds so you can minimize your furniture purchasing.
While you want your room to be attractive and pretty, there are also some more practical things to keep in mind. Here is a great list of things to keep in mind when designing a young girl's nursery.
Be Rustic With Shiplap Walls and Macrame
This young girl's nursery actually looks very mature and grown-up, but it's still cute and approachable. It has a rustic and coastal appearance thanks to a lot of touches from that decor style.
That includes the shiplap white walls, the black and white geometric patterned carpet, and the macrame accessories. This example shows that baby girls' bedrooms don't all need to be decorated in bright colors or frilly touches.
Incorporate 3D Designs in Your Decor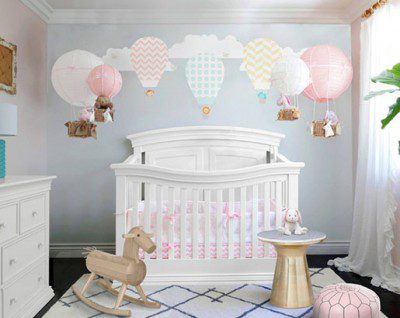 For a baby girl's bedroom, it can be a great idea to decorate in 3D styles so the room becomes more interactive and engaging for your young child. This idea is captured perfectly in this example, featuring a hot-air balloon wall with pop-out balloons.
The crib is by the hot-air balloon wall, but a few of the balloons are actually hanging above the crib, creating an adorable, engaging display for your young girl.
Put Down a Bright, Colorful Carpet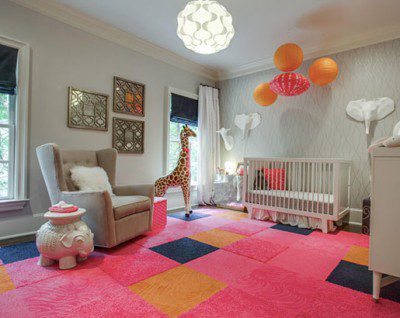 You can also choose to decorate your young daughter's room in a bright and eclectic color, by using an eye-catching and stunning carpet like this pink, orange and blue option. The rest of the room is done in quite neutral colors so as to not overpower the whole room.
The carpet is also a relatively easy thing to replace as your daughter gets older if she wants to go for a different color or decor theme.
Look for Natural Materials Like Wood
Another option for a baby girl's bedroom is something warm and rustic that won't need to be updated much as she gets older. I love this charming bedroom with one wall made of wooden planks. It's decorated simply, with a bit of artwork and gray accents.
The whole thing is absolutely adorable, and the wooden accent wall is enough to carry the decor in the room without adding too much else.
Add a Pop of Red for Color in the Nursery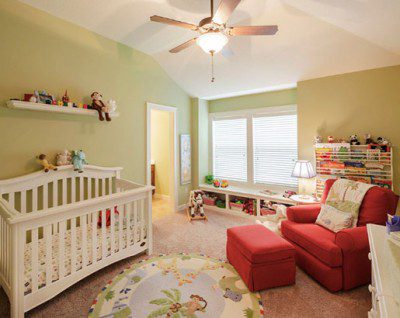 Red is a beautiful, bold color to have as an accent color in the nursery, but only if done minimally. The whole room in this example is quite neutral, and the walls are done in a pale green with most of the furniture in a simple white color.
That opens up the possibility of a bold accent color, and the red armchair and stool do exactly that, by adding some personality and color to the room.
Create a Gallery Wall for Family Photos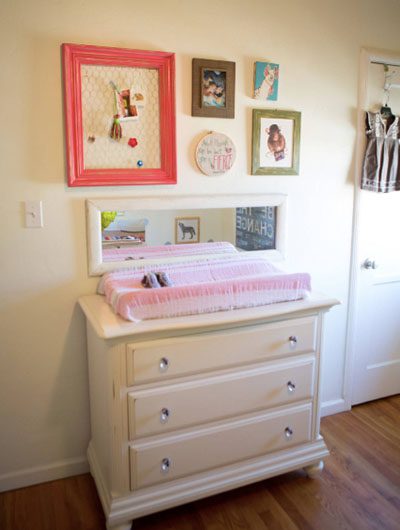 A gallery wall is an amazing idea for a baby girl's room because the photos can be added and changed as time goes on and more memories are created. You can also add mementos and other souvenirs so it can follow your baby girl's big moments as she grows up.
Look for frames in different sizes and colors, add a mirror and perhaps a mix of photos, mementos, and cute quotes.
Dark Walls Are Elegant and Soothing Too
Most nurseries and baby girl bedrooms involve light colors like white, pastels, and pinks or blues. However, that doesn't mean you need to follow that path, because dark walls are unique and can be just as soothing and relaxing.
I love the dark walls of this nursery, which looks great with the wooden floors. The light color of the crib and the flowery decor of the walls add some more delicate and feminine touches.
Look for Cute Animal Themed Paintings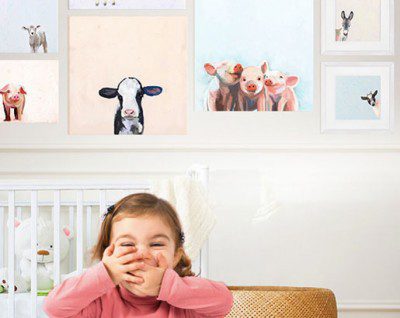 Most kids love animals, and you can have decor that is also educational by getting a series of colorful paintings of different animals. In this example, the white walls are spiced up by adding a ton of different animal paintings, especially farm animals like pigs, cows, and sheep.
Embrace a Dark Wood Grain for Character
I love the rich dark wood of this baby girl's nursery because it's something that will stay relevant throughout her childhood. The crib is also polished wood and fits in well with the rest of the bedroom.
There are a few other rustic touches added to the room like the rope covered lamp fixture and antler decor on the wall. There is also a lot of beautiful farmhouse style decor on the bookshelf in the corner.
Add a Glamorous Canopy for a Princess Vibe
A canopy like the one pictured here is mostly decorative instead of functional, but it makes the whole crib appear princess-like, something your baby girl might love.
It also adds softness to the room alongside other feminine touches like the fluffy rug, the warm color palette, and the flowers. The light fixture also adds a bit of glamor to the room and makes it appear larger than it is.
Use Bold Accessory Colors Instead of Painting the Walls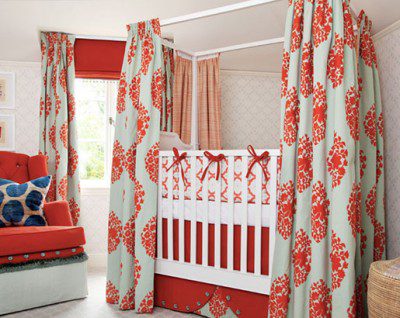 Instead of painting the walls, which is a time consuming task and might need to be redone as your baby girl matures, you can look for accessories in bright colors that can spice up a white room.
In this example, some bold red and coral accessories have been added to create personality to the room, but in a pattern that's more relaxing and softer.
Keep It Mature and Grown-Up With Classy Touches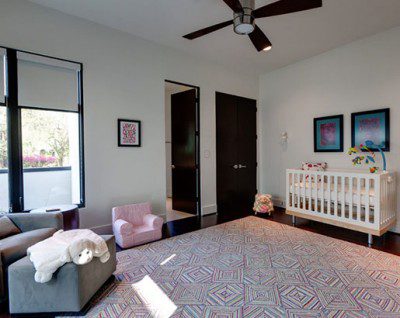 A baby girl's bedroom doesn't have to be young and girly. A mature bedroom can work just as well, with a few interesting touches like this large geometric area rug. There are also a few bright paintings and a large animal blanket.
What's great about this room is the amount of space in the middle on the rug, which is perfect for a little girl as they start crawling around and playing with toys.
Look for Cute Accessories and Unique Touches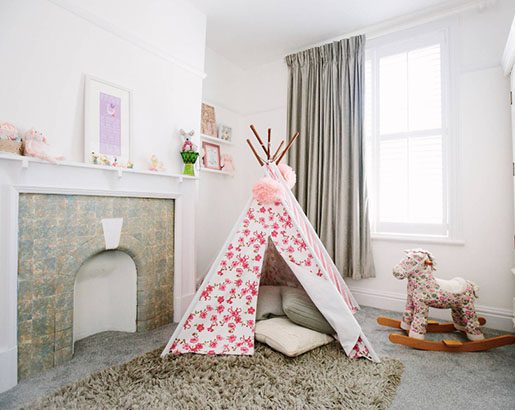 This room is the perfect example that a simple white room can become a fantastic little girl's room with just some cute accessories added. The amazing flowery tent adds a private reading and playing corner and a feminine touch to the room.
There's also a cute vintage rocking horse and a ton of little toys on the mantle of the closed-up fireplace. All these touches together create an appealing and exciting room.
Add Coral Touches to a White Bedroom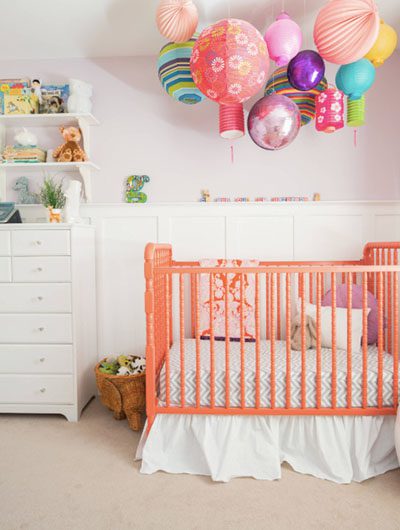 I love the bursts of color in this room, from the bright coral sides of the crib to the collection of balloons and balls hanging from the ceiling above it. It's a budget approach to adding a lot of life and color to the room, and it's easy to replace or remove these touches.
It's also important to add some drawers and shelves to your baby girl's nursery, as you'll need a lot of storage space.
Decorate in Light Pink and White Colors
Light pink is a stereotypically feminine color for a baby girl's room, but there's a way to decorate with pink without it being overwhelming. The key is to go for just a few touches of very light pink, like in this example.
There's one accent wall with wallpaper covered in delicate and artistic light pink flowers and plants. It contrasts really well with the light pink of the rest of the room and white furniture.
Look for a Classy and Simple Flower Theme
The flower theme in this room is a bit bolder than in the previous example, but it works just as well. The flower wallpaper has a darker gray background, which is offset by some lovely touches like the cable-knit pink blanket.
A small bookcase in the corner has a lot of pretty little decor touches, and the child's name has been added to the wall in cursive script above the crib — a nice extra touch.
Get a Fun and Cute Wallpaper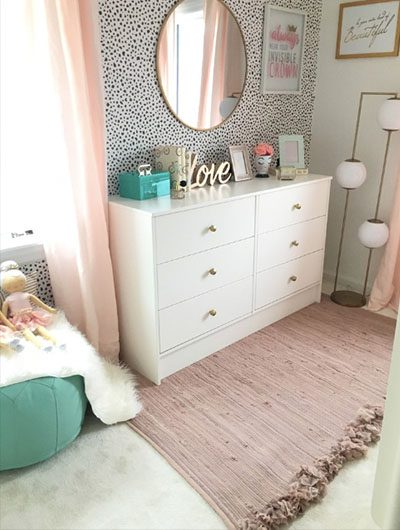 Many baby girls' nurseries have an interesting theme on the wallpaper, and it's because it's an easy way to add some color or personality to the room. We've seen a flower and other patterned wallpapers, and here's a cute black and white polka-dot option.
It's a great background for some teal and light pink touches for a girly yet glamorous room. I also like the gold accents like the mirror frame and lamp.
Incorporate an Entire Princess Theme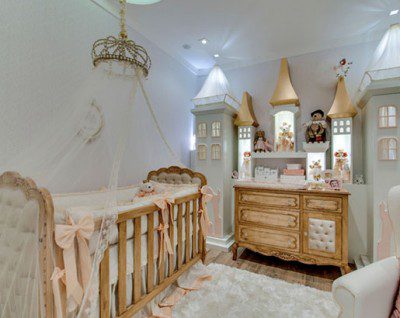 Many girls like princesses, and if your baby girl is one of them, or you like the theme yourself, you can have the nursery in a full theme. This example has gone above and beyond in the princess theme thanks to a lot of clever touches.
The bed has a canopy suspended from a crown, and the dresser has been converted into a full castle. It's a magical room that is sure to capture many girls' hearts.
Keep It Simple With Gold Heart Accents
These gold heart accents are a great addition to a baby girl's nursery. I like that the theme inspired by the wallpaper on the accent wall is also continued on the storage hamper with the toys. It's a good idea to pick a theme and stick with it throughout the room for continuity.
Create a Delicate Theme of a Cloudy Sky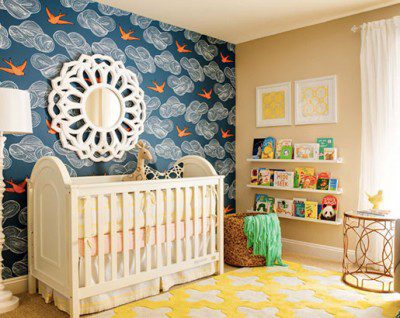 This bedroom decor is completely unique and I really like it. It's got one dark navy wall with light drawn-in clouds and birds, and it's contrasted by the yellow and white carpet. There's a lot of fun, child-friendly touches like the shelves full of kids' books, the giraffe toy in bed, and more.
There's also a lot of natural light coming into the room, which is a great idea for a kids' bedroom.
Paint the Walls a More Mature Dusky Pink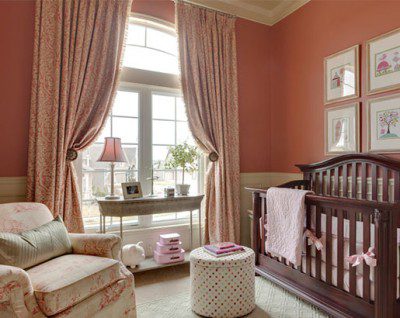 This darker pink is a great color for a young girl's room since it's different than the usual light pink color picked. The dark wood of the crib matches well with the darker walls, but the huge window lets in lots of light so it's not too dark in the room.
This is an interesting article about how colors can potentially affect your baby, and might help you choose the best colors for you.
Decorate With Fairy Lights for a Magical Result
Don't forget about the lighting choices when decorating your baby girl's nursery. Fairy lights are an excellent way to decorate and add lighting all at once because it creates a magical effect and will age well with time.
In this young girl's room, fairy lights have been draped all around the wooden bed frame and a gauzy canopy is also included to create a magical, fairytale effect that many young girls will love.
Get a Statement Wall Mural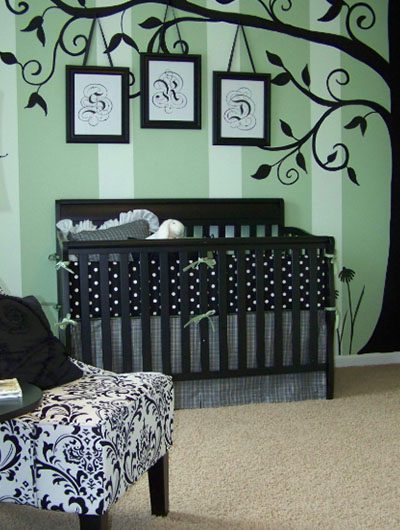 With a child's room, you can get one wall done with a great mural or wallpaper. That saves you from doing the entire room in one theme, which can be overwhelming. It also adds some fun decor if all four walls are quite plain.
This wall has both elements, with a fun two-toned green striped wall and a fun tree mural as well. Some paintings have been hung up to appear to be hanging from the tree.
Final Thoughts
These 30 ideas for baby girl nurseries and bedrooms should get you well on your way to figuring out what you want for your own home. Whether you're having your first little girl and you're not sure where to start or you're looking for new inspiration, there are so many great ideas.
Think of the color scheme and style you want to decorate the room in, and figure out if you'll want to redo the decor as your baby girl becomes a young child or look for something more long-lasting and permanent.