The farmhouse decor is extremely popular right now, with a lot of people choosing to decorate their bedrooms, living rooms and kitchens in that style.
It's easy and affordable to decorate indoors, but if you want your home to be a true farmhouse, you'll need to also decorate the exterior in this style. Some of these design elements are a bit more involved in labor and price, but others can be adopted by anyone. Read on to get inspired.
Get Large Wooden Doors and Window Trim
This exterior is gorgeous and a classic example of the farmhouse style. There are massive wooden doors and dark window trim. The lighting above the doors is the lovely and classic country style.
The white panels and dark roof and trim are typical features of the farmhouse style, along with the high peaked roofs. It's a large house but it feels inviting and cozy thanks to those traditional features.
Decorate With Lots of Vintage Pieces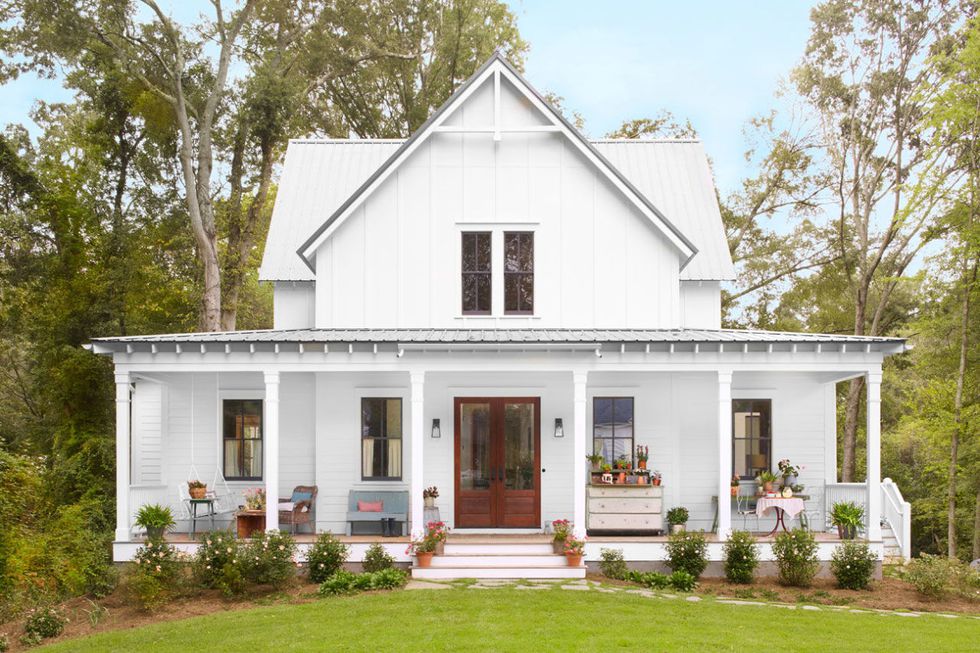 Another way to get the farmhouse style is through the small touches and porch furniture. This house is a classic farmhouse exterior, with white, peaked roofs and wooden front doors. However, what truly takes it a step further into the country decor style is the vintage furniture.
There are chairs, tables and even a dresser in all pastel colors of blue, pink and white, covered in antiques and plants that looks absolutely charming.
Alternate Siding Plank Width and Direction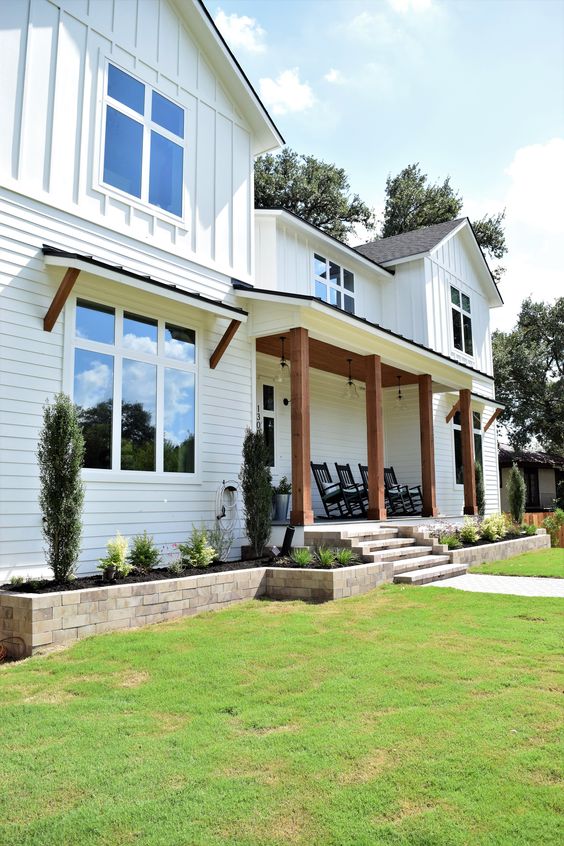 A major aspect of the farmhouse style is the planking around the house and the white painting. This house has stepped it up a bit to change the texture and appeal of the exterior and switched up the paneling style.
The bottom level of the house has narrow horizontal planks around the side of the house, while the top level of the house has wider planks around it in a vertical direction.
Look for a Large Porch With Thick Wooden Beams
If you don't have a porch already or you're trying to upgrade your existing porch, there are key features you can look for that will take it the next level toward the farmhouse style.
This porch is a classic example, with a wide overhang, wooden ceiling and large, dark wooden beams holding it up. It also has brick steps and a brick porch, as well as white planking walls and black wrought-iron accents.
Make a Bold Statement With an Accent Front Door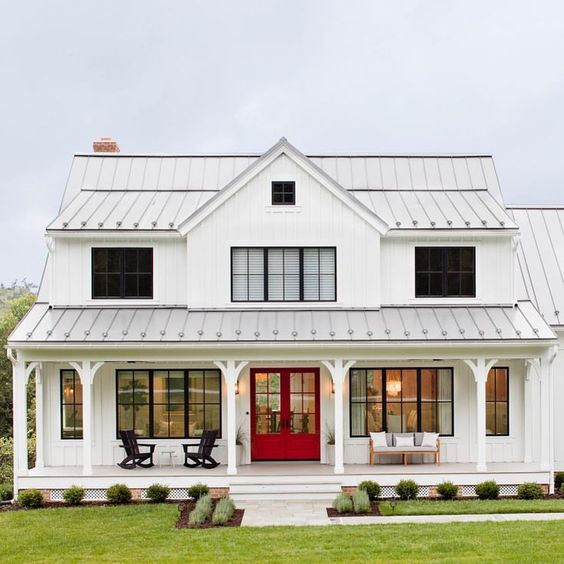 You can also make your farmhouse stand out and add some bold touches, like painting the front door bright red. Everything about the country home exterior in this example is pretty traditional, with white walls, narrow columns and a tin roof.
The bright red door creates an eye-catching statement, and the windows are done in black trim, while the wide, large-paned windows modernize the exterior and let in a lot of natural light to the interior.
Add Floor-to-Ceiling Windows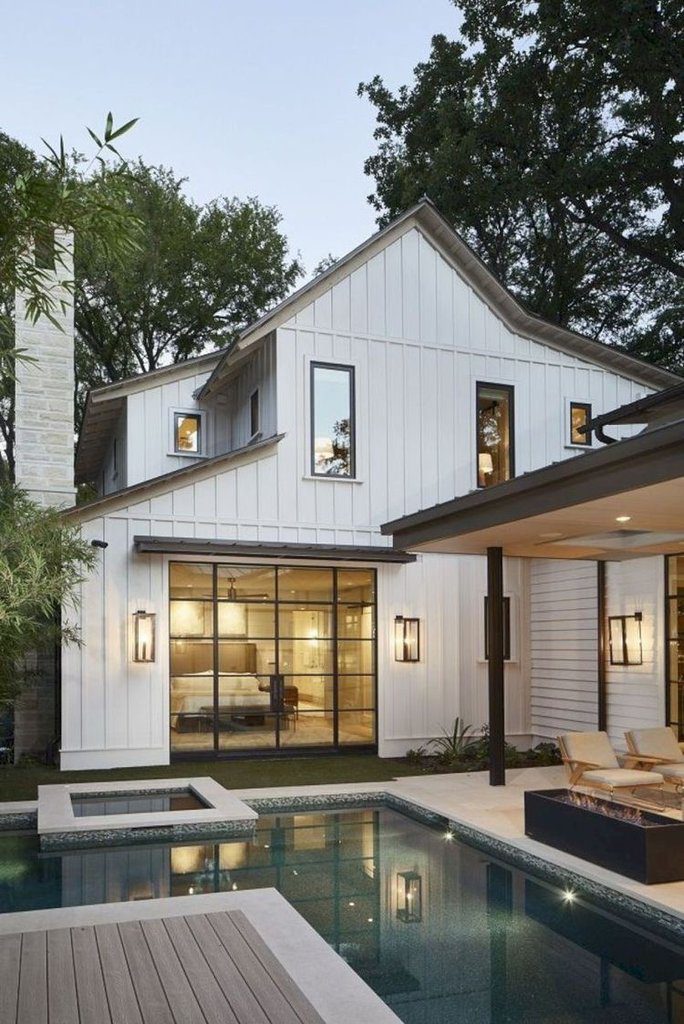 This home has a stunning modern country exterior, with a lot of interesting features. One wall has vertical white panels and another has horizontal paneling. The roof and window trim is a nice, contrasting black and there is a classic brick chimney peaking through the trees.
What adds the wow factor here are the large, floor-to-ceiling modern windows. This is a great piece outlining the evolution of the farmhouse exterior through the years, and well worth a read!
Go Country Chic With Rough Stone Walls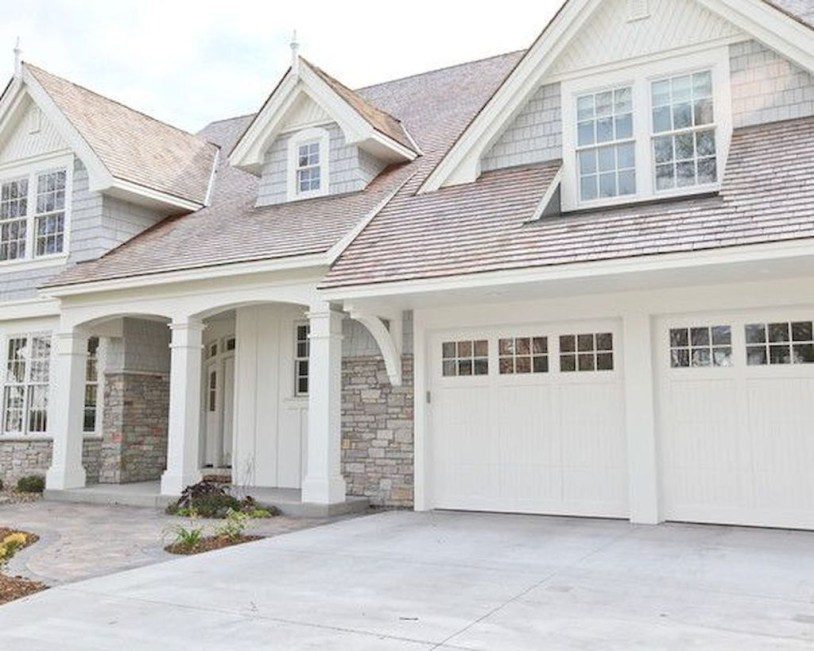 If you're not a fan of the white panels and wooden exterior, you can also look for walls of rough, uneven sized stones. That style blurs the lines between the farmhouse and country chic, and it has an amazing effect on the overall home.
These stones are well-matched to the gray siding and shingles, as well as the large white garage doors and front entryway columns. The gabled windows are also a key farmhouse style feature.
Have High Peaked Gables for Second Stories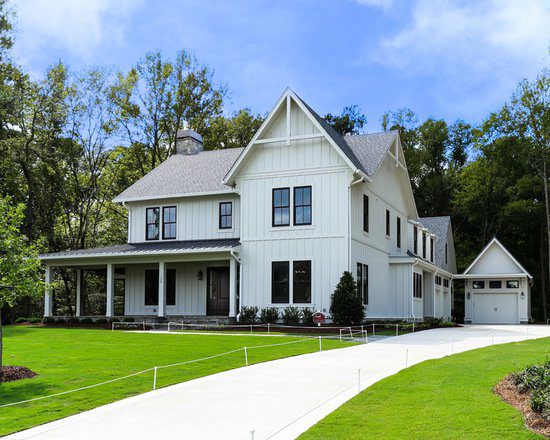 These high peaked gables are typical country farmhouse, visible from all the way down a long winding driveway. It's a stately country home exterior, with white walls, a wraparound covered porch, and black accents.
In this example, we can clearly see the high gables at different ends of the house and on the standalone garage. It creates a lot of attic space inside or even a third floor with low, sloped ceilings, both features of farmhouses.
Get Wooden Columns for the Entryway
This farmhouse is quite modernized, with a bit of a Tuscan or American southwest vibe, with walls made from tan colored bricks, almost stucco. The large, wide columns made from rough dark wood with wooden crossbeams are typical farmhouse though.
Sometimes, all it takes is adding a few key touches to a completely different exterior and you can end up with your own modern and unique farmhouse exterior.
Channel the Farmhouse Vibe With a Covered Porch
A covered porch is very typical of the farmhouse, especially with a swinging porch chair or rocking chairs. Most farmhouses will have covered porches, wide or narrow, with a good space to spend evenings in a protected outdoors setting.
This farmhouse has a ground-level porch area, and the overhang is actually just an extension of the roof, with a seamless transition from the wall to the column supporting the porch for a bit of a modern twist.
Use Tons of White Elements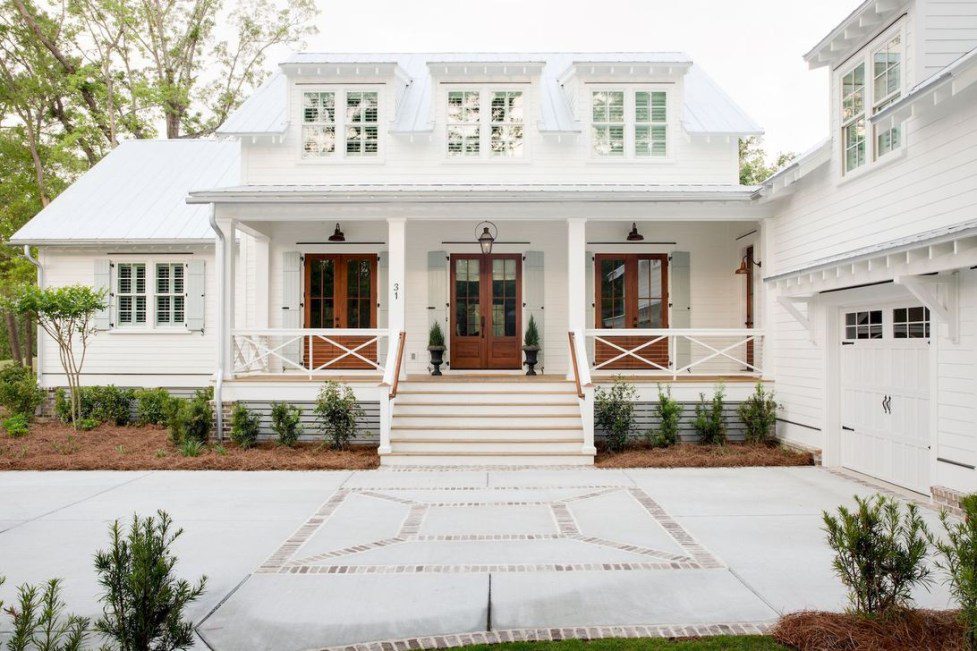 Most farmhouses will have white exteriors with dark trim, or brick, wood and stone accents. This home goes against the grain a little, by going for an all-white theme instead, with only rich wooden doors and windows.
It creates a great appealing effect and shows that it's okay to break the rules a little bit. This guide breaks down some of the more common elements of modern farmhouse exteriors and shows how one family incorporated each aspect.
Install Large Two-Story Farmhouse Double Doors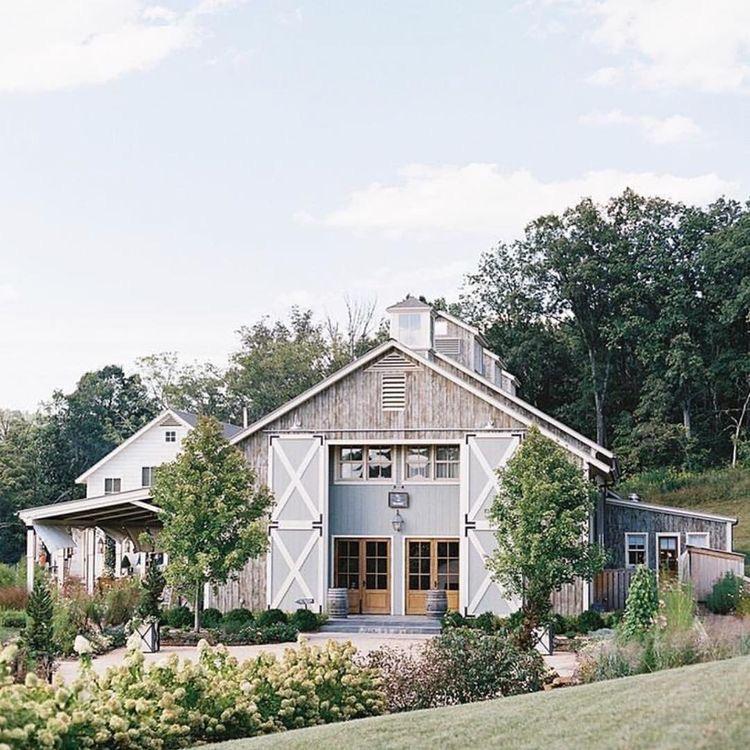 I love these massive barn doors that have been cleverly installed in front of the real home's facade. It's a great way to channel the barn vibes for the actual farmhouse, whether they're real or decoy doors like in this example.
The doors are typical barn doors in a crosshatch pattern, with the actual wooden doors hidden behind them. I really like the added touch of the two barrels at the front entrance.
Invest in a Lot of Hanging Porch Plants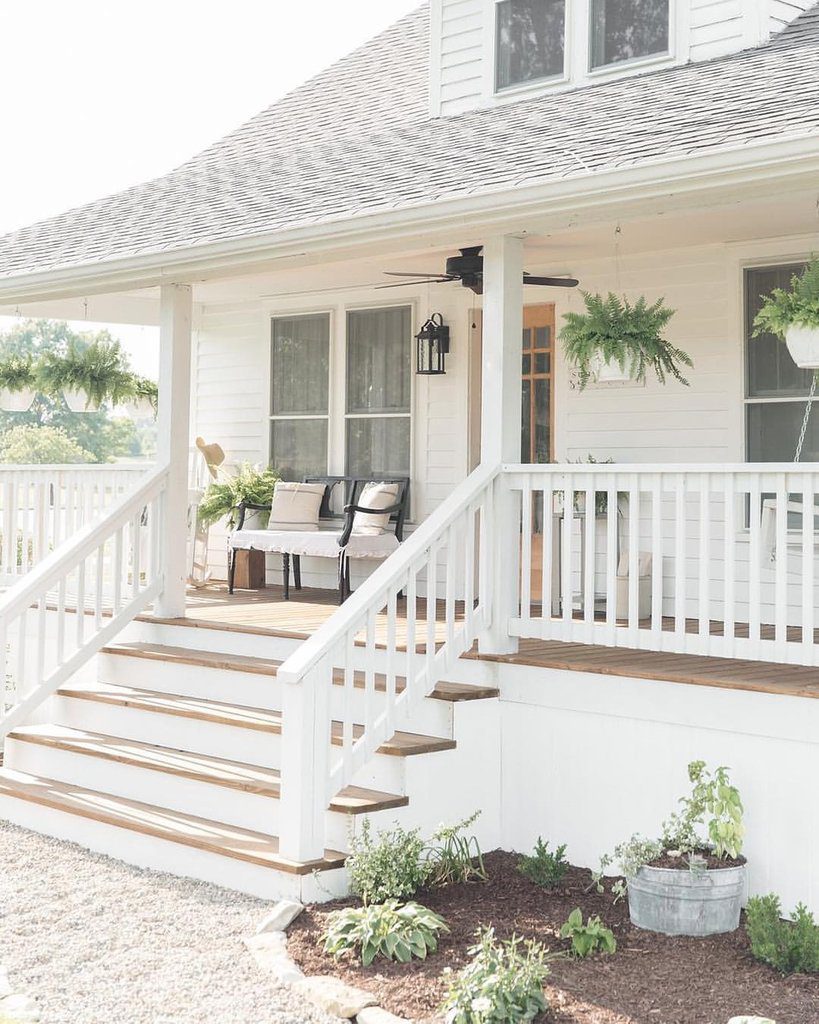 If you have a porch with an overhang, you'll want to get a lot of hanging plants to add some life and color to your front porch. Plants are great in country homes because they channel the outdoors, planting and growing, which are staples to a farm home.
In this example, we can see that the garden and porch plants add a lot of charm to the front porch and make it appear a lot more welcoming.
Place an Outdoor Brick Fireplace as a Focal Point
Brick is another key feature of farmhouse homes, but one that's often underutilized, with wood being used instead as an accent material. Brick, whether in its classic rusty shade or another color, is excellent to use along the front of a country home or as a statement chimney piece.
In this example, we can see that a large outdoor gray brick chimney makes a lovely focal point for the front of the house, especially surrounded by windows.
Conclusion
People are finding gorgeous, creative ways to modernize the traditional farmhouse exterior, and these are just 15 of the top suggestions. Even if you don't actually live in an old farmhouse, you can still channel this style by making a few key changes to your home's exterior.
Think about the exterior materials and colors, and look for white planks, dark trim and natural wood accents. If possible, try to incorporate stone or brick accents also, like a chimney, as well as a large covered porch or covered walkway.
By adding these elements you'll be well on your way to getting a modern farmhouse inside and out!