Do you have old doors lying around? Are you looking for vintage pieces for your home that can be repurposed for different uses? You might not realize it, but old wooden doors can be reused in so many different clever ways, to add a rustic and unique charm to your home.
I've looked through tons of ideas to find the 25 most creative and stunning ways to repurpose old doors—take a look at what I've found.
Turn It Into a Ladder Style Bookcase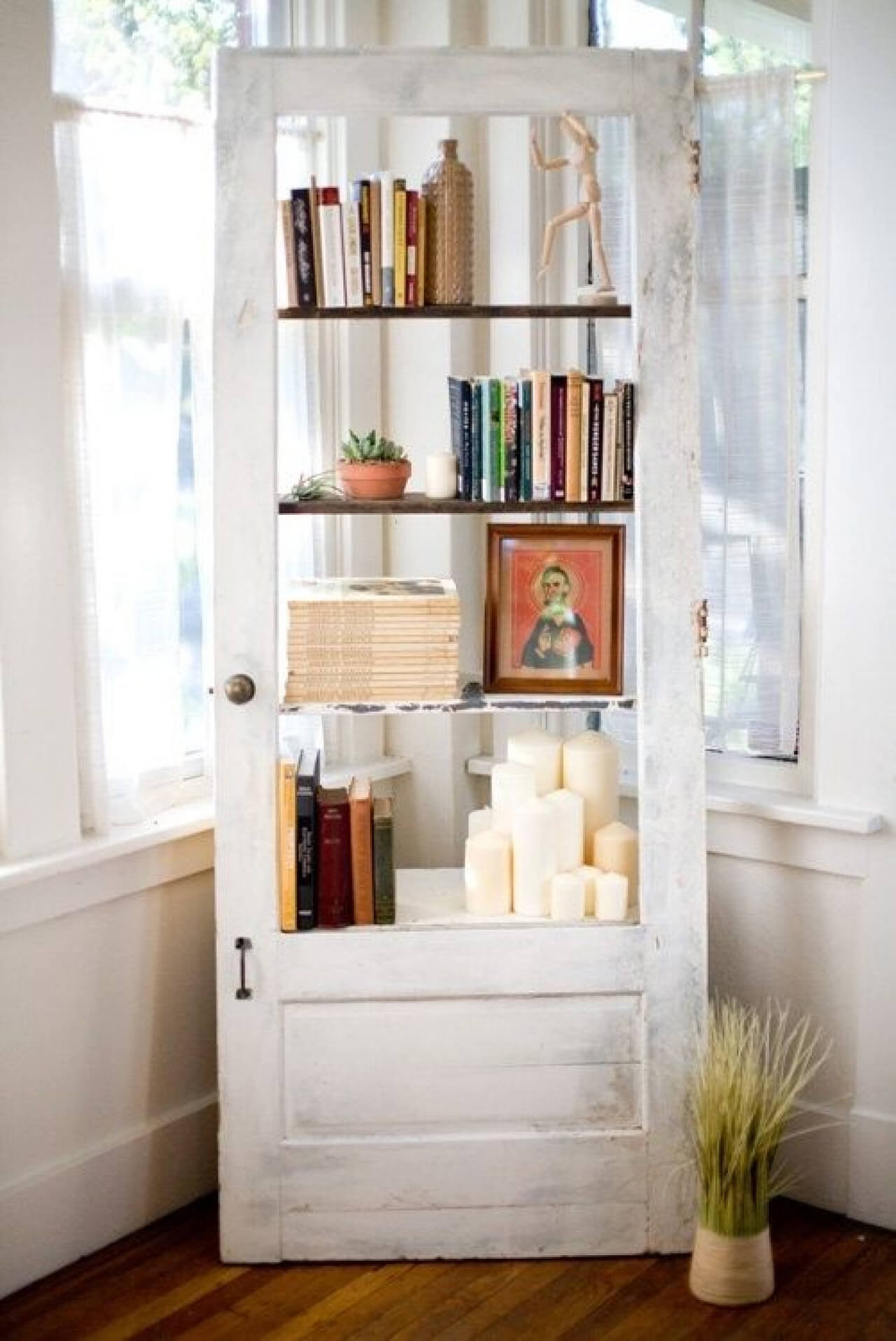 I love this vintage door idea, with the pane removed and some shelves added instead to convert it into a bookcase. The white weathered look is great for a brightly lit, farmhouse or country style living room, and contrasts really well with the objects on the shelves.
All that's needed is to add some wider shelving in the pane area of the door, as well as some support to make the old door freestanding.
Make Shelves for an Entryway Shoe Rack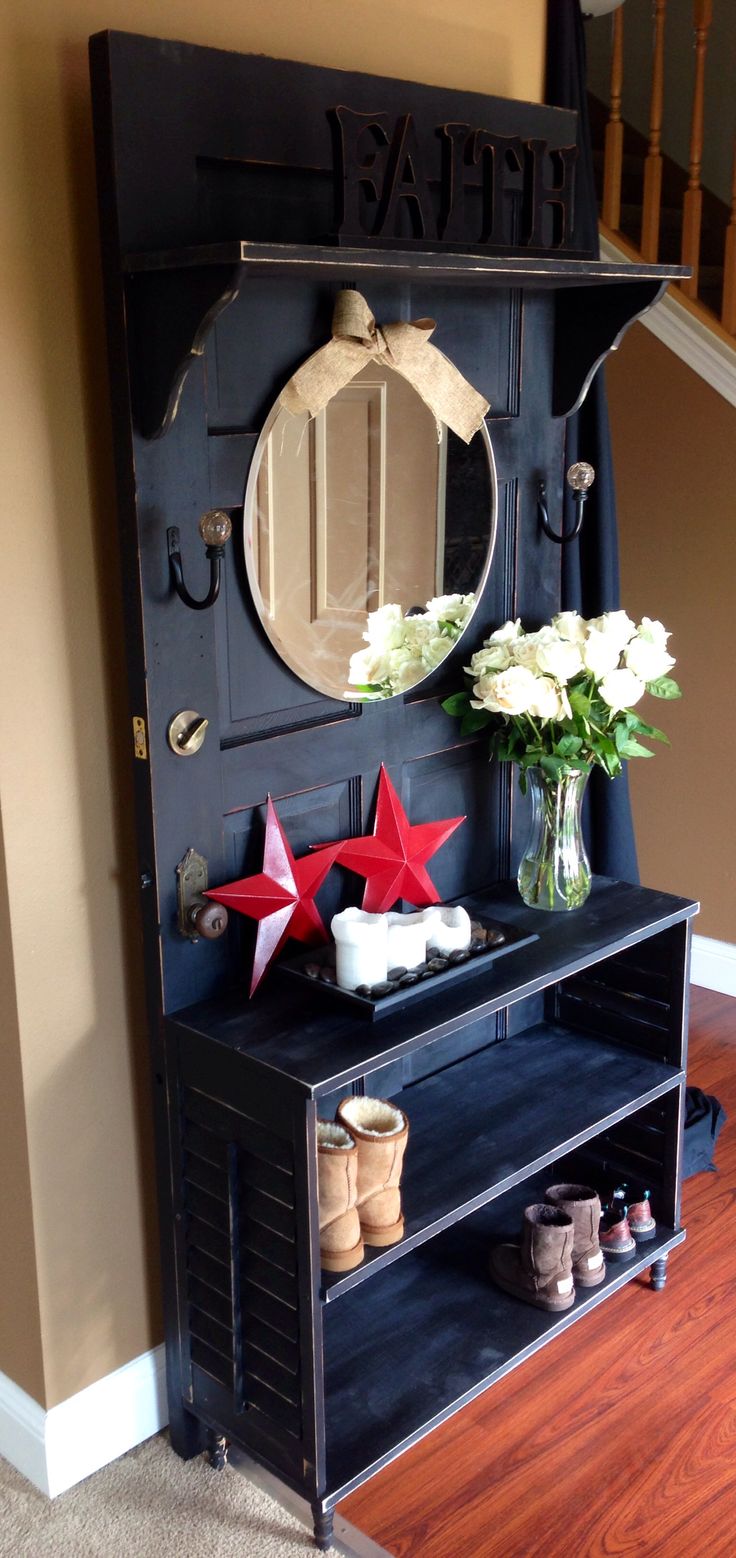 This old wide door has had a lot of elements added to make it a multi-purpose entryway stand. There is a shelving cart added to the bottom of it for a shoe rack, a mirror added to the main part of the door, and some hooks for hanging coats.
There's also a top shelf added for any additional items or decor, and the whole door has been painted in black for a statement piece.
Use Half a Door for a Repurposed Coffee Table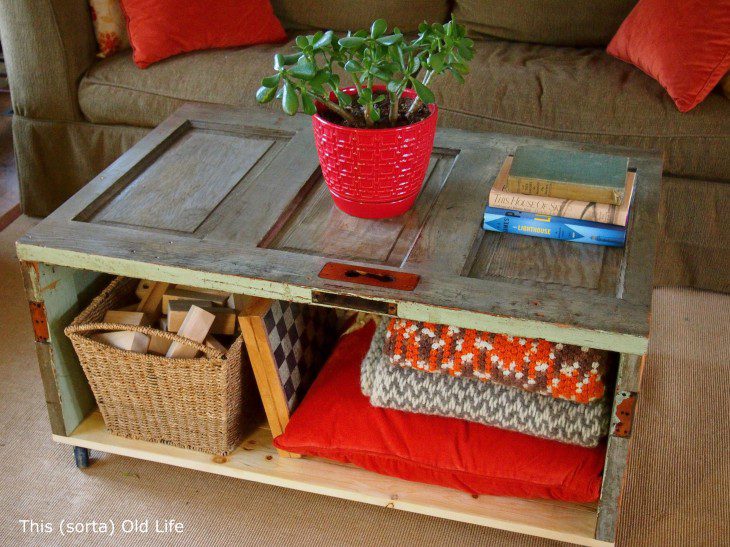 I really like this coffee table, that's been created from a repurposed door. You can either use a half door by cutting one down to size if it's too big or in this case use a small attic trap door that makes for a smaller and more manageable coffee table.
If you want to build this yourself, it's not that complicated if you follow the tutorial provided by This Sorta Old Life.
Convert a Vintage Door Into a Lighted Bookshelf
This is another example of converting a vintage door into a bookshelf, but this time in a different style. In this case, the whole door is kept in its original state, and two shelves are added on top of it.
There is also an additional element of a light fixture added to the top of the door to create a more lighted bookcase and make it easier to see the lovely display on each shelf.
Keep the Door Frame Only to Create a Room Accent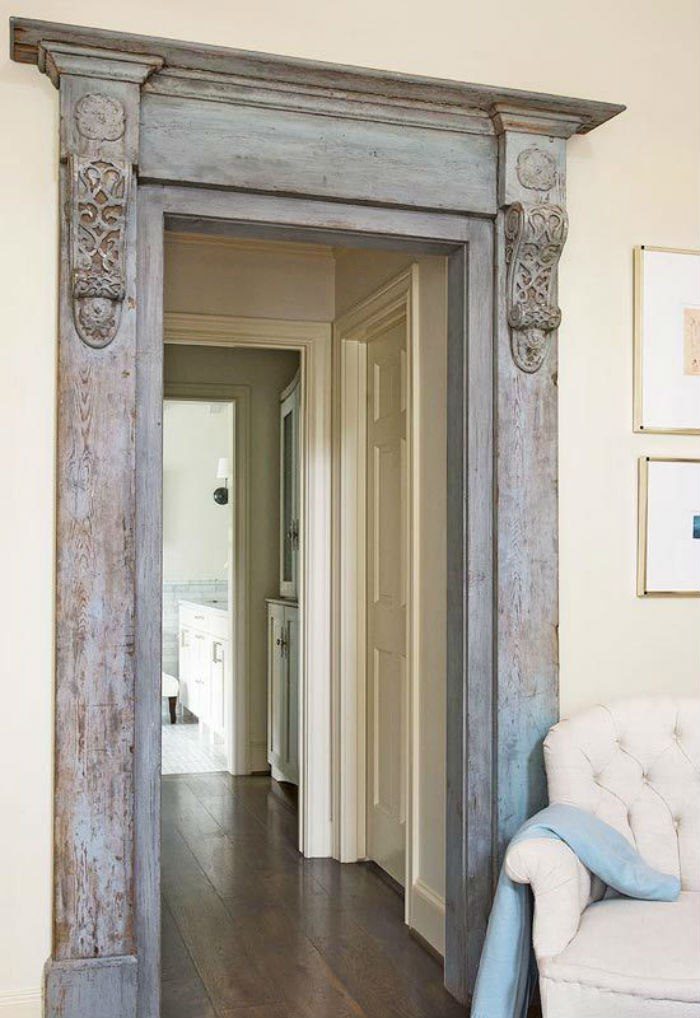 This is a bit of a different style from others on the list. Instead of repurposing a vintage door to create something else, an old door frame was salvaged and added to a more modern room to create a statement archway.
Look for something in this style, with a lot of carving and natural wood grain, that will create a bold contrast with the rest of the room.
Use It as a Jewelry Stand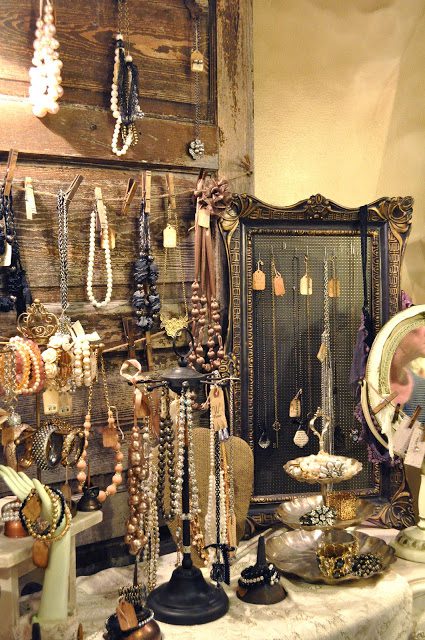 This door has been converted into a full length jewelry stand, an amazing idea for those who have a lot of accessories and want them all displayed in plain sight. It's very simple to do, because all you need is the old vintage door, in whatever wood grain you want for your room.
Then, simply add hooks at even intervals to hang your accessories. Be sure to keep a large distance between rows for longer necklaces, too.
Turn It Into a Front Hallway Coat Rack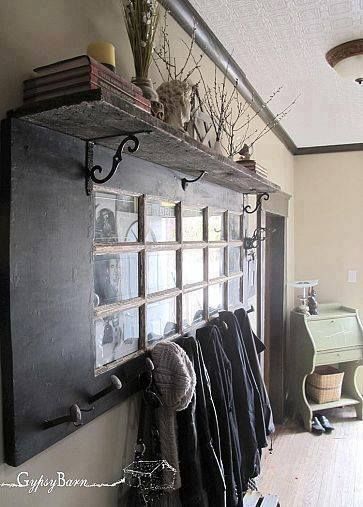 This old door idea involves hanging the full thing sideways high up on the wall to use it as a front hallway coat rack. A series of hooks were added to the bottom of the door for hanging, while a wide shelf was added the length of it above to add some decor.
The glass panes left in place add a nice touch, or you can replace each pane with a mirror for an interesting hallway experience.
Build a Kitchen Island From an Old Door
Another great option for reusing an old wooden door is to make a kitchen island from one. You'll need an old wooden door that doesn't have too much elaborate carving on it so you can keep a relatively even surface.
Then, you can build a stand for it at the ideal height for chairs or bar stools, and paint the whole in one color or create a weathered effect.
Create a Sliding Office Door With Window Panes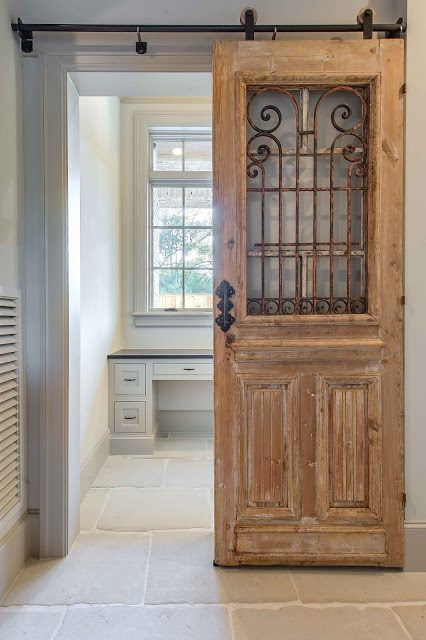 You can also be really clever and use an old door for its intended purpose, as a door. In this case, the door is actually taken off its hinges, though, and installed on a track to create a sliding door.
It's a fantastic option for a more modern home because adding a rustic vintage door can make an excellent contrast, like in this example. A door with window panes is great to keep light streaming through.
Add a Plant Display Unit to the Garden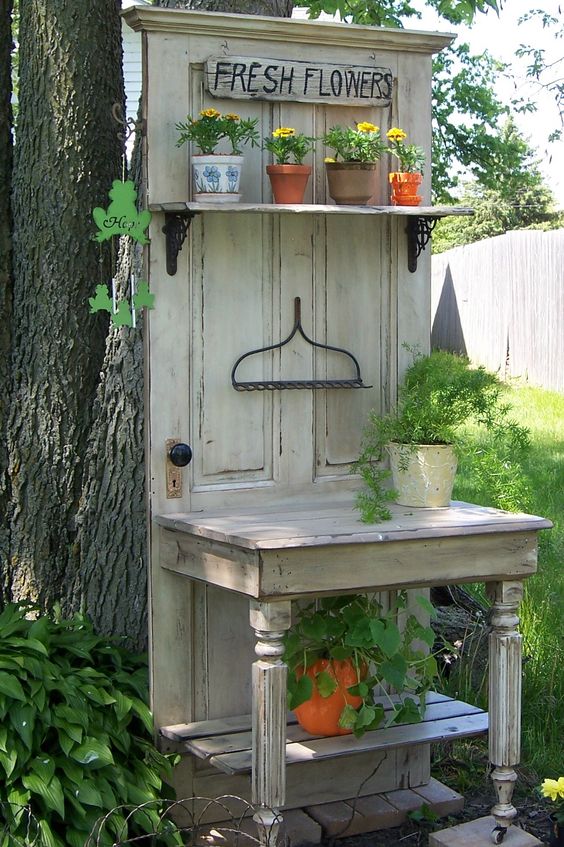 This old door has received a lot of additional parts to create an outdoor display unit for the garden. It's got a top shelf for some smaller potted plants, a hook for garden implements, and a larger shelf for potting plants and display.
The whole door and shelving unit has been painted and weathered in the same color and style while retaining the vintage appearance.
Inspire Creativity With a Repurposed Door Desk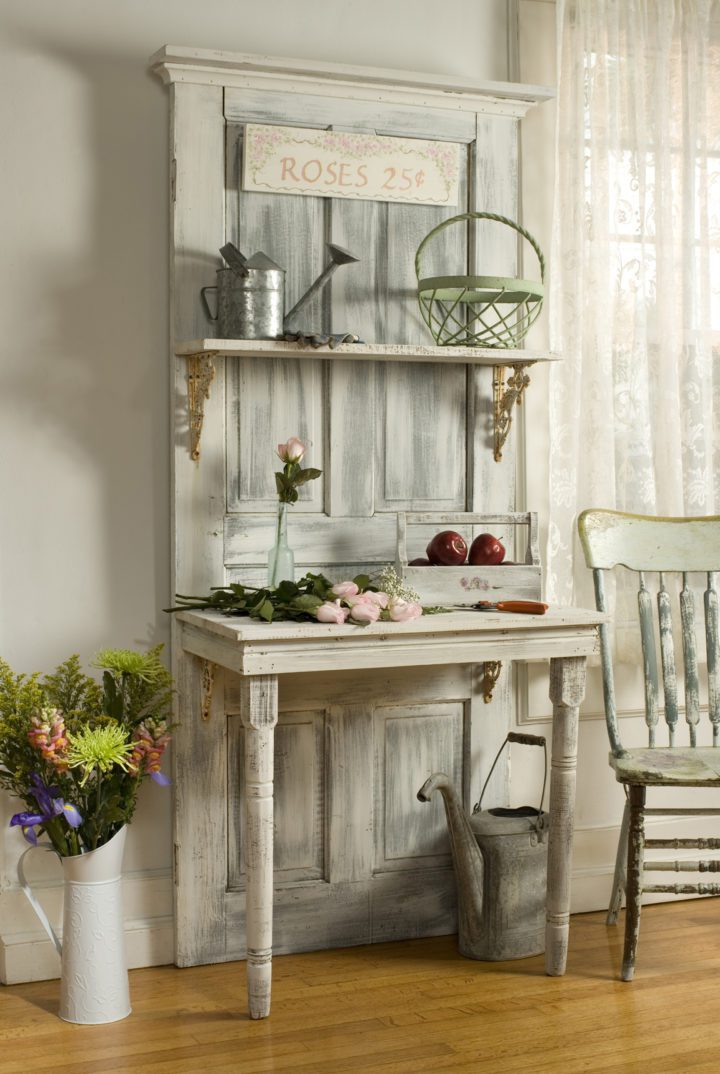 This door has been repurposed in a similar way as the potted plant idea, with a desk and shelf added. It's a great way to create a desk that's unique and original by creating a statement in the room.
Create a Dressing Screen From Three Doors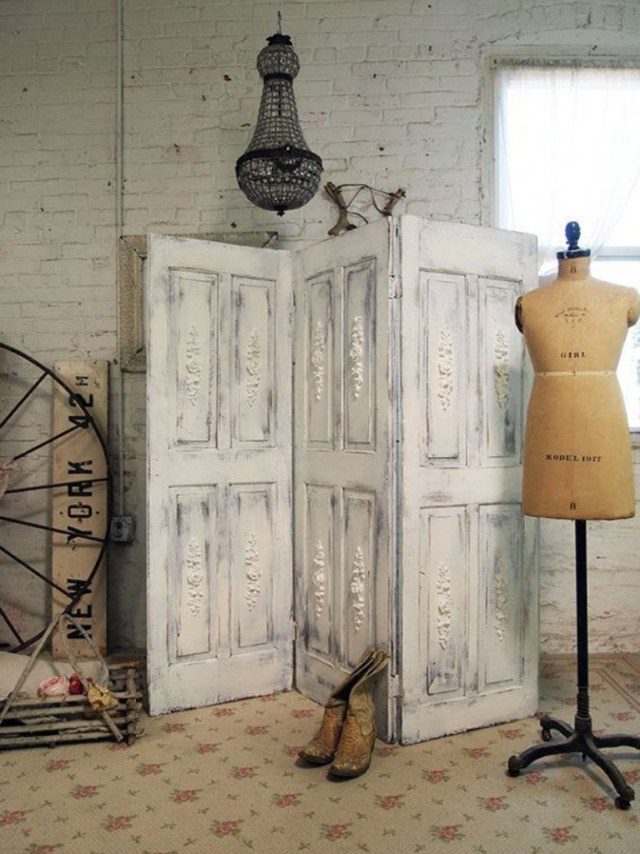 This three-fold door is excellent for making a dressing screen in a bedroom that's different from all others. The detailing on the panes of the door adds some nice touches to the overall look.
It's great for a large bedroom with space for the screen, especially one with a vintage or rustic appearance. If you can't find the right kind of tri-fold door, you can try to make your own from three door panels hinged together.
Build a Gorgeous Porch Swing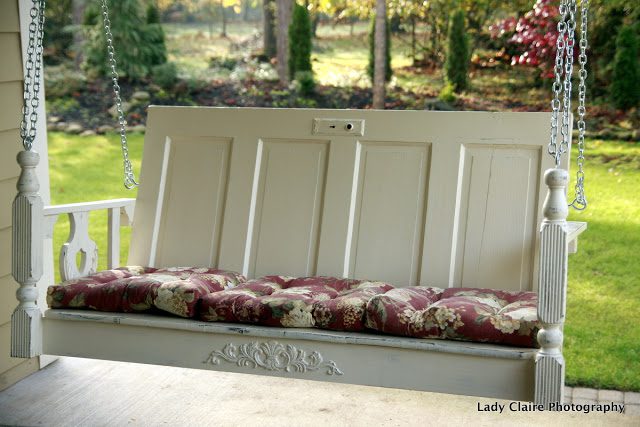 At first glance, you might not realize it, but this porch swing is actually made from a door. It's possible to see at the top in the center the old spot for the door handle and lock. A flat door like this one is great to use as the back of a chair as it's sturdy and straight.
If you're building a swing, why not use surfaces that you already have as opposed to creating new ones?
Convert It to a Full-Length Mirror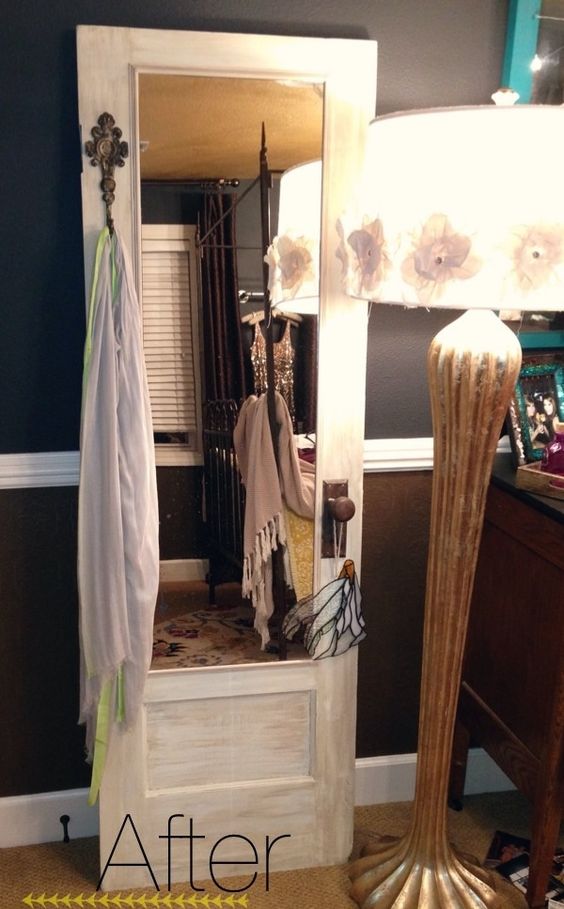 I love this old door idea. The large pane in the door has been removed and replaced with a mirror to create a unique and lovely full-length mirror. The doorknob has been left in place for hanging items, and another hook was added.
If you don't have a door with the right size window pane to remove, you can also cut out part of the door to match the size of the mirror that you have.
Turn It Into a Lovely Seating Area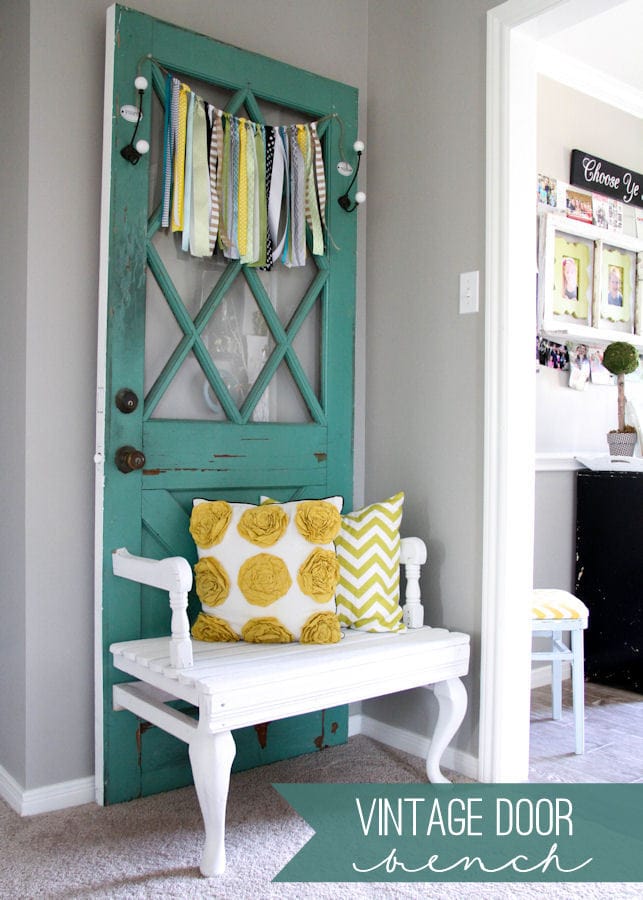 This old vintage door has been upgraded with the addition of a bench to create a seating area, perfect for a patio or indoor space.
The bench and armrests have been painted white while the door is in a weathered teal color. That color block effect adds a nice statement to the space, while also drawing attention to the repurposed door, which I love.
Stay Organized With a Chalkboard Wall Calendar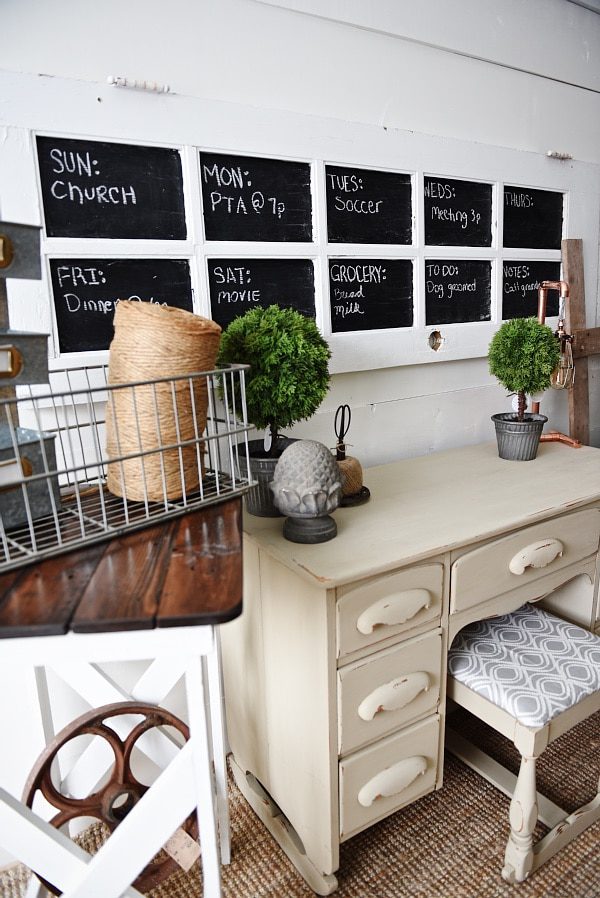 This is a really clever old door idea, which you can do with an old door that has multiple panes (eight to ten being the ideal number). The panes have all been removed or covered up with chalkboard material, and the door is hanging above a desk.
It's an excellent way to stay organized in a rustic themed office because each pane can be converted into a day of the week, for a full calendar.
Use a Rustic Stable Door as a Display Shelf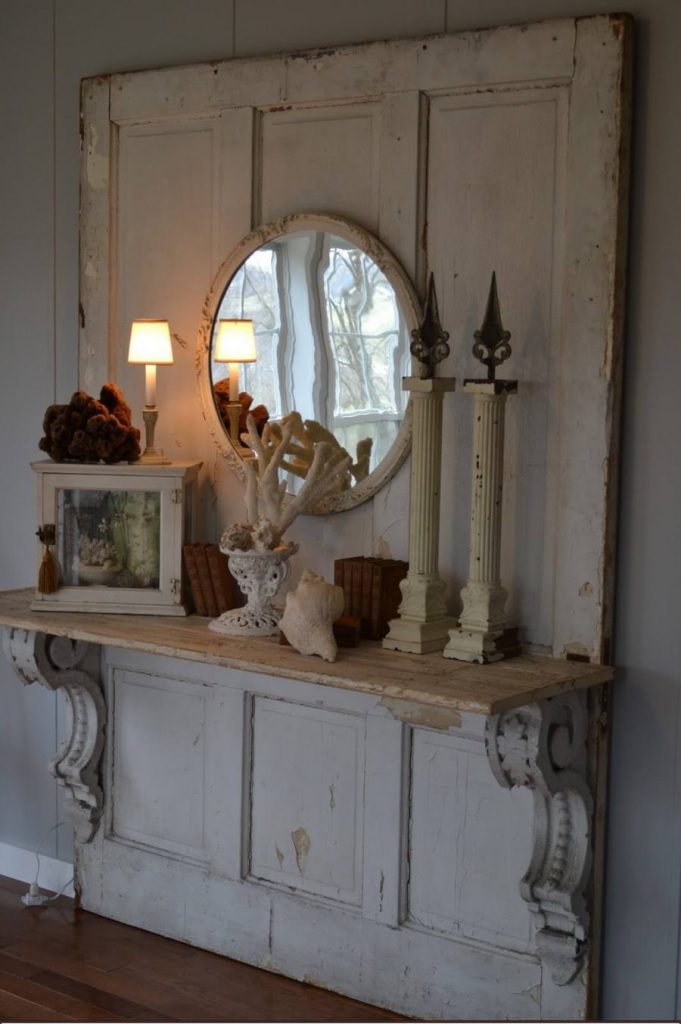 This is an extra wide door, most likely an old stable door, which has been converted to a gorgeous display shelf. The round window has been replaced by a mirror that acts as a centerpiece for the display.
There's a great tutorial here that explains how to best achieve this look at home—simply build it then add the farmhouse-style decor that you want afterward.
Double Doors Are Great Room Dividers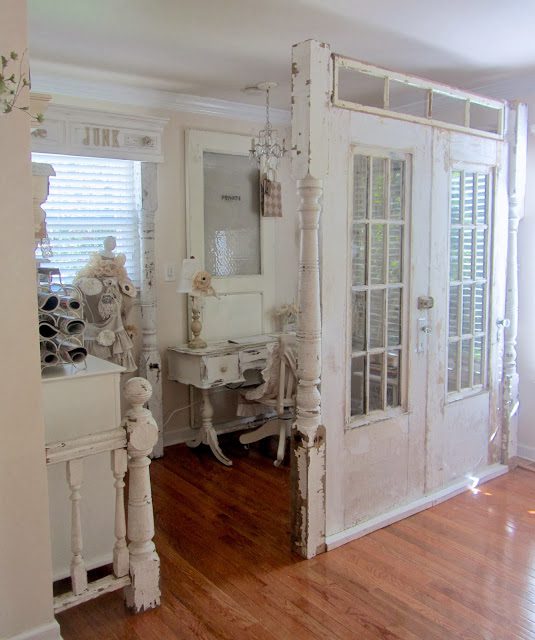 These double doors have been kept intact inside the room, but they're purely decorative. They have been added to one side of the room to create a clever room divider. This is a great idea if you've got a large space and you want to create some privacy in one section.
For example, here we see that the doors can separate an office from a bedroom, to create privacy and space.
Hang an Outdoor Table Made From a Vintage Door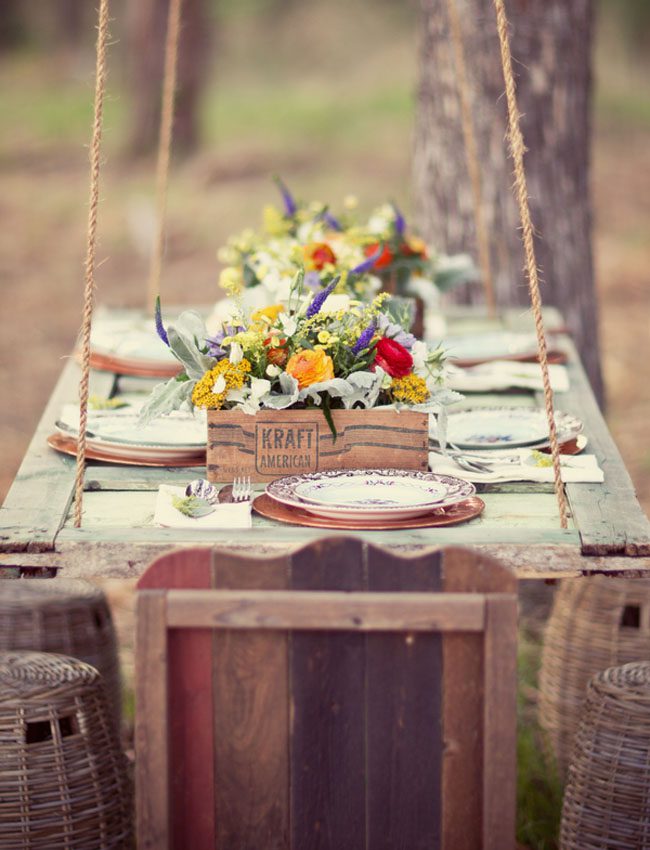 This hanging outdoor table is actually made from a vintage door, and it's excellent for a temporary outdoor event. It's hanging from a large, sturdy tree with some rope, but a more permanent stand can be created.
Create a Bar Area and Stand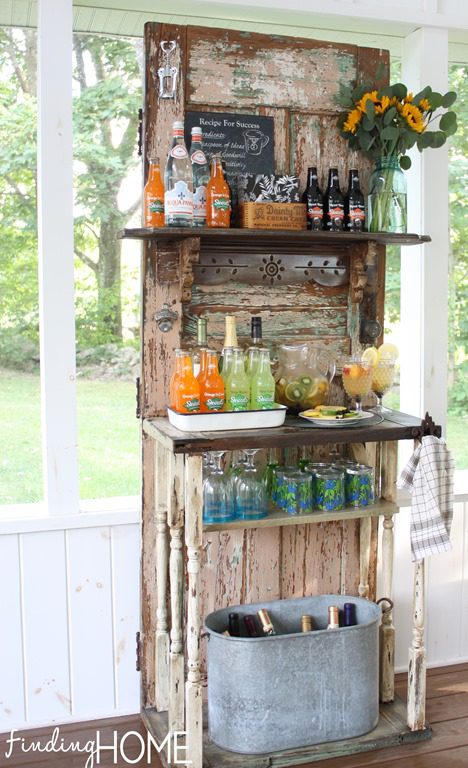 This is a fantastic choice for people who love entertaining and want a rustic looking bar area. This stand is made from an old wooden door, with space added for drink mixing and preparation, and to store beverages.
You can add this to a corner of the living room, put it on a screened in patio or covered porch, and start entertaining!
Get a Brightly Decorated Door as Art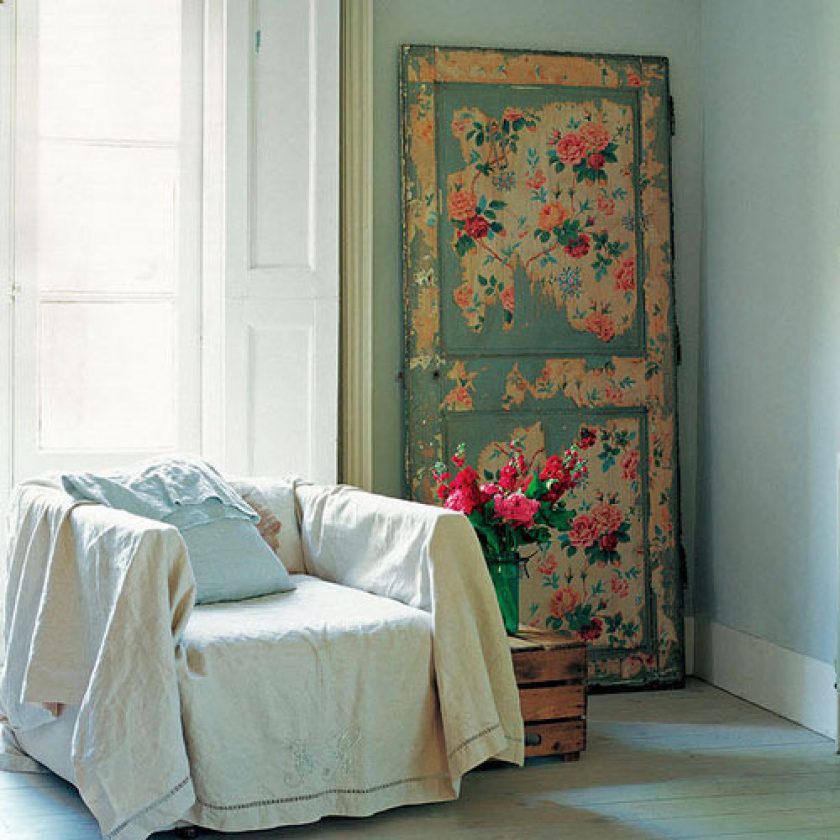 This door is a lot more decorative than functional, but there's nothing wrong with that! Stand out by using a door as a piece of artwork that you can hang up on the wall or lean against an open space. It creates a statement, especially when done in bright colors.
You can look for one that's already painted but it might be easiest to find the right door and then get it painted for a one-of-a-kind piece.
Use a Bi-Fold Vintage Door for a Corner Shelf Unit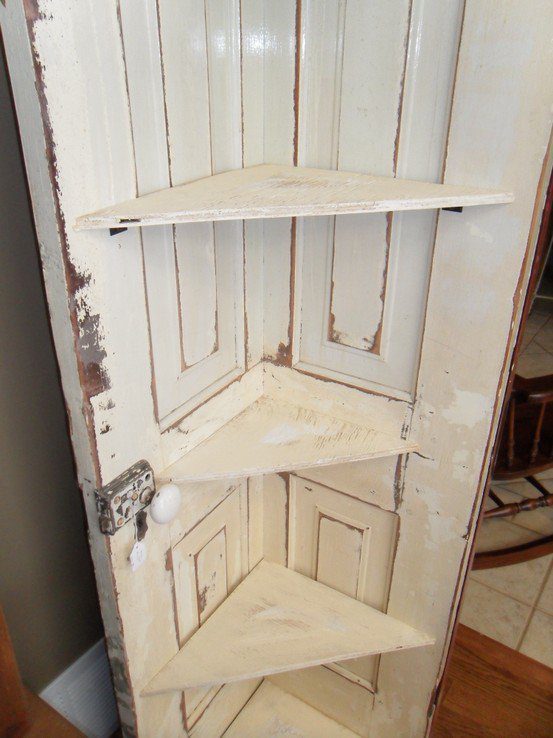 This is a great way to create a shelf that can be easily tucked away in a corner of the living room or bedroom.
By adding shelves to a bifold door opened to a 90 degree angle, it makes a wonderful shelf for books or decor or even bathroom shelves in smaller spaces. It's a fantastic way to get shelving in a smaller area and with a completely unique design.
Add a Headboard to a Master Bed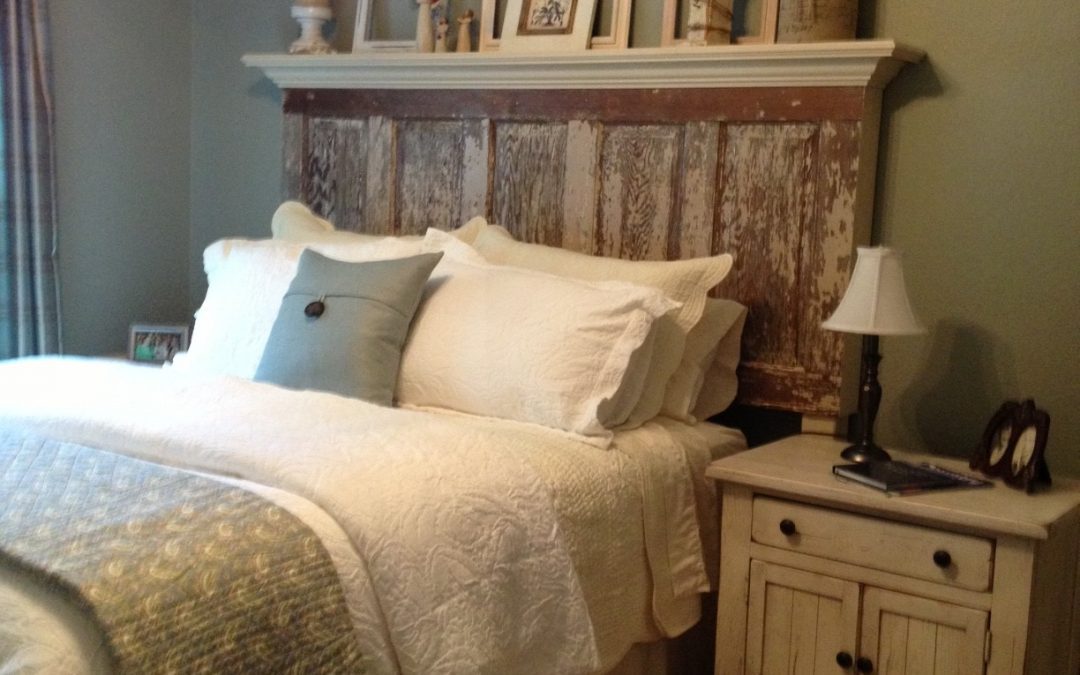 An old vintage door is a great idea to use as a headboard for a double or queen bed. You can trim it down to size and get something that matches the rest of the room. Most people would see a headboard like this and not even realize it's made from a repurposed old door. You can keep it
I really like the chipped look of this vintage door, with a rust-and-white color combination that's excellent for a farmhouse bedroom.
Make It Into a Vintage Clock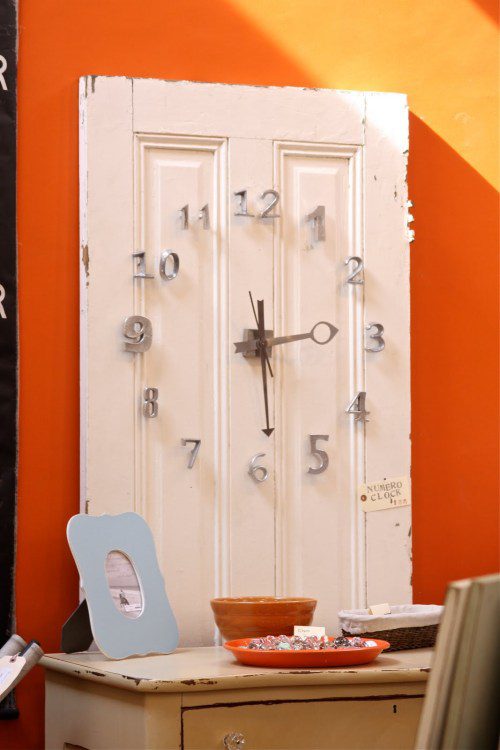 This vintage door is used simply as the backdrop to a great homemade clock for a decor or study room idea. The silver numbering is great for this white vintage door, and the chipped appearance of the paint enhances the style of the clock.
I especially like the contrast of the white and silver clock over the bright orange background of this room.
Protect the Table by Covering it With Glass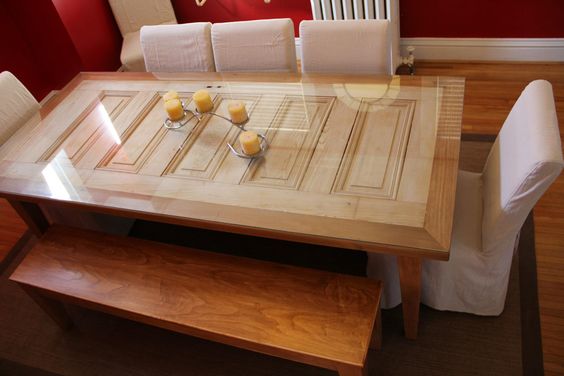 A few of these examples involve using the old wooden door as a table. If you're worried about how it'll last through stains and spills and you want to protect the wood, you can cover it with glass like in this example.
To do this, it's important to get the table just right with paint color and the amount of distress you want to do, because the glass will actually add a sheen to the whole thing.
Final Thoughts
You probably didn't realize there were this many options when it comes to repurposed old wooden doors. The reality is there are so many different uses for an old door, from making kitchen islands and coffee tables to bookshelves and headboards.
What you'll have to decide is how much you want the door to appear vintage and distressed, and if you want it to blend into the surroundings or pop in the room and make a statement. Which idea was your favorite, and have you been inspired to create your own old door decor?