Are you always scrambling in the morning between the bedroom and bathroom to do your makeup, your hair, and brush your teeth? Bathroom vanities are getting more and more popular in households as a way to organize a bathroom and save space.
A bathroom vanity cabinet usually involves a sink, drawers or shelves, and a mirror, although that doesn't mean it's boring. There are so many different styles that you can choose to complement your decor and enhance your bathroom; here are some of my favorites.
Look for a Small Corner Unit for Little Spaces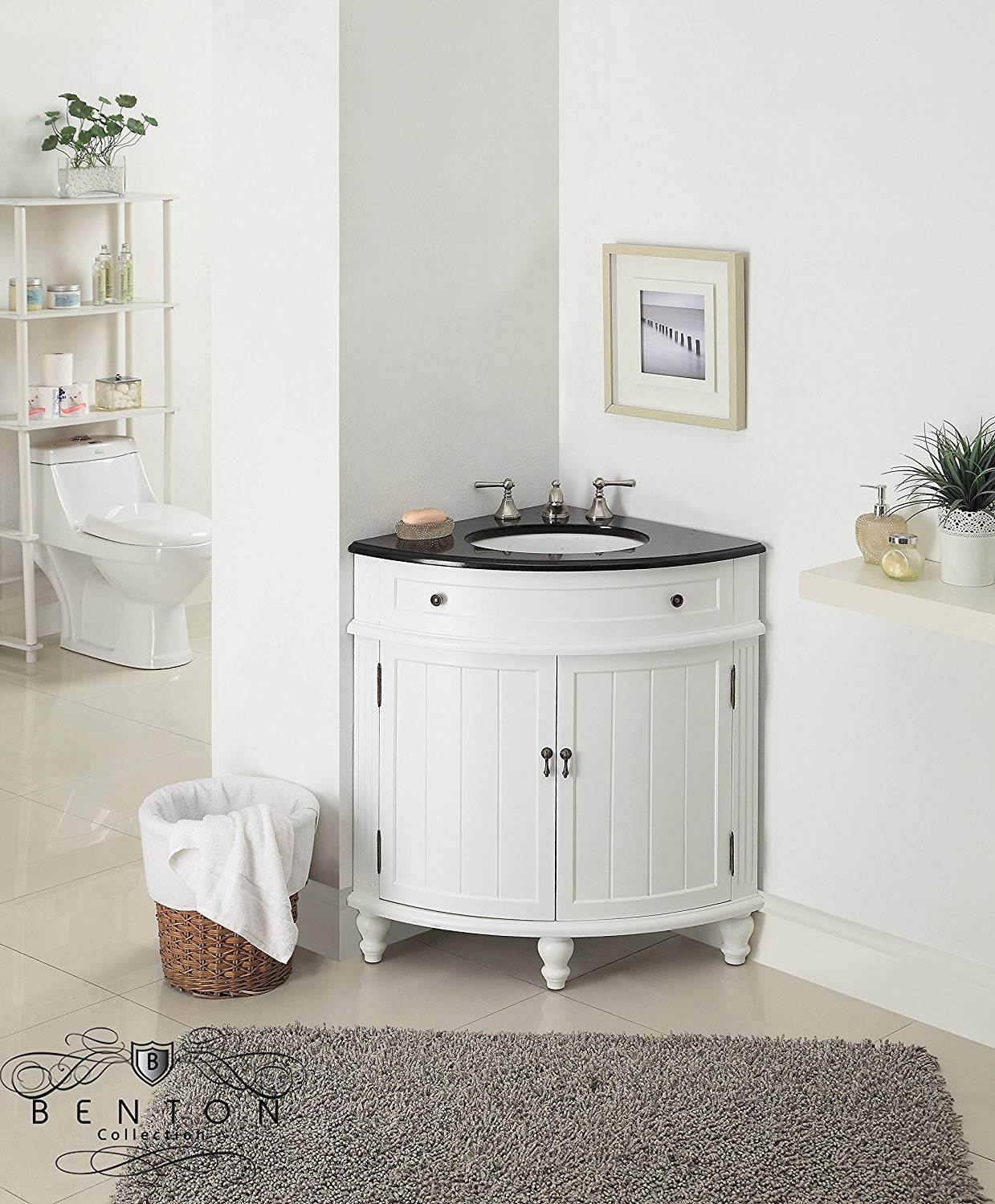 If you're not sure where to add your bathroom counter, don't hesitate to think outside the box. Use a small corner if you have to, and get a nice rounded corner vanity like this one. It's got cabinet doors and a drawer for storage, a bit of counter space, and a sink.
The only thing missing from this unit to make it the perfect bathroom vanity idea is the mirror above it to help you get ready.
Turn an Old Desk Into a Bathroom Vanity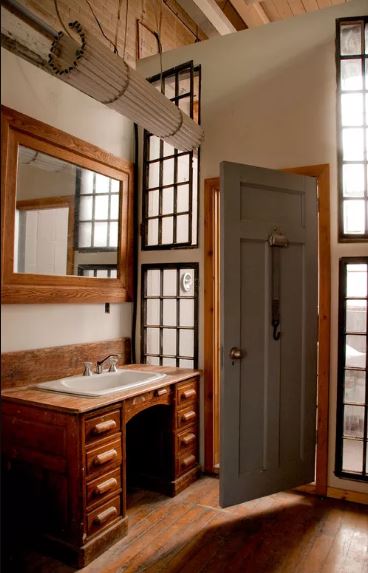 If you're a fan of repurposed items and vintage finds, consider converting an old wooden desk into a bathroom vanity. As you can see in this example, it has a great rustic farmhouse look, perfect for that style of decor or even a cottage in the woods.
The desk naturally comes with a lot of drawers for storage, and the white of the sink matches the wood grain perfectly.
Go Symmetrical With a Modern Double Vanity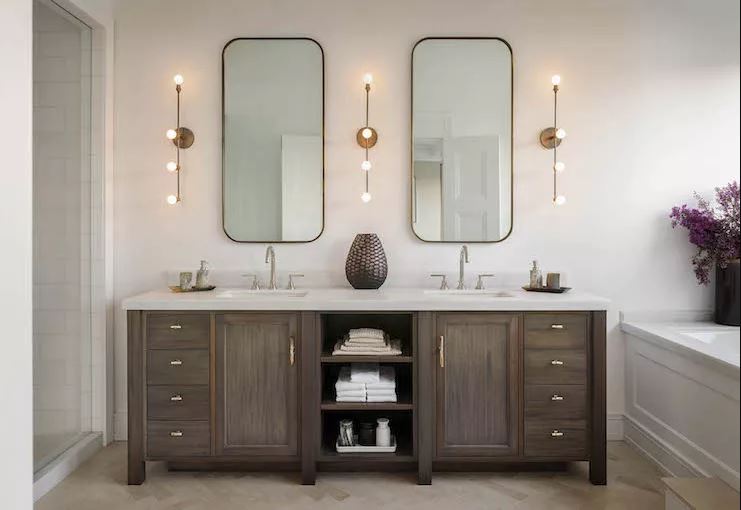 Symmetry can add a lot of calm and elegance to a bathroom, or any room. In this case, the double vanity is perfectly symmetrical, down to the cupboard doors, drawers, mirrors, and lighting.
It's a classic option, enhanced by the choice of furniture and lighting, the exposed bulbs and mirrors straight out of the mid-century modern decor style. Make sure your items on the open shelves are neatly arranged to add to the organized and symmetrical appearance.
Use Color Blocks for a Mid-Century Modern Look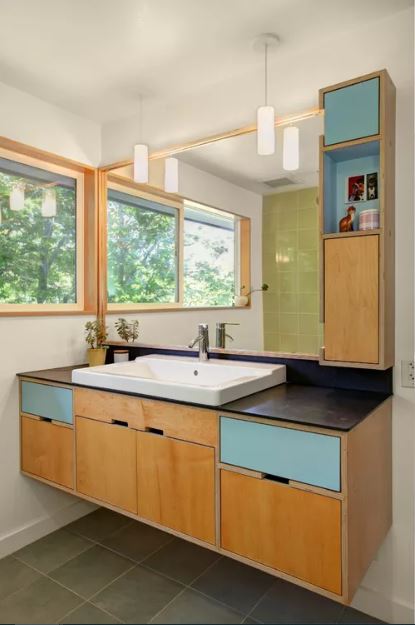 This bathroom cabinet is a great choice if you're looking for a unit with a lot of storage space. The light brown and blue color blocks help liven up the cabinet, making the room appear fresher and brighter.
Look for a big mirror and a lot of counter space if you're planning on using the space to get ready in the morning; you'll be happy you did.
Be Creative With a Repurposed Sewing Machine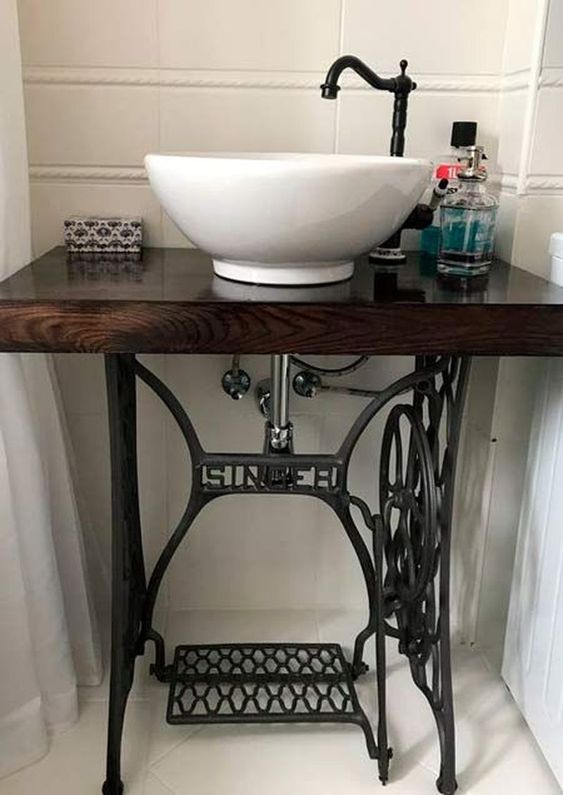 This kind of vanity is truly one-of-a-kind, perfect for smaller bathrooms and for people who love antiques. A repurposed sewing machine has been transformed into a bathroom cabinet vanity with a sink and plumbing added.
The dark wood and black metal frame pair really well with the white ceramic bowl, and the complexity of the frame is matched with the simplicity of the wash basin.
Build a Cabin in the Woods Style of Vanity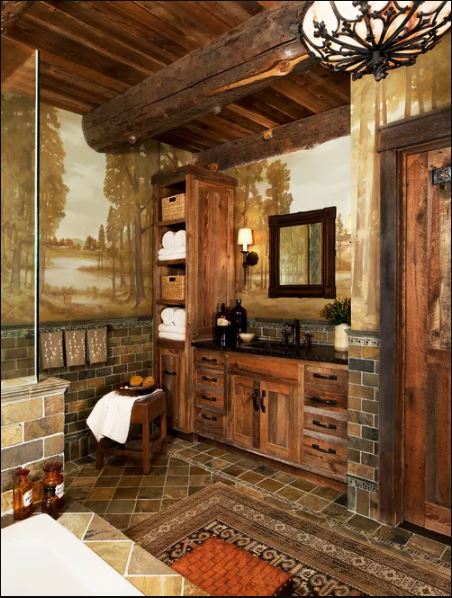 This is the ultimate rustic bathroom and it looks like it's straight out of an upscale wood cabin. The vanity itself is a heavy wooden unit, with tons of drawers and cupboard space, with a lovely black marble countertop and large mirror.
I also really like the painted forest theme on the walls and exposed wooden beams across the ceiling, which make for an all-around unique room with a lot of rustic charm.
Use Mixed Materials for a Dark and Intriguing Unit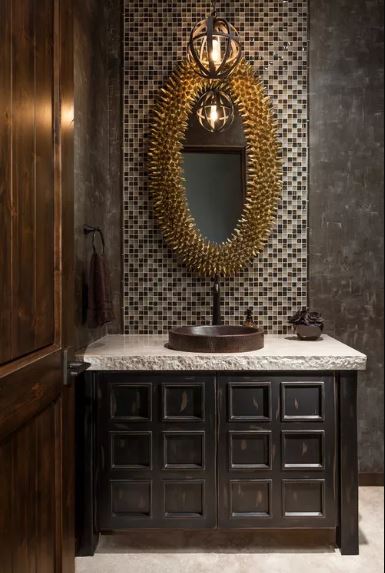 Bathrooms don't necessarily all need to be white and pale colors to be trendy and glamorous. Sometimes, the dark appearance can be just as stylish, especially with some accents like this gold spiked mirror edge and roughly cut white countertop.
The mixed materials add texture and style to a dark room, so look for interesting combinations, like the rusty appearance of the sink and eye-catching light fixtures.
Create a Rustic and Distressed Vanity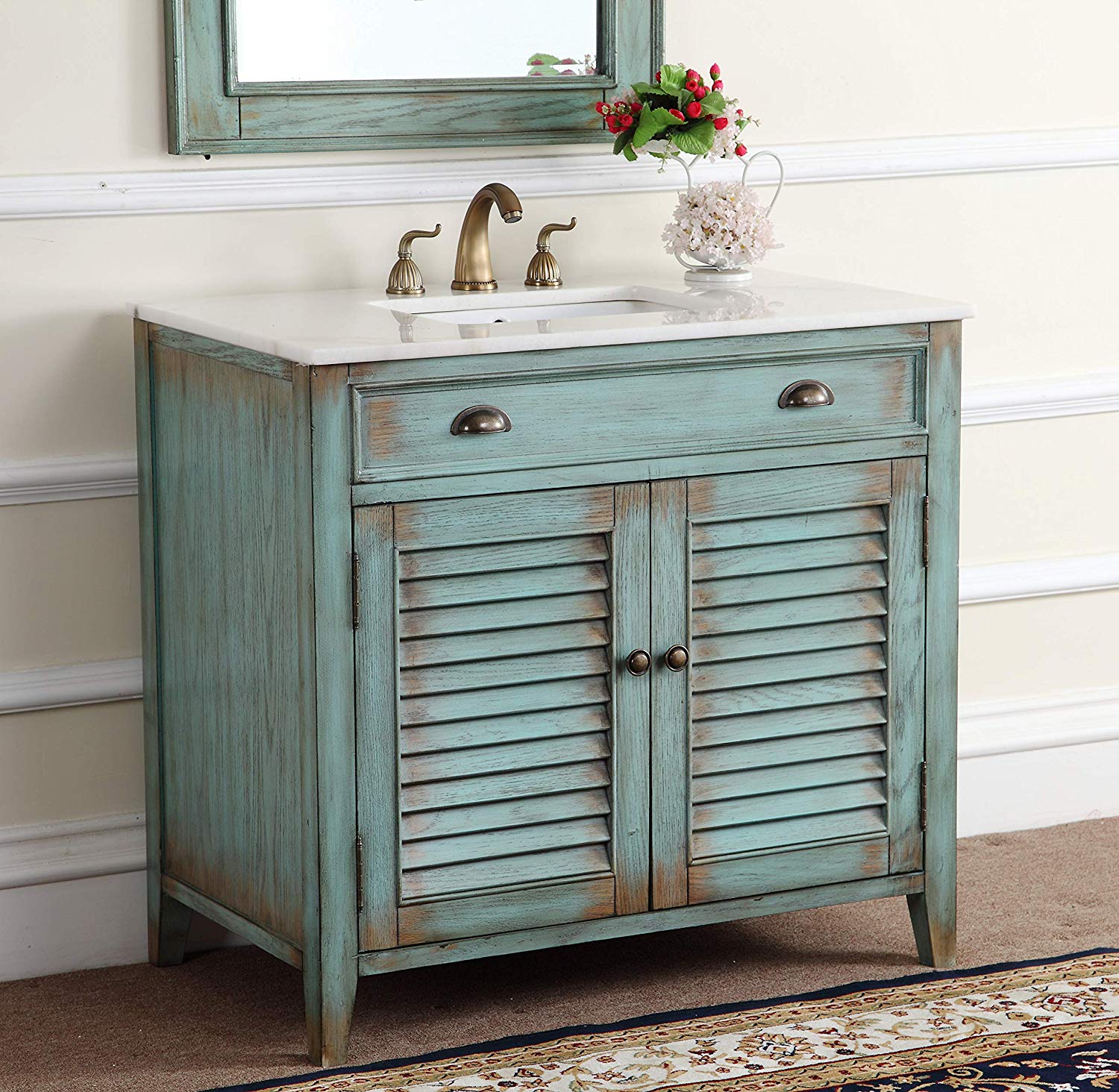 I really like the pale teal and blue color of this bathroom counter. It adds a bit of color to this room, while not taking anything away from the crisp white of the countertop and walls. It's been painted and distressed in the same style as the mirror frame.
If you already have a vanity and you want to create the distressed and rustic look yourself, it's actually quite simple to do; check out this helpful guide.
Channel Cottage Chic With Practicality and Beauty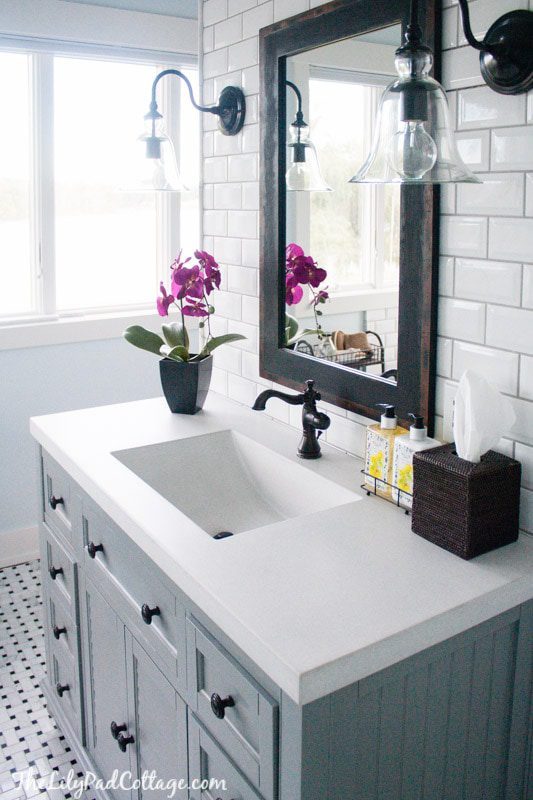 It's good to add a few items to a bathroom vanity counter, so it's not completely bare. At the same time, you have to balance it so it doesn't look too cluttered.
In this example, it's been done perfectly, with a simple yet colorful potted plant on one side, and a tissue box and soap holder on the other side. The style of the cabinet, fixtures, and decor on the counter combine for a cottage chic look.
Buy a Simple White End Table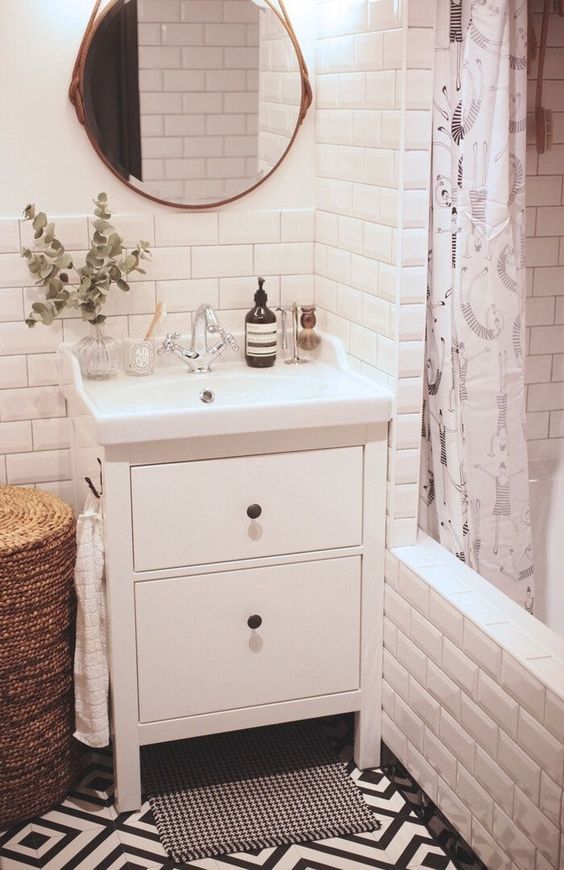 Small counters can look amazing and be functional bathroom vanities as well. This bathroom counter idea is excellent for homeowners with less space to work with.
Simply look for a small end table, white works well with a white sink and small bathroom, and add the plumbing and sink basin. You'll get great storage with the drawers, add some hooks to the side, and you can hang a mirror above for the full vanity effect.
Create a Built-In Vanity in a Bathroom Nook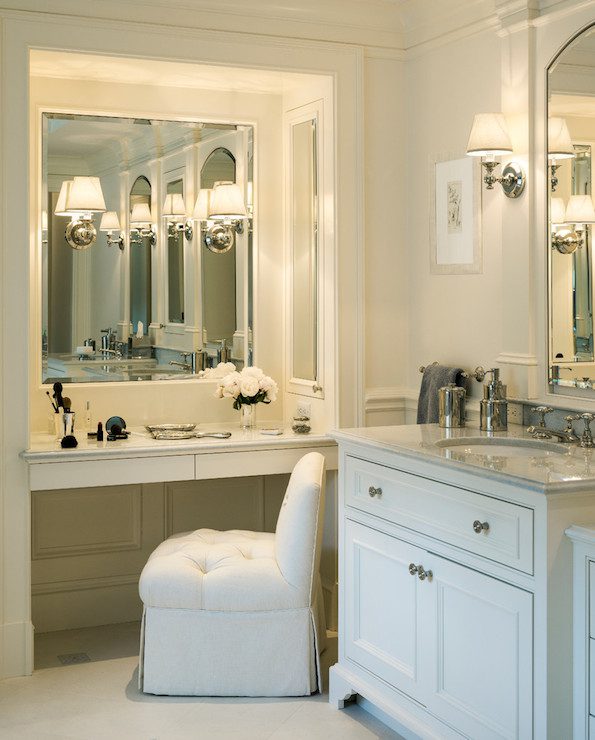 For those with larger bathrooms, you could consider setting up a completely separate area from the sink for the vanity counter. An unused nook is a great place to set that up, so you can maximize space that's otherwise wasted.
The nook also allows you to put up mirrors on all three sides, like in this example, which is great for getting ready in the morning. It also keeps your bathroom sink clear of things.
Focus on Bright Lighting Solutions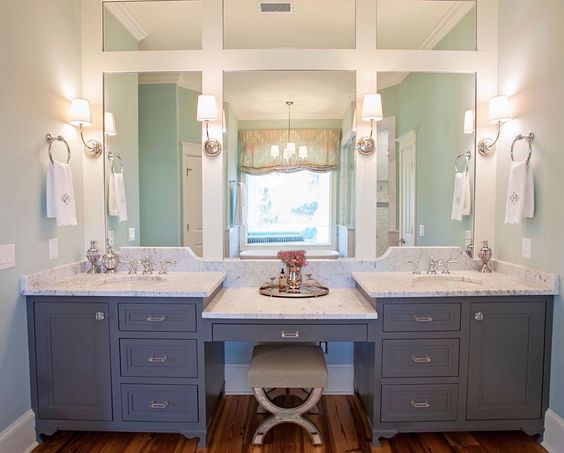 There's no point having a big counter and mirror set up for your bathroom vanity counter if the lighting is too dim to see properly. When you set up your bathroom vanity, you need to remember lighting and plan it ahead of time. Lighting can really contribute to the decor style.
As you can see in this case, there are four bright lights around the mirror for a symmetrical and brightly lit double vanity.
Get a Sleek and Seamless White Unit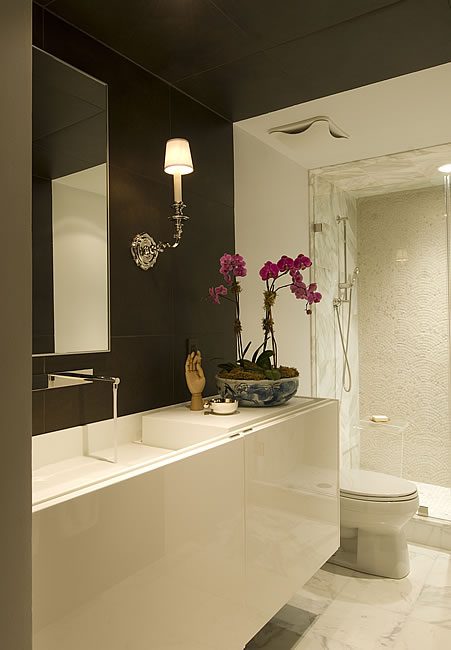 This glossy white cabinet has openings hidden for a seamless modern look, perfect for this style of bathroom. There is a wide but narrow rectangular sink and sleek chrome fixtures. The plant is the only real bright spot in the decor, adding just enough life to make the bathroom come alive.
Use Marble for Minimalism and Simplicity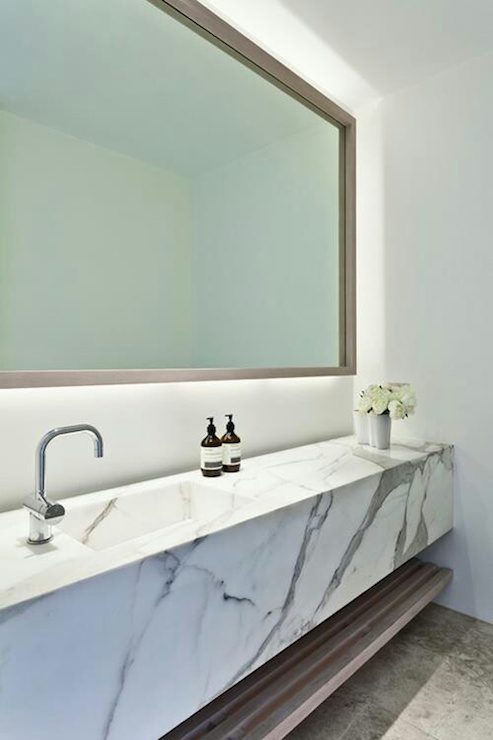 This marble countertop is able to appear weightless despite the material because it's installed in the floating counter style. The white marble paired with a white color palette is minimal and simple but still radiates elegance.
There is an additional wooden shelf underneath the vanity for storage space, which allows you to keep the countertop as bare as possible, adding to the effect of minimalism.
Install a Gorgeous Shelf Vanity in a Powder Room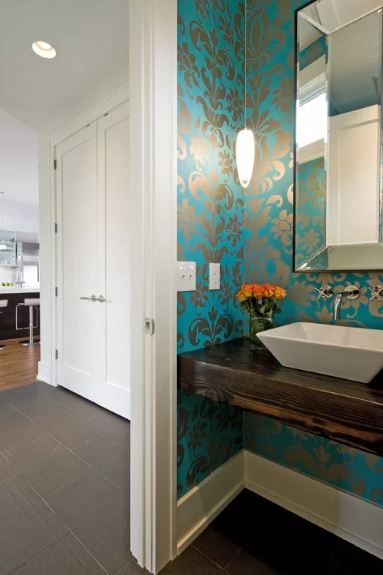 Vanities don't only exist in bathrooms; they're also great in powder rooms where there is less space. Sometimes a vanity can be as simple as a sink on a floating shelf, like this unit here. The thickness of the dark wood shelf adds to the effect, making the unit appear larger than it is.
It pairs well with the white basin and blue and gold wallpaper, proving that even small bathrooms and powder rooms can have vanities.
Go All Out With an Extravagant Mirrored Vanity Desk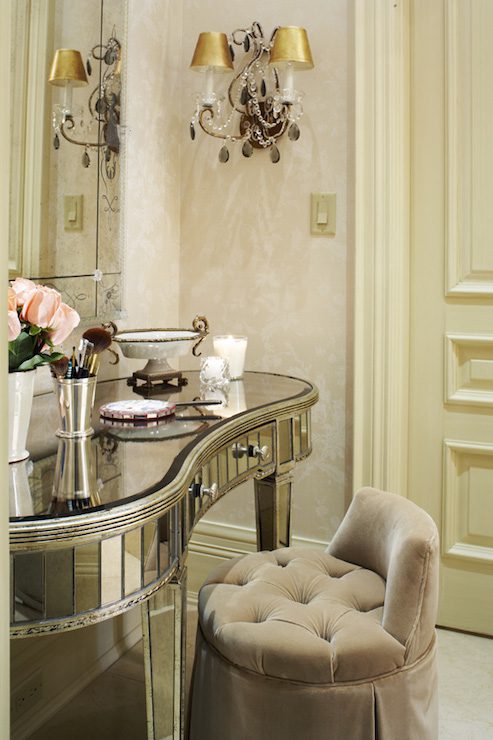 This vanity desk looks like it came straight from an old-fashioned royal suite or similar. It's a glamorous option much different from many other simple and minimal vanities, especially with the upholstered chair, extravagant wall lamp, and vanity decor.
This option doesn't have a sink involved, which is possible if you want to keep your sink space separate from your makeup and prepping area.
Get an Industrial Vibe With a Metal Unit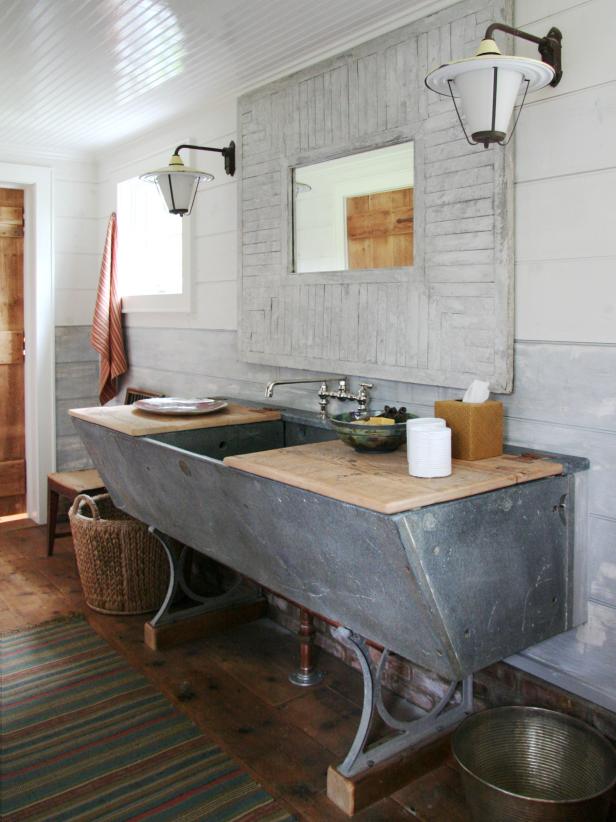 This is about as different as possible from the previous image, showing that anything is possible. It's a completely industrial look, thanks to a large metal sink area, plain wood countertop, and industrial accents like the steel pail and gray walls.
It has all the right elements of a bathroom vanity, down to the mirror, good lighting, and sufficient counter space. Storage is available in the wicker basket and steel pail.
Keep It Fresh With Pale Blue Tiles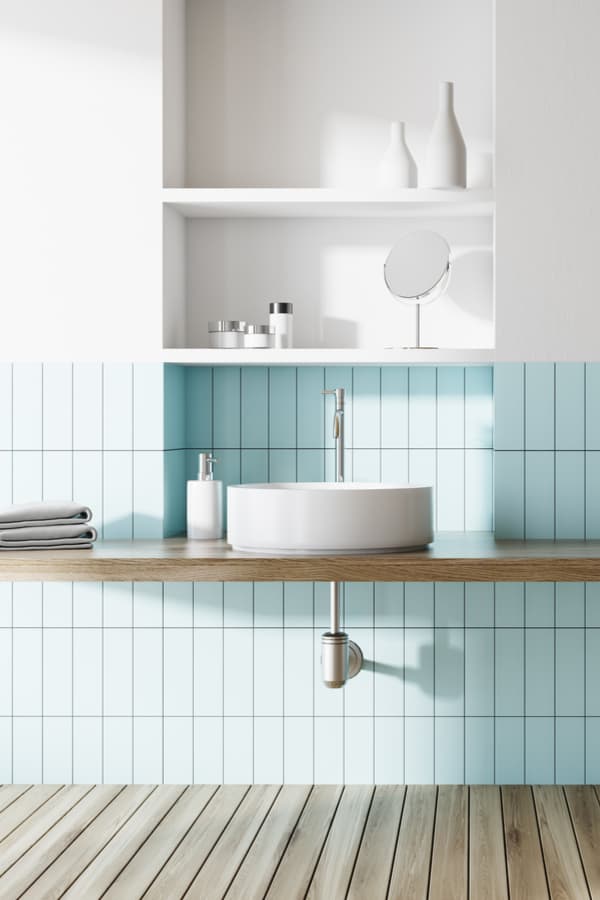 This simple half-wall of vertical pale blue subway tiles adds a refreshing look to this classic white bathroom. This bathroom vanity has only a small closeup mirror for shaving or applying makeup but has a lot of natural light coming into the space.
The counter is a simple, thin wooden shelf that complements the wooden plank floor. It's sparsely decorated, letting the tiling add a splash of color to the space.
Find and Repurpose an Antique Drawer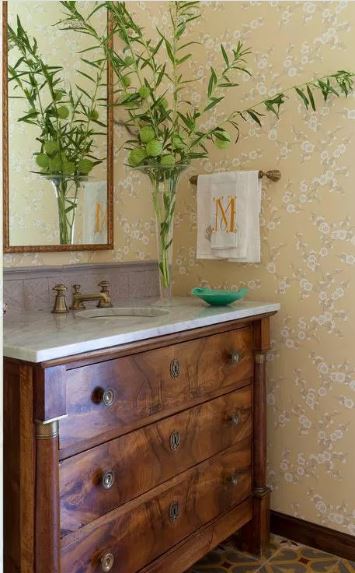 Another great item to repurpose into a bathroom vanity is an antique wooden chest of drawers like this one. It now has a white marble countertop to match the wood grain, and a mirror hung above the cabinet has a matching frame.
The vintage look is perfect for this bathroom, with the simple flower wallpaper and plant arrangement on the counter.
Get Matching Twin Vanities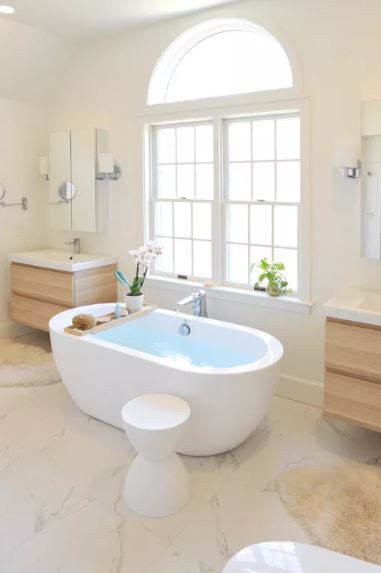 I love these twin vanities because they're actually separated in the room, as opposed to most double vanities that are side-by-side. They both have a great mirror, lighting, and a couple of drawers.
This set up is perfect to complement the large window in the center of the room. It allows a lot of natural light to come in without having the twin vanities blocking the window, but still utilizing all the space available.
Make It Traditional and Elegant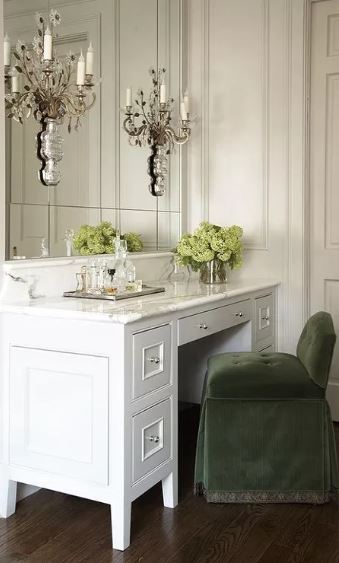 This vanity is elegant and ornate, with a more old-fashioned feel than a lot of other bathroom vanity ideas. It's got a dark green velvet chair and lavish double chandeliers on the huge mirror. The vanity itself doesn't have a sink built-in, as with many of the more traditional units.
The white vanity desk and marble countertop have a classic flower bouquet, lots of storage, and a tray for display.
Keep It Simple With a Side Table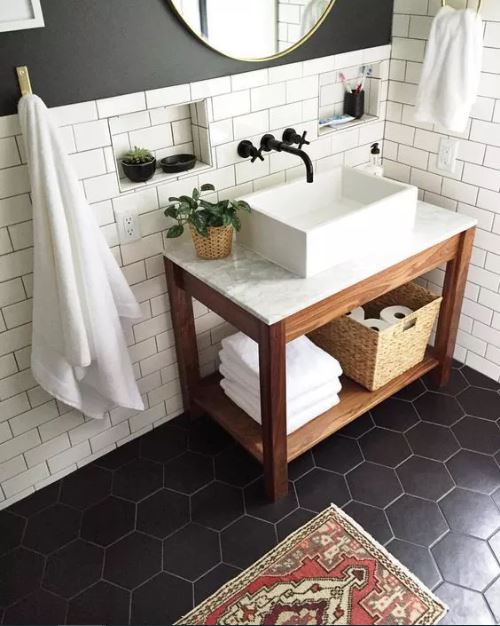 This open side table is different than a lot of bathroom vanities with closed cabinet doors or drawers. This idea is good for smaller spaces because it keeps things more open and creates the illusion of space.
The bottom shelf is great for storage, and there are also two recessed shelves above the counter for bathroom toiletries. I like the color scheme of this room, with the wood, white tiles and countertop, and black fixtures and accents.
Go Rustic With a Repurposed Wine Barrel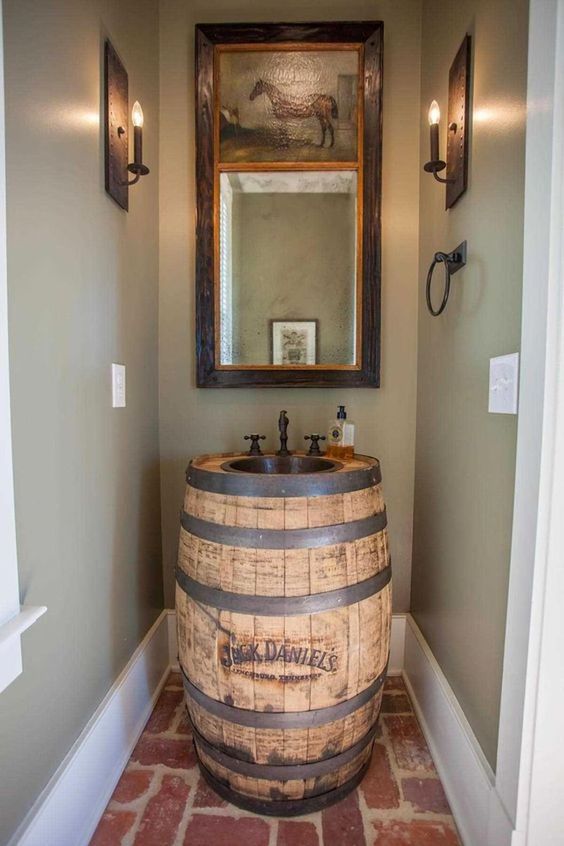 This bathroom vanity idea is great for a powder room, small spaces, or a standalone vanity area. It's a sink made from a repurposed wine barrel, with a metal sink and fixtures added to the top. There's enough space left around the barrel top for a soap dispenser.
A simple dark framed mirror and candle light fixtures complement the rustic style of the bathroom vanity perfectly.
Build Your Own Farmhouse Style Vanity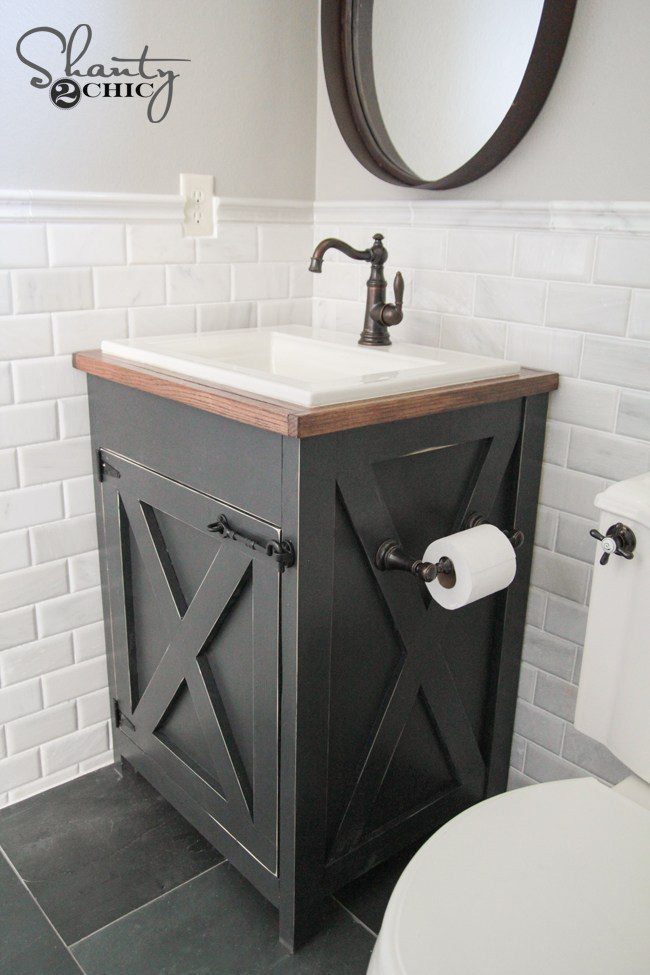 This is a small and simple farmhouse style vanity, with a black cabinet with cross hatch pattern, wood countertop, and classic white sink. There isn't much counter space, but there's a lot of storage in the unit itself.
The round black mirror matches the painted vanity for contrast with the white walls. If you want a project to create your own unique vanity, this guide will take you through each step of the process.
Stand Out With a Nature-Inspired Counter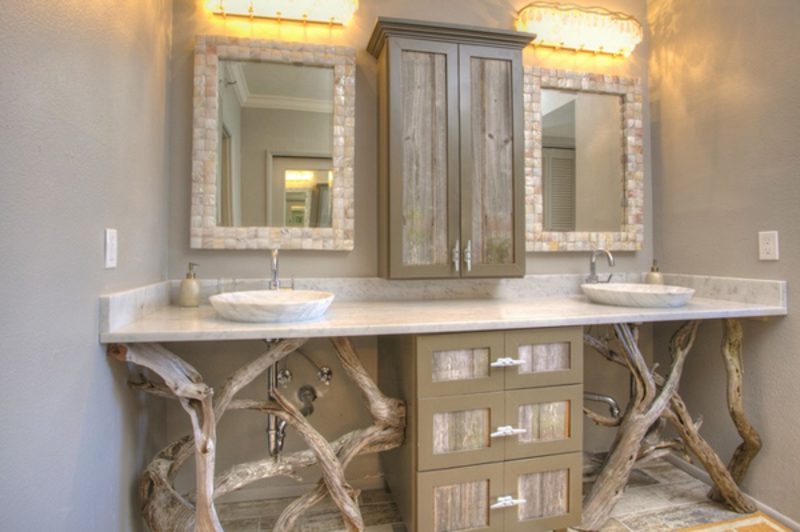 I love this unique take on a bathroom vanity. The vanity itself is quite simple, with a marble countertop and wooden cabinets. The cabinet supports though are completely unique, made from driftwood and various twisted and polished tree limbs.
It's perfect for this nature-themed vanity, with mirrors framed by stones and an earthy color palette.
Buy an Ultra Narrow Vanity for Small Bathrooms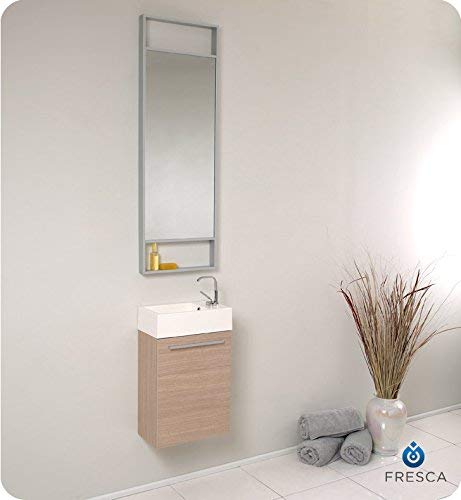 This is a really narrow unit, perfectly aligned with the tall, narrow mirror above. It's great for small or simple bathrooms, with a shelf for storage under the mirror, and a large cupboard for additional space underneath the sink.
Be Unique With an Asymmetrical Vanity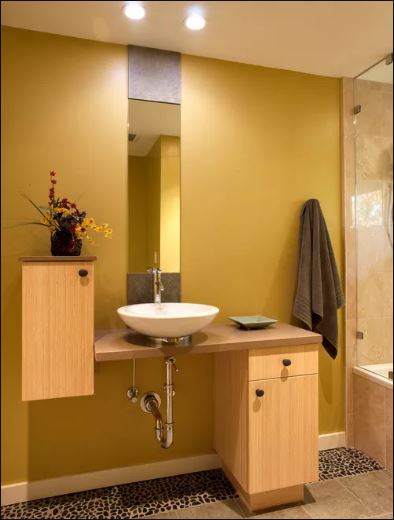 This asymmetrical vanity adds some intrigue to the room, with one side of the vanity sticking up above the counter with an empty space below. It still has lots of storage though, and counter space for people who need a lot of space in their bathrooms.
The mirror is extremely narrow but works with all the lines and angles of this type of vanity cabinet.
Add a Long Bench for Comfortable Seating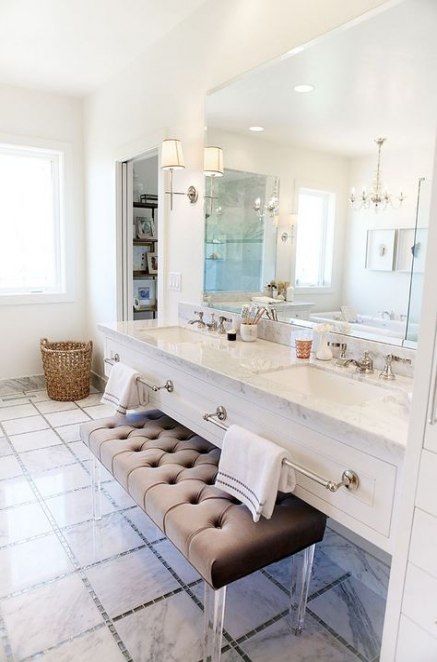 A great addition to a bathroom vanity is seating. It's useful for being comfortable while getting ready in the morning, and it can add something to the decor of the room. Often, the seating option is a vanity chair, but I really like this bench.
It's great for a high bathroom vanity, so you can slide the bench underneath to maximize space in the room.
Create a Natural Vanity With a Rough Wood Counter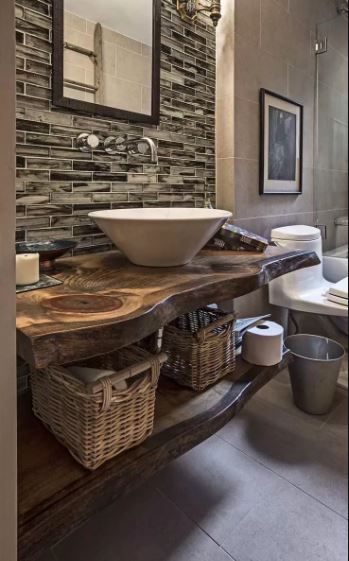 This vanity is lovely, made only from two large rough wood slabs. One has been installed at counter height with a large white wash basin added, while the other has been set up a bit lower as a bottom shelf to the vanity.
The sink fixtures are actually added to the wall, to minimize the clutter on the counter space. The wood is completely natural, with knots and patterns exposed.
Install a Large Corner Unit for Couple Bathrooms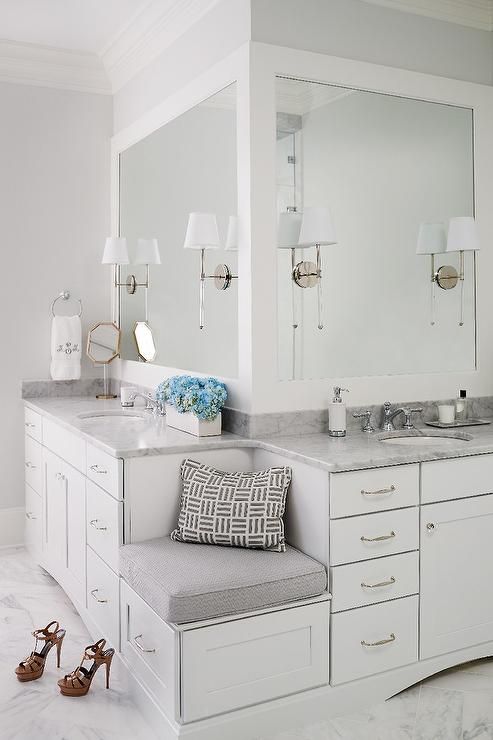 This is a great double unit, especially for larger bathrooms shared by a couple. The vanity extends around the corner, so there's a his and hers section on either side. Both have large mirrors framed by lamps, and there's an abundance of counter space, drawers, and cabinets.
Finally, the sunken bench at the corner of the unit is a great idea for putting shoes on, taking a break, and breaking up the straight line of the counter.
Navy and Gold Is a Classic Pairing
I'll never get tired of navy, white, and gold accents as a color scheme, and this bathroom vanity is a perfect example of it. There are a few drawers and cabinets with gold accented handles, and a round mirror and symmetrical light above the sink.
The navy and white look great with the patterned floor tiles, and the plant on the corner of the bathroom counter adds a nice splash of green.
Use Floating Wood for a Rustic Contemporary Look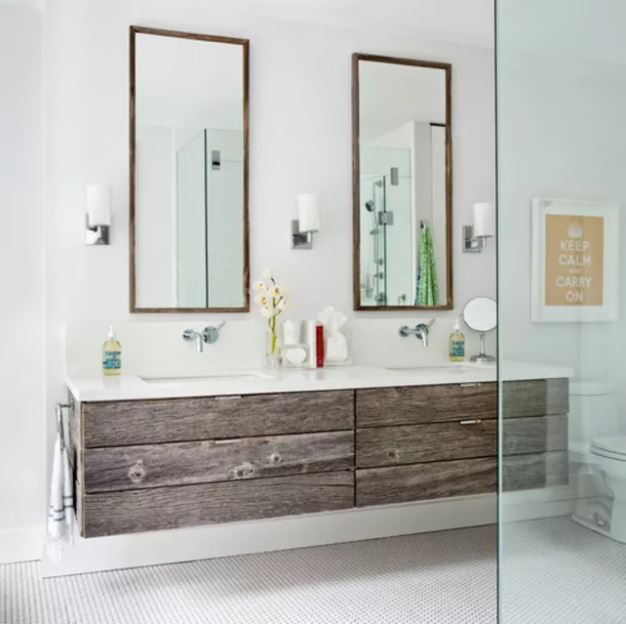 Wooden units are usually larger and bulkier when it comes to bathroom vanities, but this floating wood counter appears weightless and more contemporary than rustic. It's very wide, big enough for two sinks and mirrors, and there are also a lot of drawers for private storage.
The rough, grayish hue of the wood adds some rustic charm to this otherwise modern and contemporary bathroom.
Look for Large Double Vanity Sinks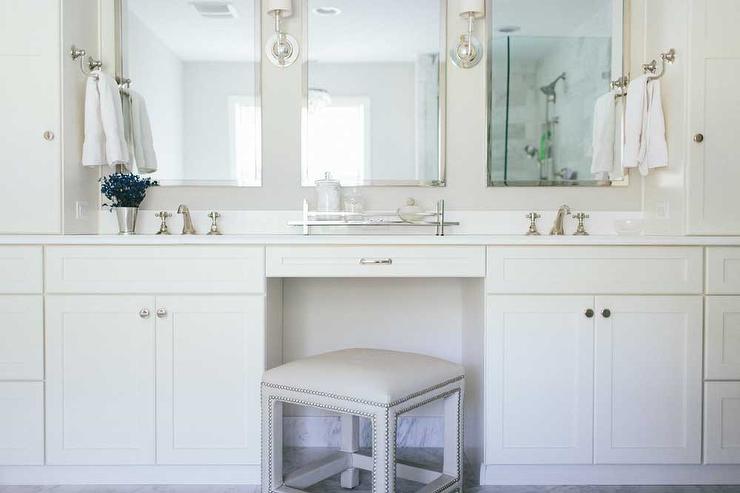 This is another double vanity idea, this one a large white unit with double sinks and triple mirrors. The all white theme adds some elegance to create an understated look, especially with silver fixtures and accents.
I also like the white bench with silver studs, especially with the hollow space under the cabinet to hide away the bench when not in use.
Buy a Classic and Modern Floating Sink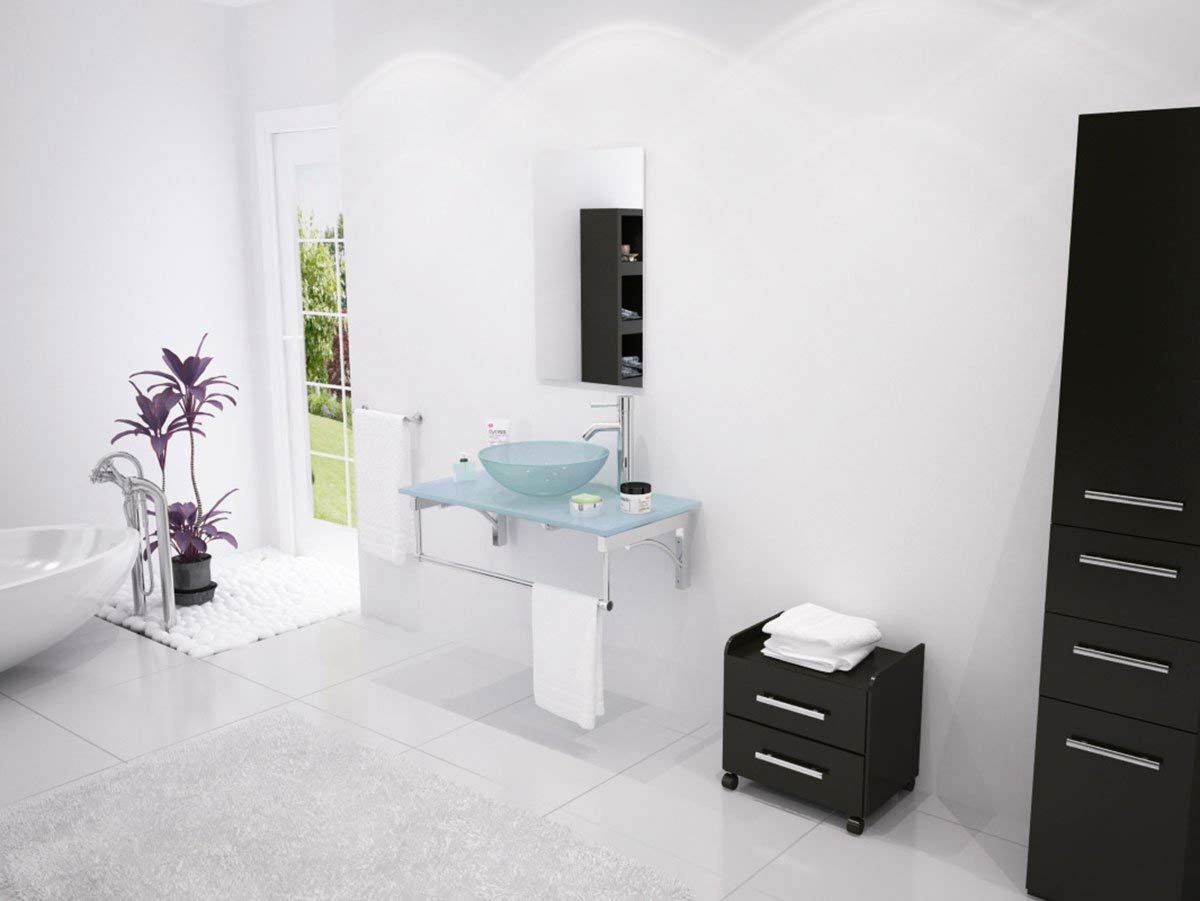 This vanity unit idea creates the appearance of weightlessness and space, thanks to a thin floating counter with no shelves or drawers underneath. The counter is integrated with the washbasin, in a sleek blue shade that appears semi-transparent.
There's only a rung under the sink to hang a towel or two. The frameless mirror adds to the modern appearance, and a drawer unit next to the vanity solves the problem of lack of storage.
Get a Contrasting Vanity Color for Smaller Spaces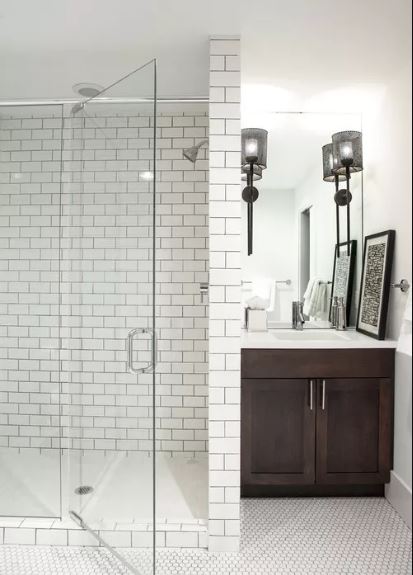 Smaller spaces tend to use all white or pale colors to make the room appear larger. However, a contrasting color for the vanity can actually have that same effect too. This dark wooden vanity is simple yet tucks perfectly in that corner with the white countertop and walls.
The large mirror and lights help to make that space appear larger and brighter, so keep that in mind if you're looking for a similar piece.
Conclusion
There are some factors to keep in mind when choosing the right bathroom vanity cabinet for your space. How much space do you have, both for width and height? What kind of material is best for the bathroom, and how much moisture will it be exposed to?
You also need to consider what works best aesthetically. That means deciding what materials will work with your style, whether you want open or closed shelves, and the overall look you want to have.
Whether you've been considering a bathroom vanity for a while or you're just learning about the benefits now, as you can see there are tons of options.