Raising speakers off the ground can not only increase the appearance of the room and add style to your speakers, but it's also beneficial for the quality of the sound. When you make your own speaker stands, keep in mind that the stand must prevent vibrations for the best sound.
You should also try to raise your speakers to the height of listeners' ears, so consider that when designing your speaker stands. Here are 25 great ideas for speaker stands that you can make yourself with a unique design and save money while you're at it.
Repurpose Iron Legs From a Barstool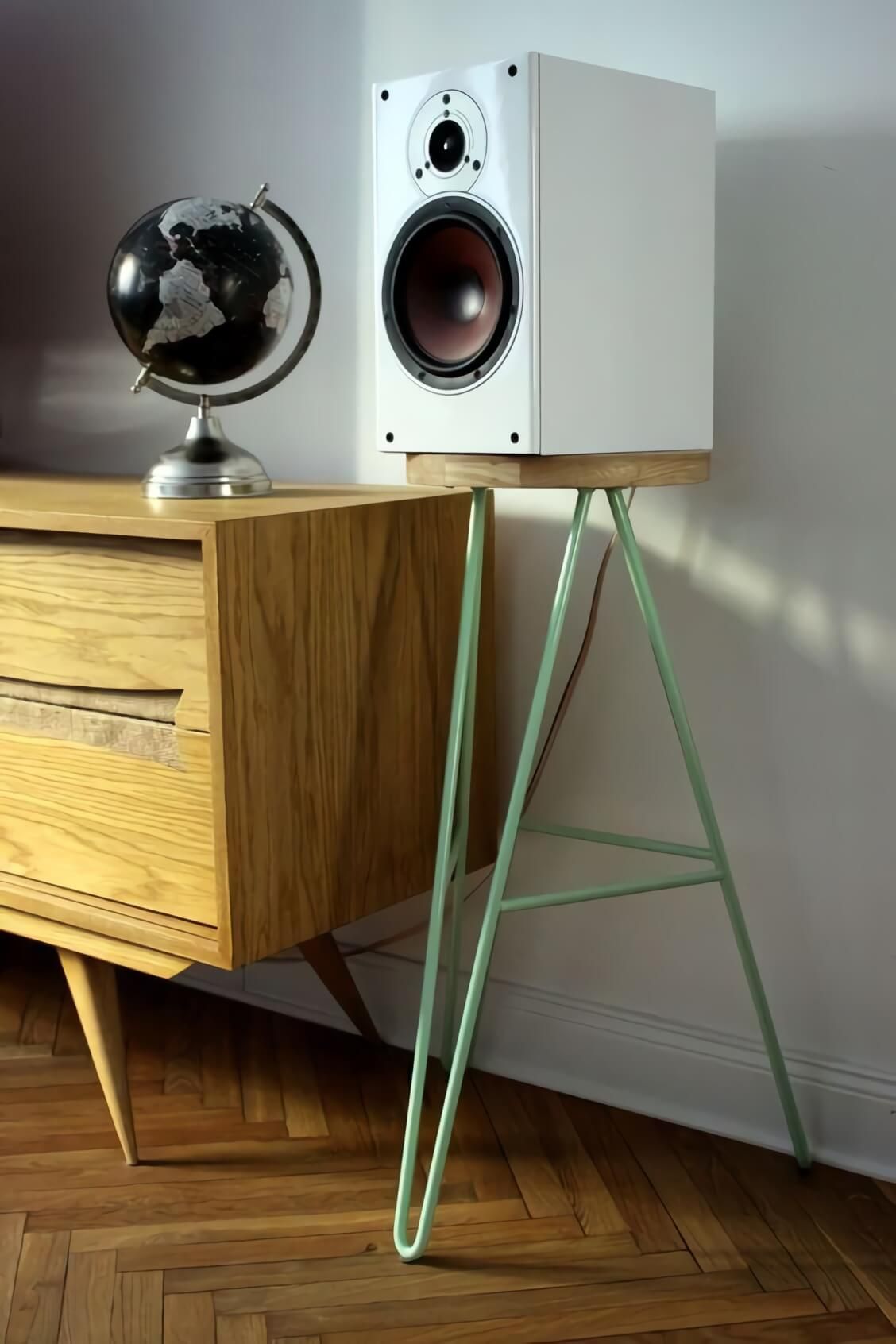 If you love the mid-century modern style, you should try to make a speaker stand with hairpin legs, like the one featured in this image. They've actually been repurposed from a barstool and attached to a pale wooden surface.
The retro mint green is excellent for a speaker system and adds a bit of color to the space. It also complements the pale wood of the stand top perfectly.
Keep Things Simple With a Three-Legged Stand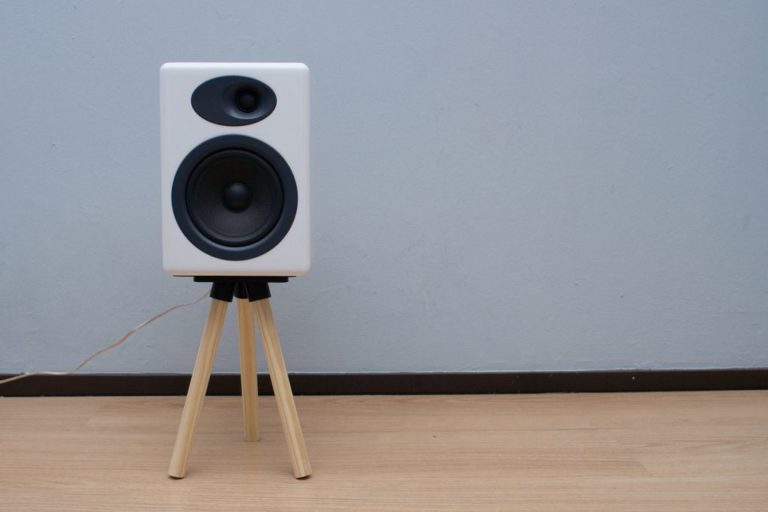 A tripod stand is simple to make and lovely in a minimalist space. It's also a good choice for smaller spaces since it doesn't take up much room and isn't bulky or heavy.
This stand has been built simply, with three legs of even length affixed to a base in the tripod style. The wood's been left polished yet unpainted for a simple look.
Use Copper Piping for a Unique Option
Many DIY speaker stands involve wood as the main material for the base, which is why this copper pipe option is so unique and appealing. If you don't already have copper piping this might be more difficult for a DIY project to make, but the final result is well worth it.
Make sure the base is wide and sturdy enough so it doesn't risk wobbling or topping over under the weight of a tall speaker.
Transform a Wooden Chopping Board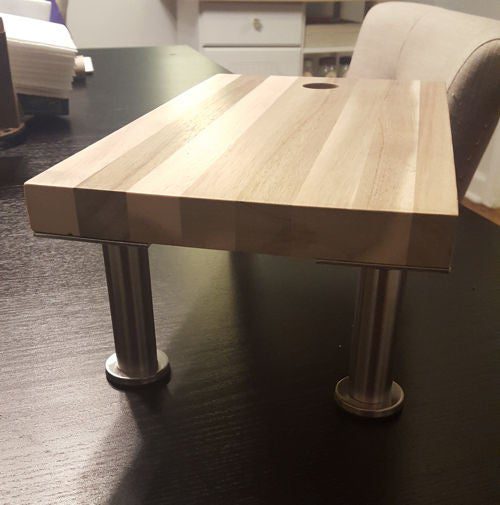 I love this idea, and all it takes is an old chopping board and some steel pipes for the stand. This wooden chopping board is perfect for it because it's sturdy and thick. The short legs mean it's perfect to have on a desktop or console table.
This idea for a desktop speaker stand is luckily quite easy to make yourself. The full guide is at Instructables and it's simple to follow along as you make your own!
Create a Base With Wooden Slats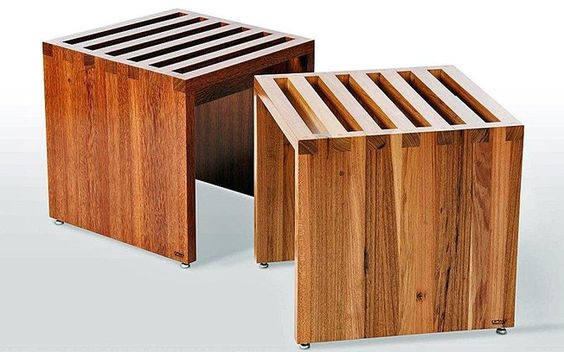 You could also create a square base with two open sides to make it appear less bulky, and use slats on the top instead of one fixed surface. Depending on your speaker style and choice, this could be a nice, polished look.
By looking at these speaker stands, you would think they were bought at the store instead of handmade as a good woodworking project.
Paint It Black for a Sleek and Elegant Look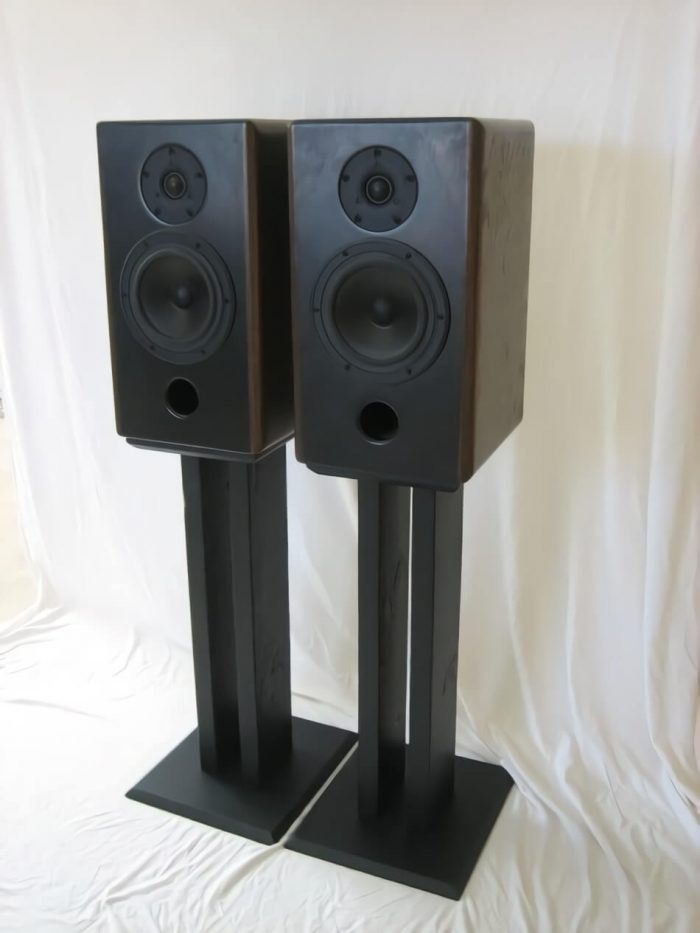 These speaker stands have been painted black for a sleek look, as they now match the actual speakers perfectly. It gives off the impression that both the speakers and the stands are one seamless unit.
Even a simple speaker stand like this column style can be made more elegant with the right paint for your decor, and getting both the stand and the speaker to match is a great idea.
Find Thick and Small PVC for a Short Stand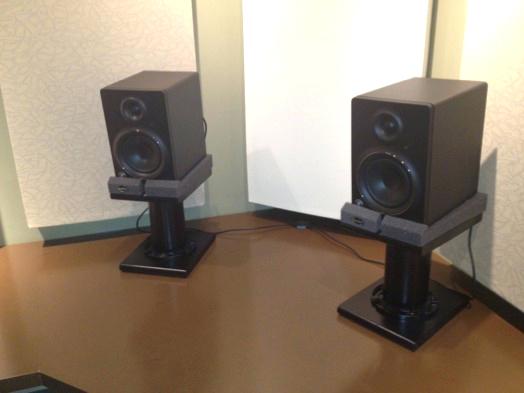 PVC tubing is an excellent choice for a speaker stand, and if you want a short stand, you should look for a bigger tube so it's more stable. This PVC tube has been cut down to a short height and attached to a square base and top.
The whole has been painted black for a sleek look that fits perfectly with the speakers, and the short stands would fit on any desktop setup.
Look for Pallet Wood for Easy Stands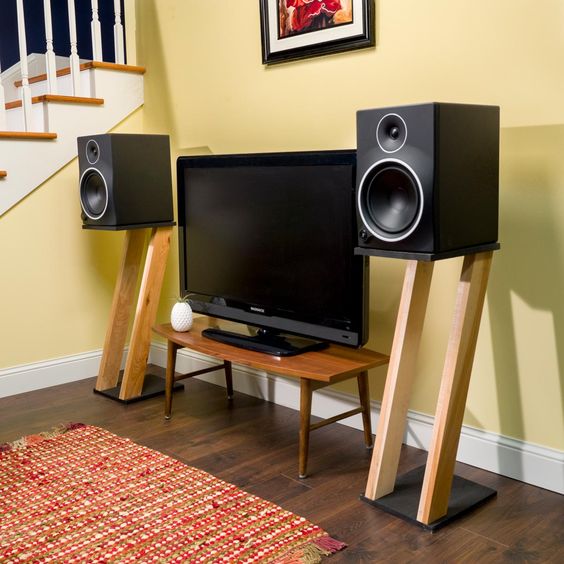 Pallet wood is an excellent place to source some wood that you can repurpose for your stand. For these two speakers, four pieces of pallet wood of the same length have been used with simple bases.
The wood attaches the top and base in a Z shape, which adds angles to the room for a more interesting speaker stand. Leave the pallet wood unpainted to create a more rustic approach, or paint it to match your bases.
Make a Hollow Stand for Storage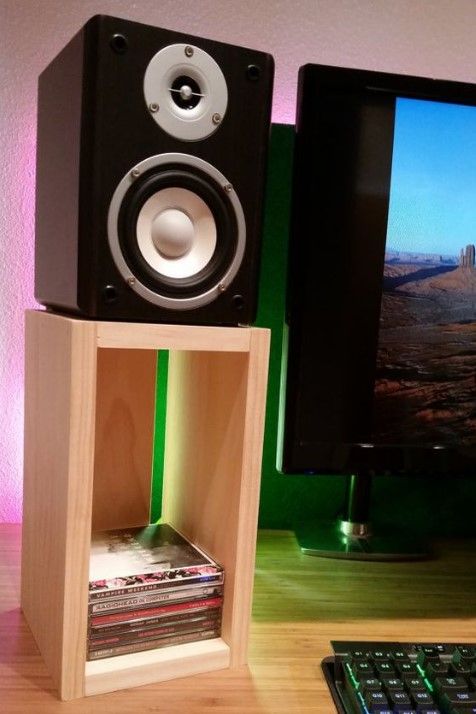 The stand pictured here is essentially a box with one side missing. That makes it perfect for the storage of records or albums. The thick wood on both sides and the top makes it an extra sturdy and stable option, especially for larger and heavier speakers.
In this case, a back panel has been added as well to make it easier to store records without having them falling out the back.
Use a Bookshelf as a Clever Multipurpose Stand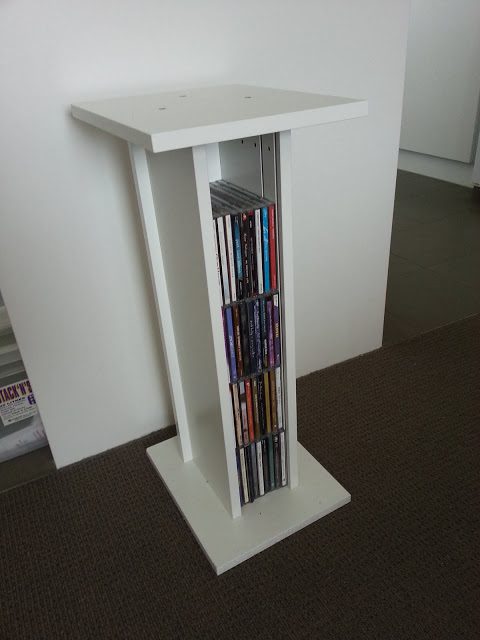 Another option to make your own speaker stand without building it from scratch is to repurpose a bookshelf. This low bookshelf has been flipped on its side and a series of shelves have been added horizontally for album storage.
The flat side of the bookshelf is now at the top of this new unit, making it a perfect flat and sturdy surface to place your speaker on top of for a multipurpose stand.
Search for Galvanized Pipes and Wooden Blocks
I love these simple speaker stands made from wooden blocks and galvanized pipes. It's a great use of repurposed materials, and the pipes are sure to be solid.
The wooden bases and tops have some slightly uneven edges which adds a bit of a rustic appeal to the wood and an unfinished quality that I love.
Metal Pipes Are Sturdy and Effective
Metal pipes attached to wooden bases are a surefire way to make an extremely sturdy speaker stand, especially if you get short ones for a desktop speaker. It does just enough to raise the speaker up to the right height, and the metal pipes add some industrial appeal.
In this photo, two small stands were stacked on top of each other to create a multi-level stand with extra shelf space.
Look for a Sleek Curved Base for a Modern Style
This speaker stand that has a curved base is straight out of the mid-century modern style, which combines smooth lines and natural curves with mixed materials. The stand itself is minimal and unassuming, perfect to put in the corner without drawing in too much attention.
Go Rustic With Mixed Materials
Mixed materials are a great idea if you're trying to achieve the rustic or farmhouse look. This stand is the ultimate example of mixed materials as it has thin black legs going into a gorgeous piping base. The four legs make the stand particularly sturdy and dependable.
The top of the stand is a smooth, round piece of polished wood that's thick enough to be sturdy, but smooth enough to not appear bulky.
Use Pipes for a Gorgeous Floating Stand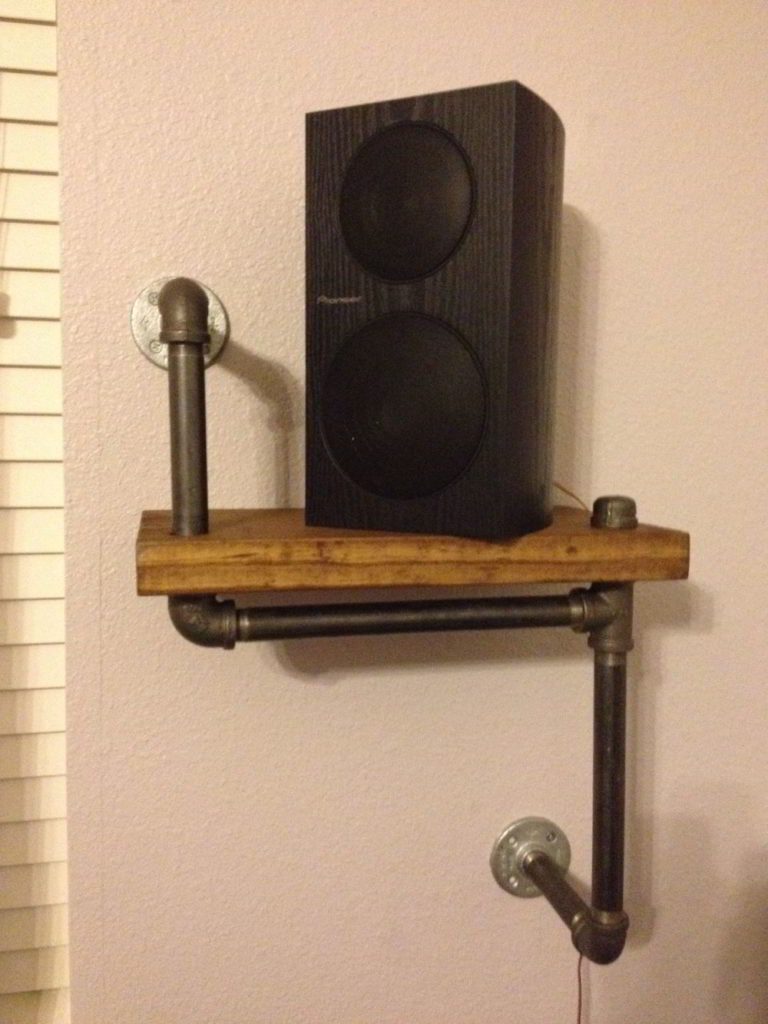 Pipes are a key feature of DIY speaker stands, but in this example, they've been used in a different way, to create a floating shelf for a speaker. A handful of pipes have been attached to the wall along with a rustic wood shelf.
This is a great option if you're shorter on space, as a shelf is less bulky than a floor stand. Make sure you keep in mind that the speaker should ideally be at ear height.
Look for a Concrete Arrowhead Stand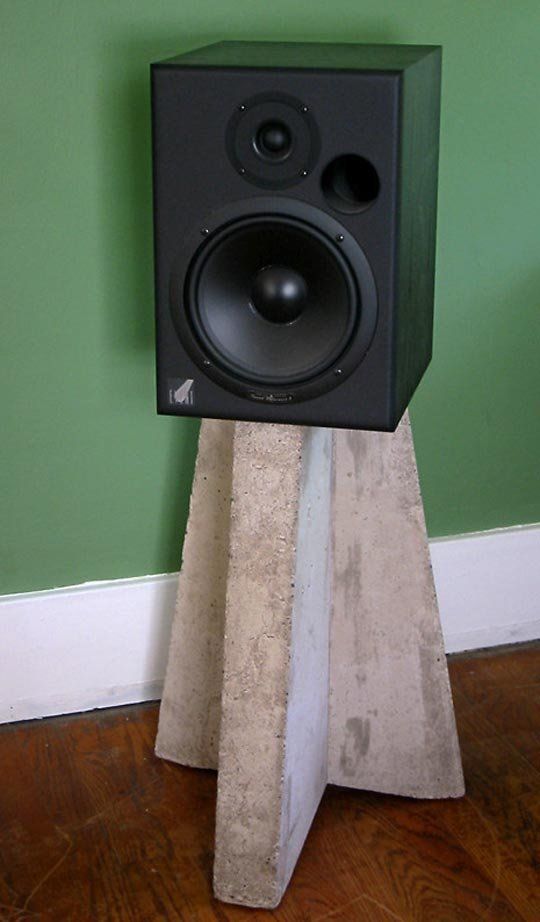 Instead of wood or steel pipes, this speaker stand is made from a concrete block. It's been fashioned into an arrowhead shape to add more style and personality and make it appear less bulky.
Make sure the surface on top of the concrete where your speaker will rest is wide enough to support it safely.
Cinder Blocks Are Industrial and Functional
Cinder blocks are actually a great idea for speaker stands as they are affordable, easy to use, and extremely functional. In this example, they've been stacked on top of each other to make a taller stand.
The holes inside the speaker blocks are great for putting albums. These have been painted a bright green for a splash of color, but it's all up to you how you want to dress up your speaker stands.
Create Hanging Speaker Stands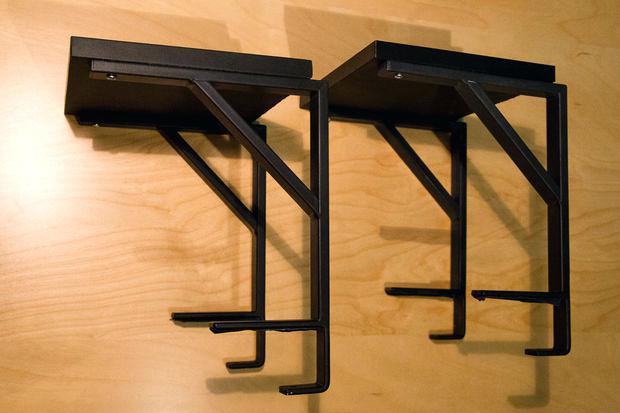 Hanging speaker stands are great as well, depending on the look you're going for. As you can see, these flat shelves have brackets underneath and the whole thing has been attached to the wall.
It's important when going for a floating or hanging option that you make sure the brackets and shelves drilled into the wall can support the weight of your speakers.
Build a Tiny Stand for a Small Speaker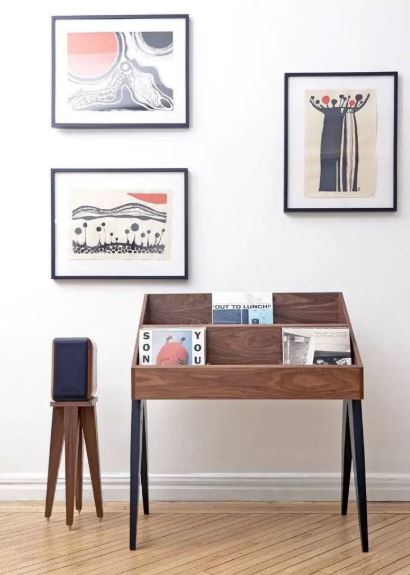 Even if you only have a tiny speaker, you can still have a stand for it if you'd rather that than placing it directly on a console or desk. This tiny wooden stand with four tapered legs is gorgeous and exactly the perfect size for the speaker.
The great thing about making your own speaker stand is that you can customize it exactly to the size you need, as this example shows.
Look for Different Size Wood Planks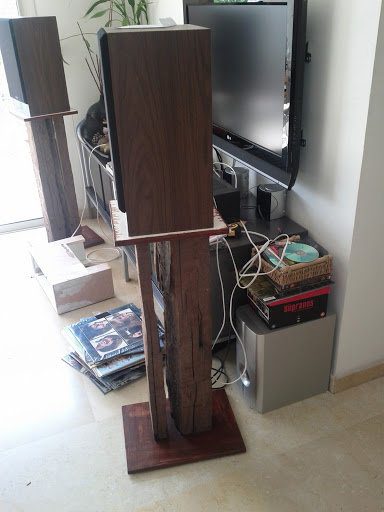 This speaker stand uses two different sizes of wooden supports for the stand, and both are unfinished and rough, which is rustic and exactly right for certain decor styles. You don't need to spend extra time cutting, sanding and polishing it if you don't want to.
PVC Is a Great and Cheap Option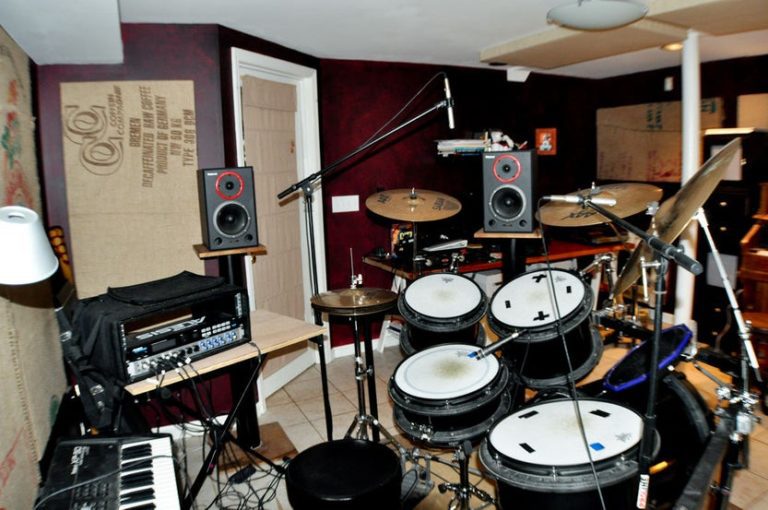 It's hard to see the speaker stands through all the musical instruments, but they're made from long PVC tubing with a wooden base and top. This is a really cheap option, and as you can see, you don't even need to paint it over if you don't want to.
Instructables has the full guide to making some affordable and still gorgeous speaker stands from PVC.
Add a Rack for Extra Storage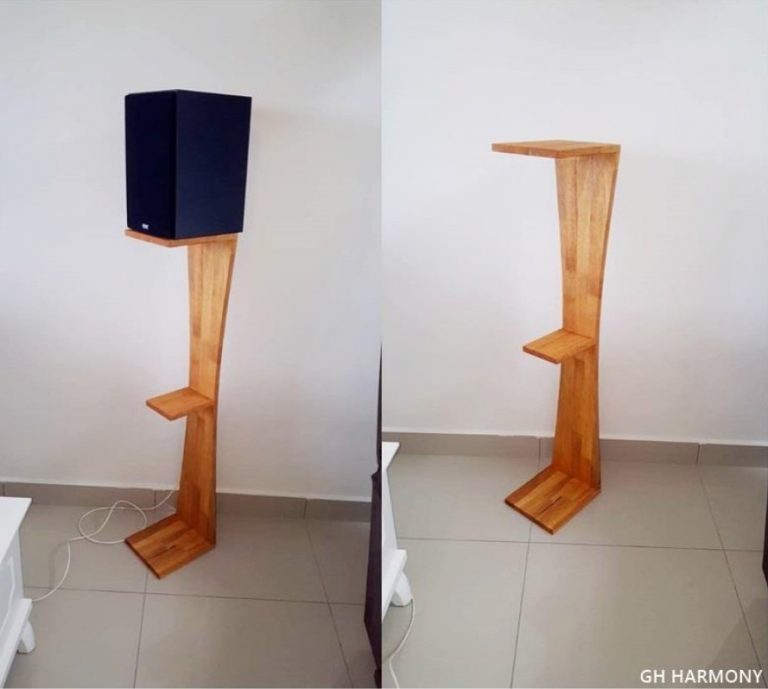 This simple wooden stand has a smaller wooden shelf added halfway up the stand. Along with the base, these two surfaces can act as a simple rack for the storage of albums and records.
I love the wood back of the stand, which starts wide at the top, tapers in toward the center, and then widens out again at the base. It's a small touch that adds some personality and curvature to the DIY shelf.
Look for Iron Rods for a Modern Option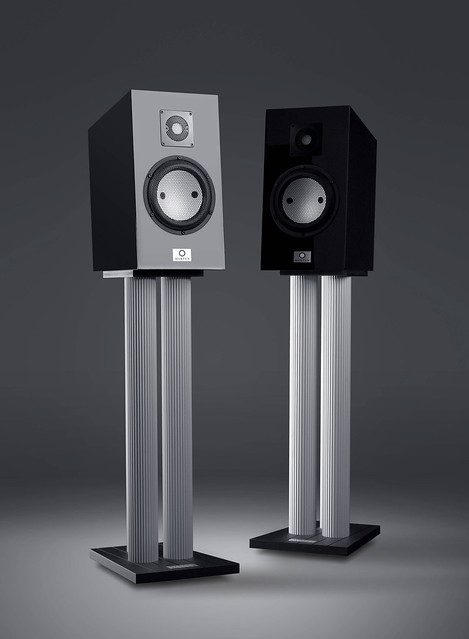 These solid iron rods are modern and industrial and make for a speaker stand that is sure to stay upright without a wobble. The silver iron rods are fixed simply to a black base and top and would fit in perfectly to any modern and industrial home.
Use a Single Cinder Block for a Low Stand
We've seen cinder blocks used before as speaker stands, but they were used stacked on top of each other for a taller stand. In this example, a single cinder block on its side makes a short stand, especially when wedged between a wooden base and top.
The whole unit has been painted black for a more seamless look with the speaker, a quick and easy extra step that adds a lot to the finished result.
In Summary
A lot of people tend to just go ahead and buy any furniture they want for their home, without thinking that it could be quite easy to make it yourself. This is especially true for a speaker stand, as a DIY stand gives you the luxury to design it to your needs and style preference.
The speaker stand is important because it's much more than just a piece of furniture — it can actually improve the quality of the sound coming from your speaker. These 25 ideas are sure to help you get inspired to start your own DIY speaker stand project.